Obama: Diplomatic talks on Syria 'encouraging,' but threat remains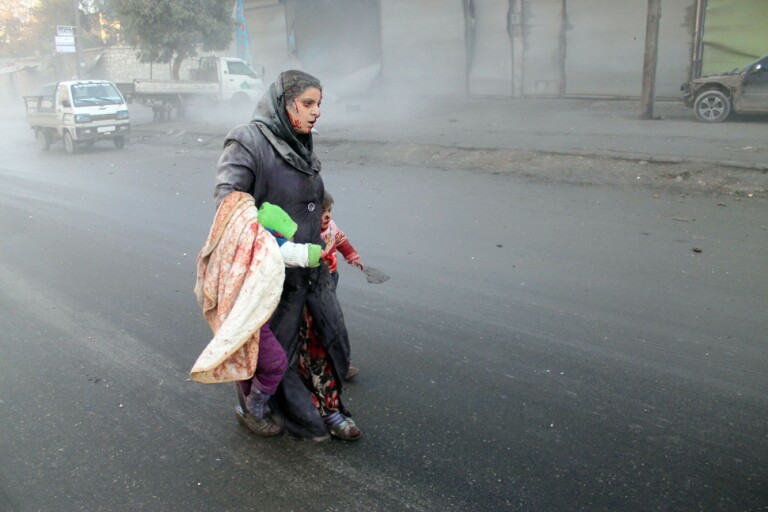 A wounded Syrian woman walks with her children after airstrikes on a rebel area of the war-torn northern city of Aleppo.
(Mohammed al-Khatieb / AFP/ Getty Images)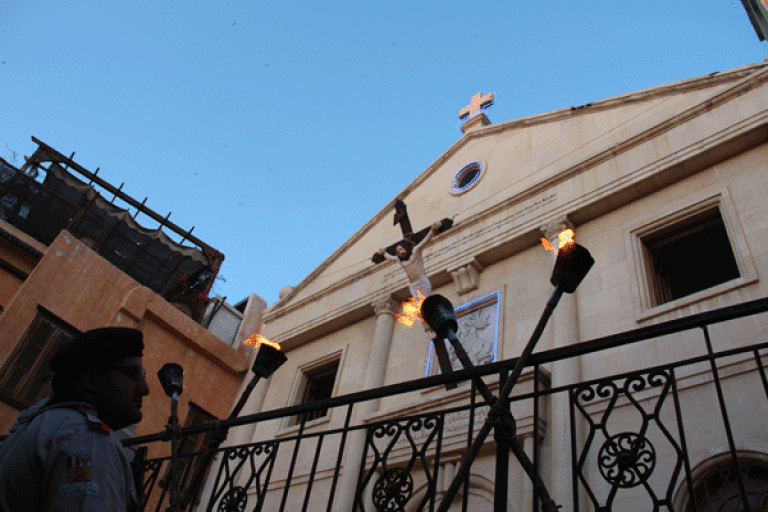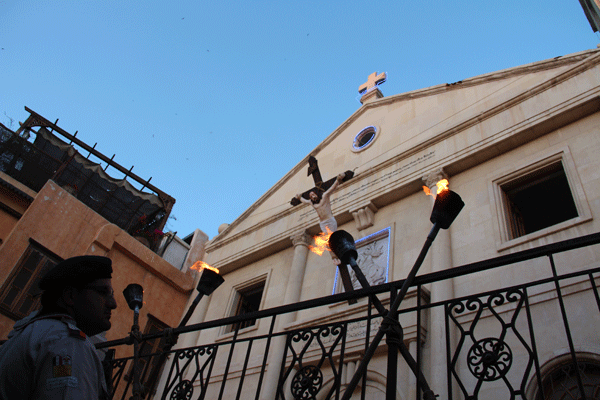 A Syrian Christian attends Good Friday service in the Bab Touma district of Damascus' Old City.
(Nabih Bulos, Special to The Times)
Mourners attend a funeral for men killed during battles with members of the Al Qaeda-linked Islamic State of Iraq and Syria in the northern Syrian city of Aleppo.
(Mahmud Al-Halabi / AFP/ Getty Images)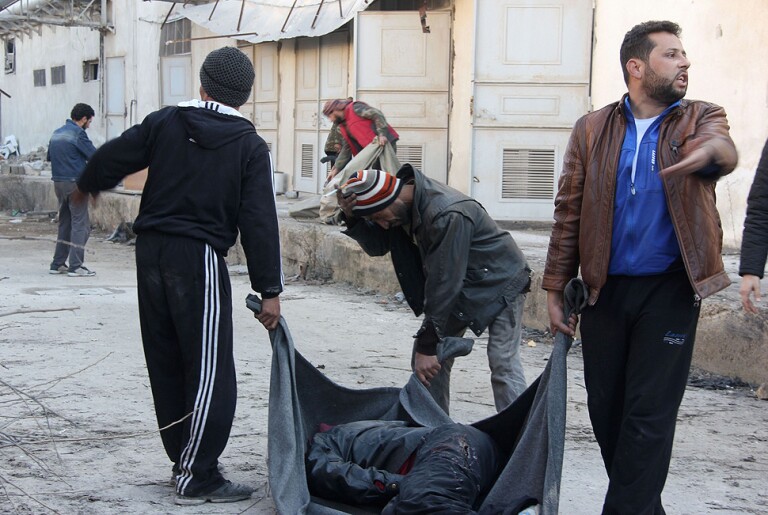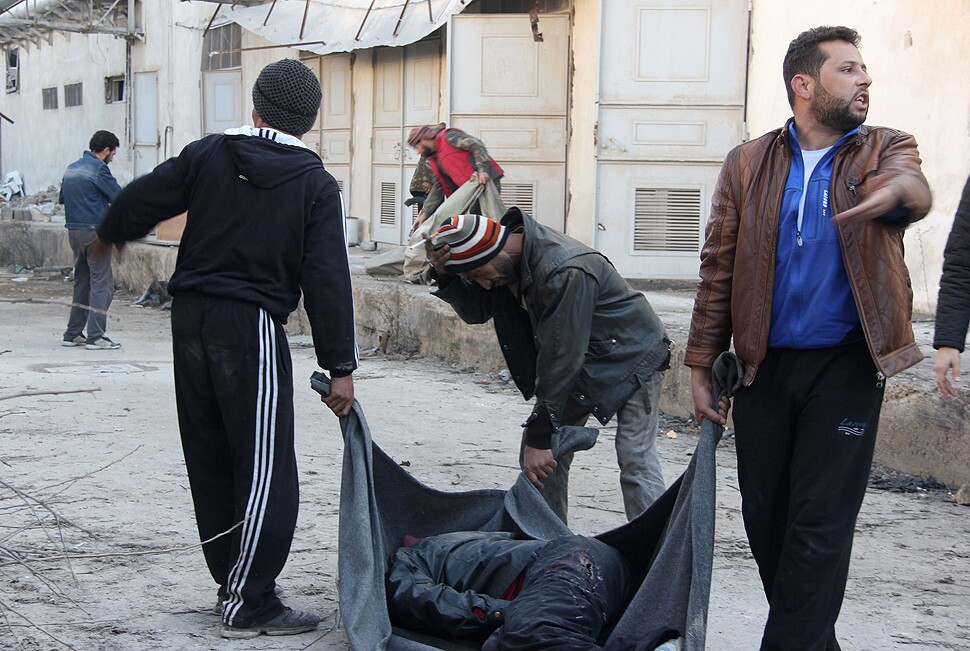 Rebel fighters carry a man's body at the Aleppo headquarters of the Islamic State of Iraq and Syria after he was allegedly killed by the AlQaeda-linked group in January.
(Medo Halab / AFP/ Getty Images)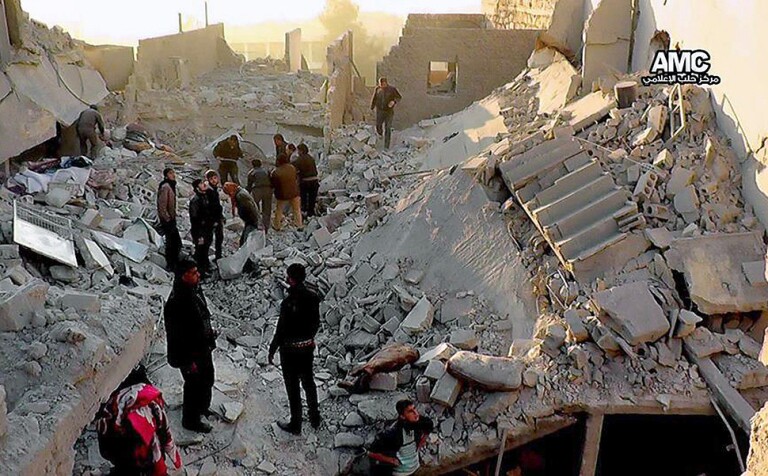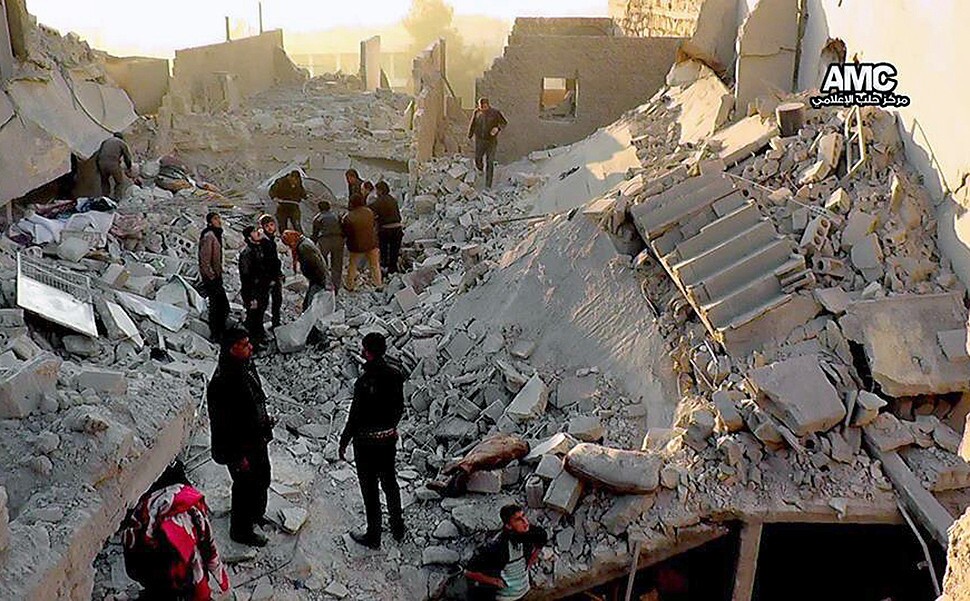 Syrians inspect the rubble of destroyed buildings following a Syrian government airstrike in Aleppo.
(Associated Press )
Syrians inspect damaged buildings following a government airstrike in Aleppo.
(Associated Press)
A Syrian man helps an injured resident following an airstrike in Aleppo's Maadi neighborhood.
(Mohammed al-Khatieb / AFP/ Getty Images)
A Syrian man reacts after an airstrike by government forces on the city of Aleppo.
(Mohammed al-Khatieb / AFP/ Getty Images)
Rebel fighters inside a building during clashes with pro-government forces in the Sheikh al-Said neighborhood of Syria's northern city of Aleppo.
(Medo Halab / AFP/ Getty Images)
An opposition fighter runs through a hole in a wall to avoid sniper fire by regime forces during clashes in Syria's northern city of Aleppo.
(KARAM AL-MASRI / AFP/Getty Images)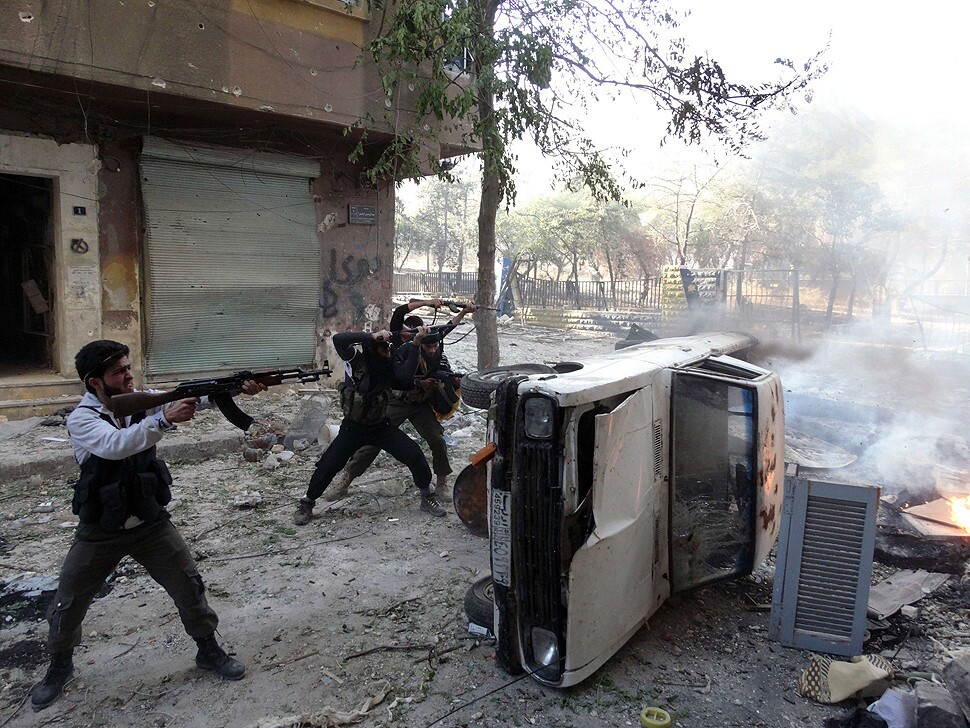 Opposition fighters open fire from behind a car during fighting in the Salaheddin district of the northern Syrian city of Aleppo. The Syrian Observatory for Human Rights reported fierce fighting in Damascus province between rebels and troops backed by pro-regime militias and fighters from Lebanon's Shiite Muslim movement Hezbollah.
(KARAM AL-MASRI / AFP/Getty Images)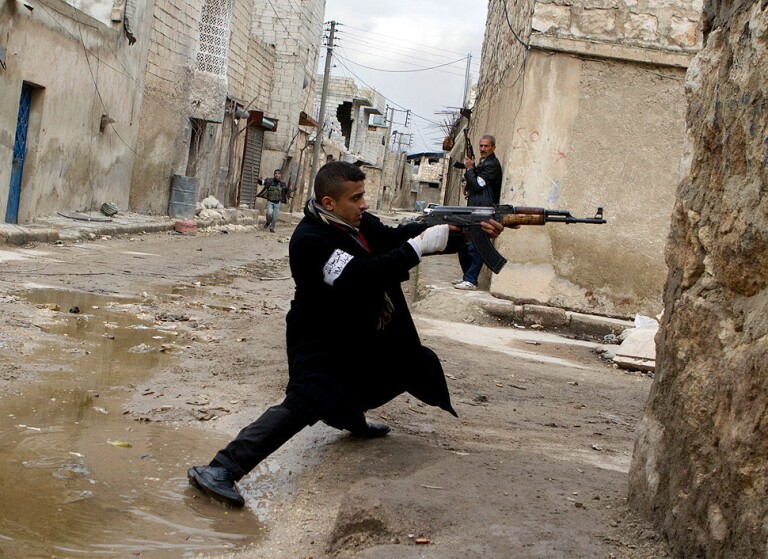 A Syrian rebel aims his weapon during clashes with government forces in the streets near Aleppo international airport in northern Syria.
(Stephen J. Boitano / AFP/ Getty Images)
Rebel fighters duck as they run behind a barricade to avoid being fired at by Syrian government forces in the Old City of Aleppo.
(JM Lopez / AFP/ Getty Images)
Opposition activists provided this image said to show United Nations weapons inspectors collecting samples in August 2013 during an investigation into alleged chemical weapons attacks.
(Local Committee of Arbeen / European Pressphoto Agency)
An image provided by Syrian opposition activists is said to show United Nations weapons inspectors collecting samples during an investigation into reported chemical weapons attacks east of Damascus.
(Local Committee of Arbeen / European Pressphoto Agency)
A fighter allied with Syrian President Bashar Assad runs across the street after fighting with rebels in the Yarmouk refugee camp in the capital, Damascus.
(Anwar Amro / AFP/ Getty Images)
A fighter of the Popular Front for the Liberation of Palestine General Command, allied with Syrian President Bashar Assad, jumps through the window of a destroyed building in the Yarmouk refugee camp in Damascus.
(Anwar Amro / AFP/ Getty Images)
An opposition fighter runs in front of a sniper curtain in the industrial area of Syria's eastern town of Deir Ezzor during clashes with government forces.
(Abo Shuja / AFP/ Getty Images)
An oppostion Free Syrian Army member performs a midday prayer in Darkoush, Syria.
(Esa Alexander / The Times/ Getty Images)
Free Syrian Army fighters clean their weapons and check ammunition at their base on the outskirts of Aleppo, Syria.
(Khalil Hamra / Associated Press)
Syrian government forces patrol the Khaldiyeh district of Syria's central city of Homs. The Syrian government announced on July 29 the capture of Khaldiyeh, a key rebel district in Homs.
(Joseph Eid / AFP/Getty Images)
Hundreds gathered in Damascus to protest against the U.S. threats to launch a military strike against Syria.
(EPA)
A Syrian national flag is waved in Damascus to show support for President Bashar Assad.
(Louai Beshara / AFP/Getty Images)
Protesters hold Al Qaeda flags.
(Associated Press)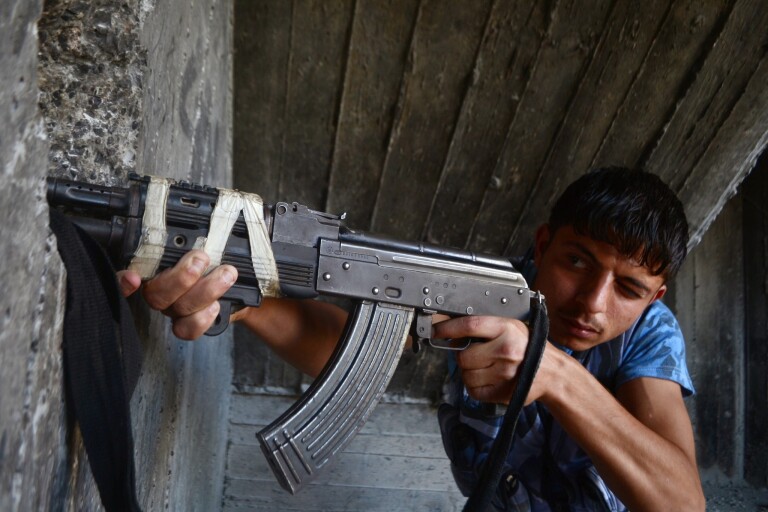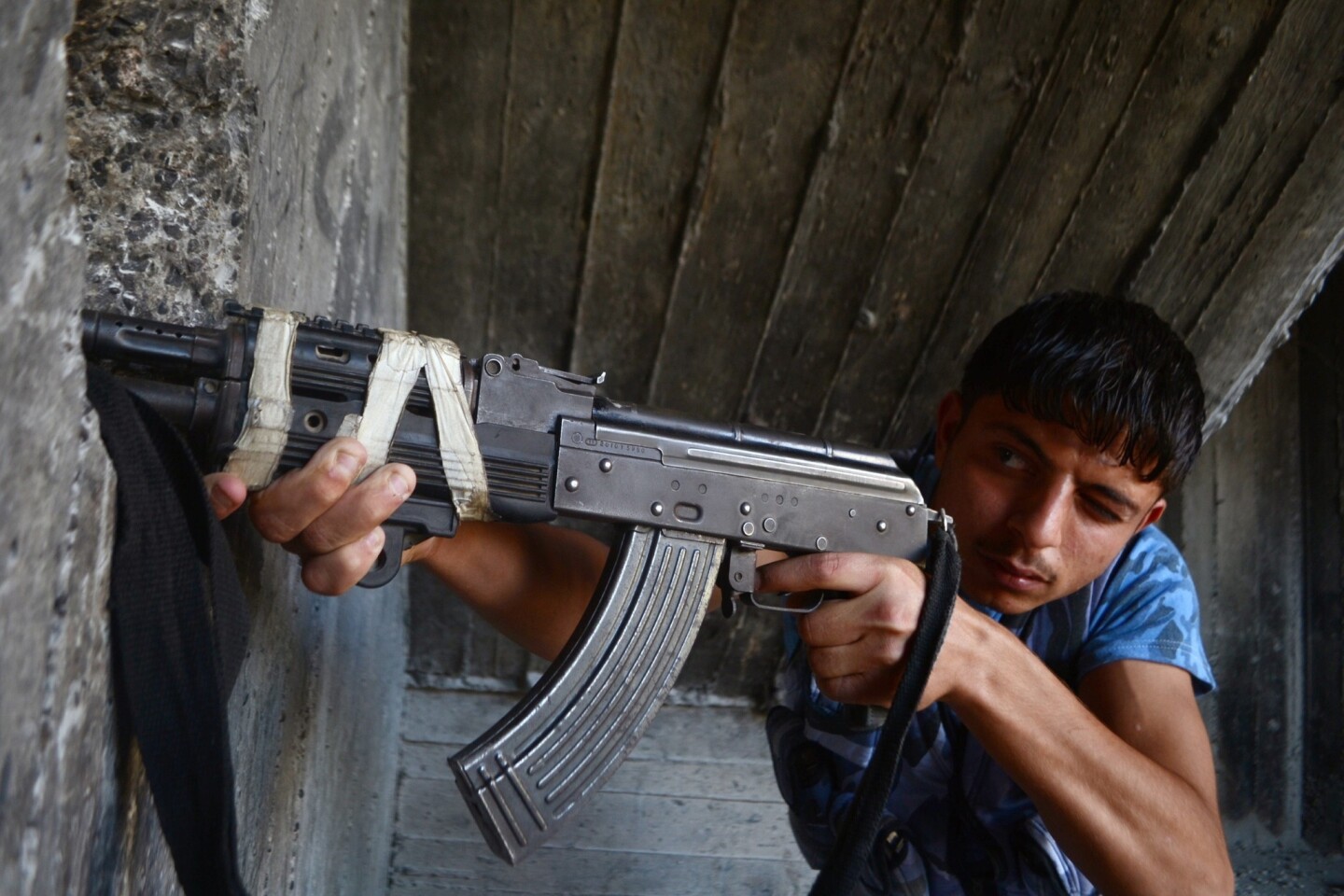 A rebel fighter takes aim at regime forces in the northern Syrian city of Aleppo.
(Louai Abo Al-Jod / AFP/Getty Images)
A man stands near destroyed buildings after reported airstrikes by Syrian government forces in the rebel-held northwestern Syrian province of Idlib.
(Abu Amar Al-Taftanaz / AFP/Getty Images)
A girl flashes the victory sign in front of a revolutionary flag in Aleppo, Syria.
(Associated Press)
Mustafa Abu Bekir, 23, second from left, meets relatives after crossing the Turkish Cilvegozu gate border. Abu Bekir said he was severely wounded by a bomb dropped from a Syrian army warplane while fighting with the Free Syrian Army in Idlib.
(Gregorio Borgia / Associated Press)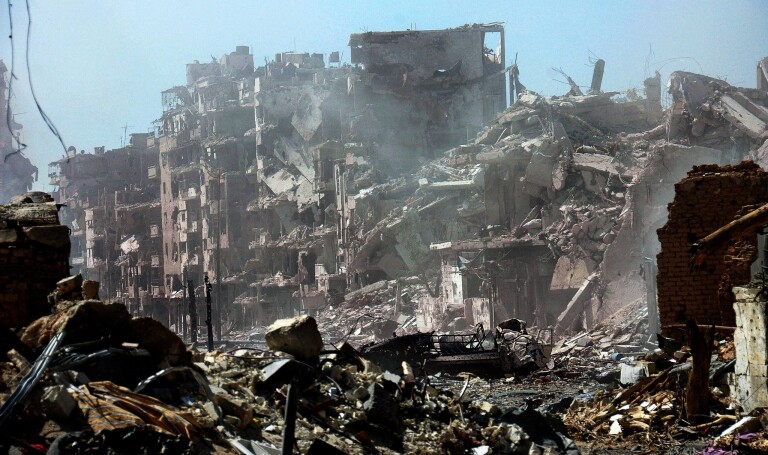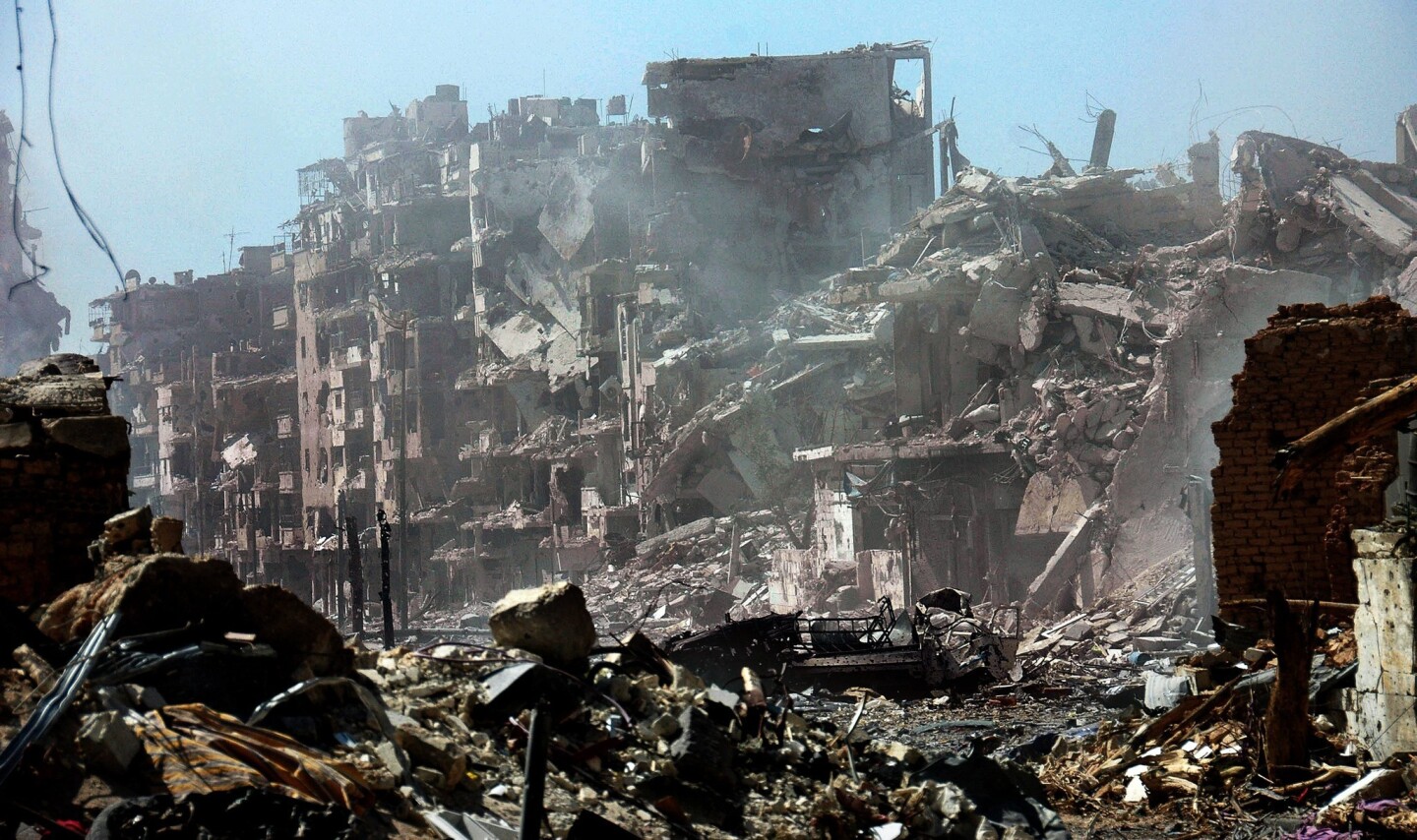 The Khalidiya area of Homs, Syria, shows heavy damage in July. The Syrian army retook the district, long a strategic and symbolic stronghold of the rebels, after fierce battles.
(European Pressphoto Agency)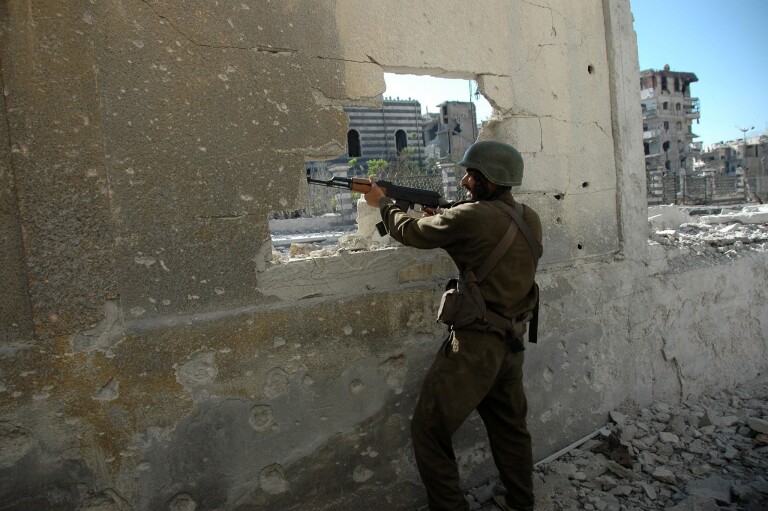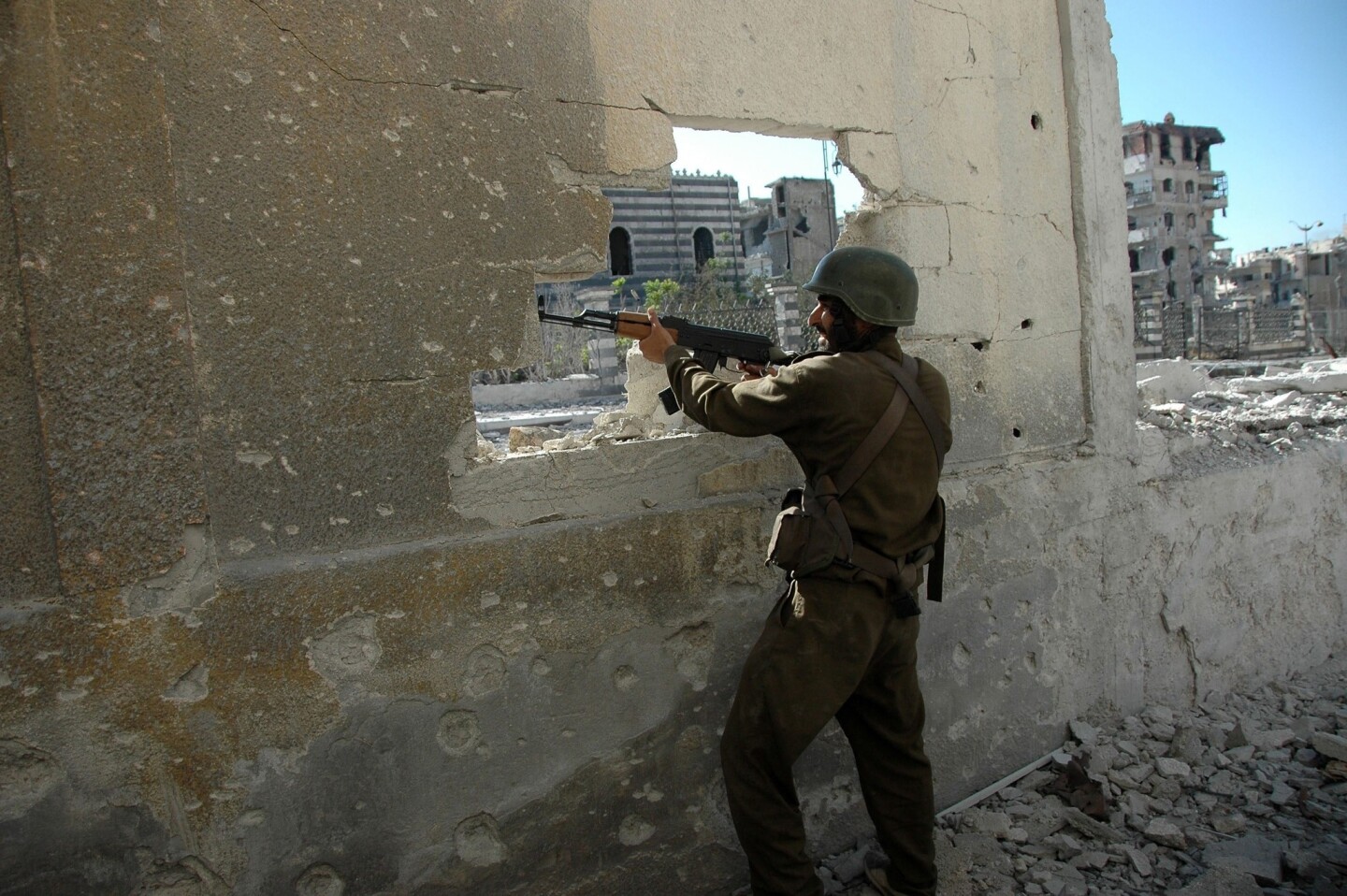 A Syrian soldier aims his weapon during fighting in the Khalidiya neighborhood of Homs.
(European Pressphoto Agency )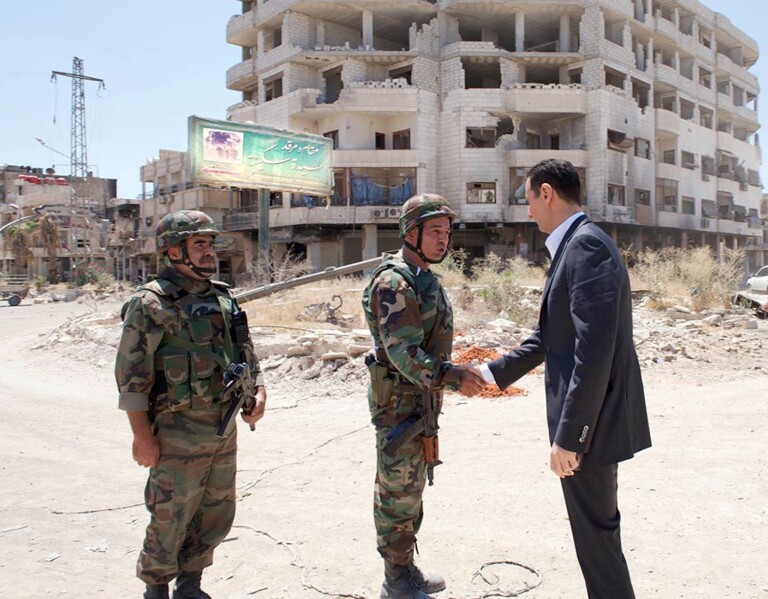 This image posted on the Facebook page of the Syrian presidency is said to show President Bashar Assad shaking hands with a soldier in Dara on Army Day.
(Syrian President's Office)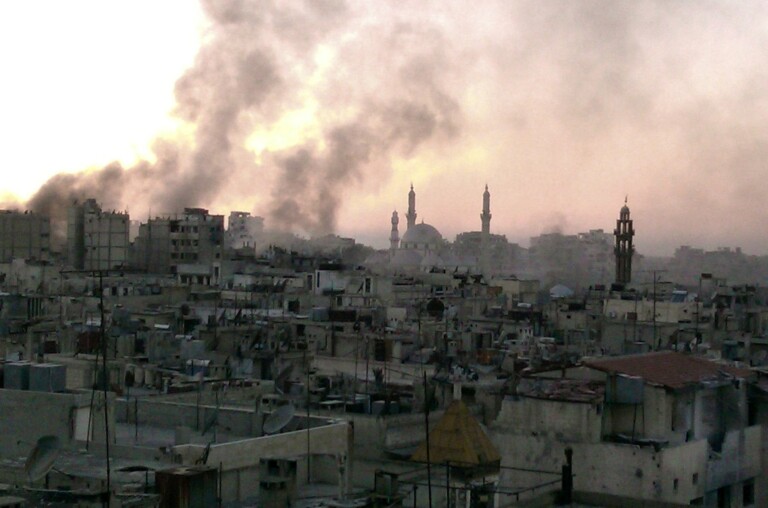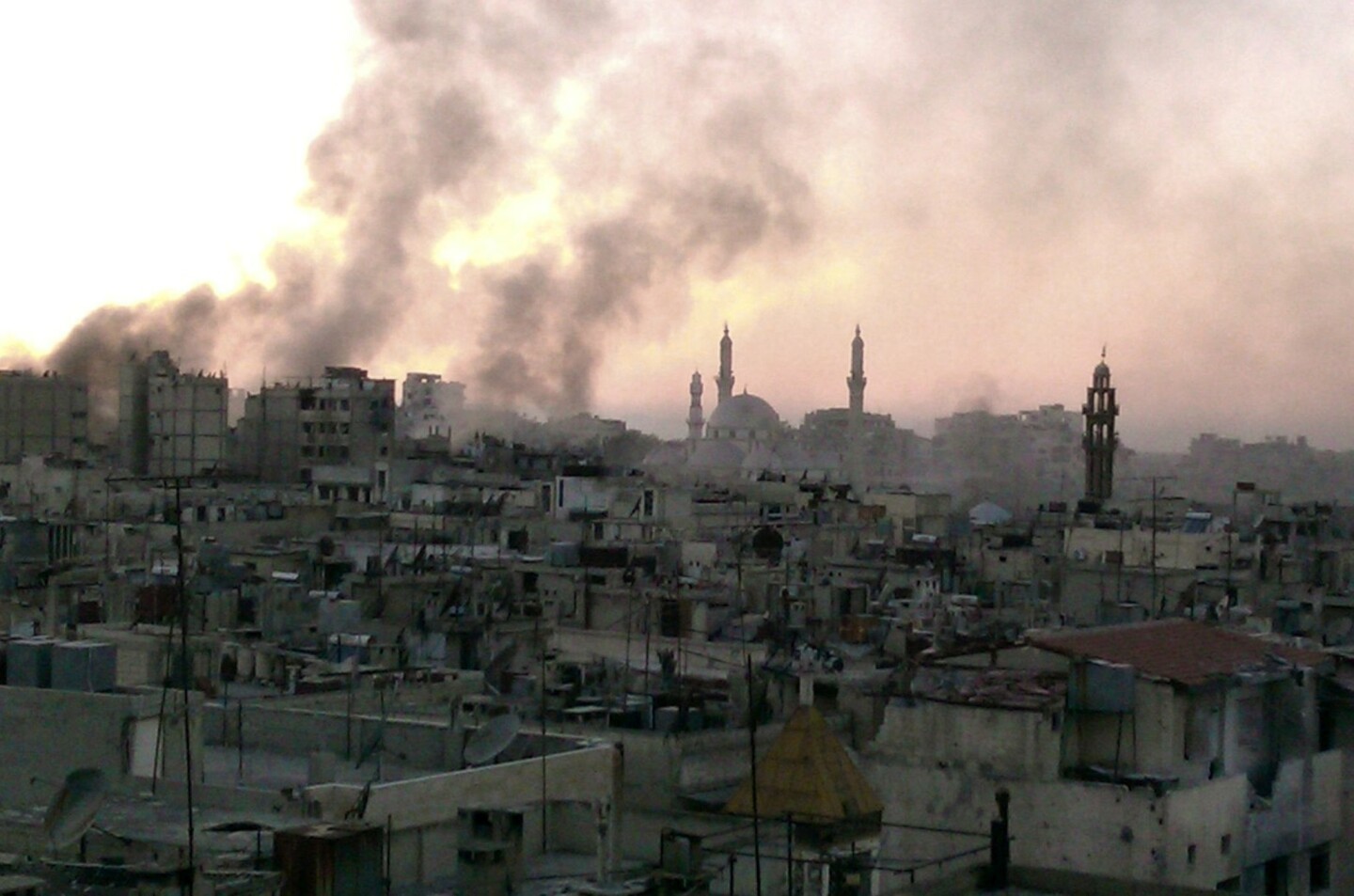 Smoke rises from buildings in Syria's central city of Homs after airstrikes by government forces in July.
(Shaam News Network )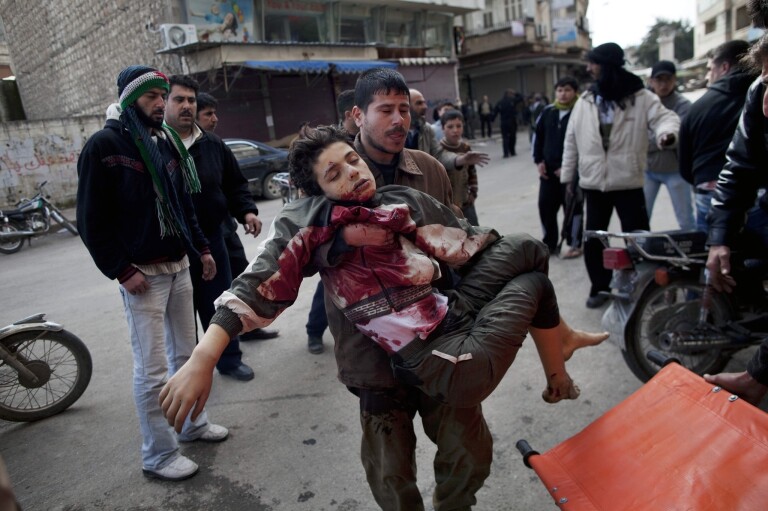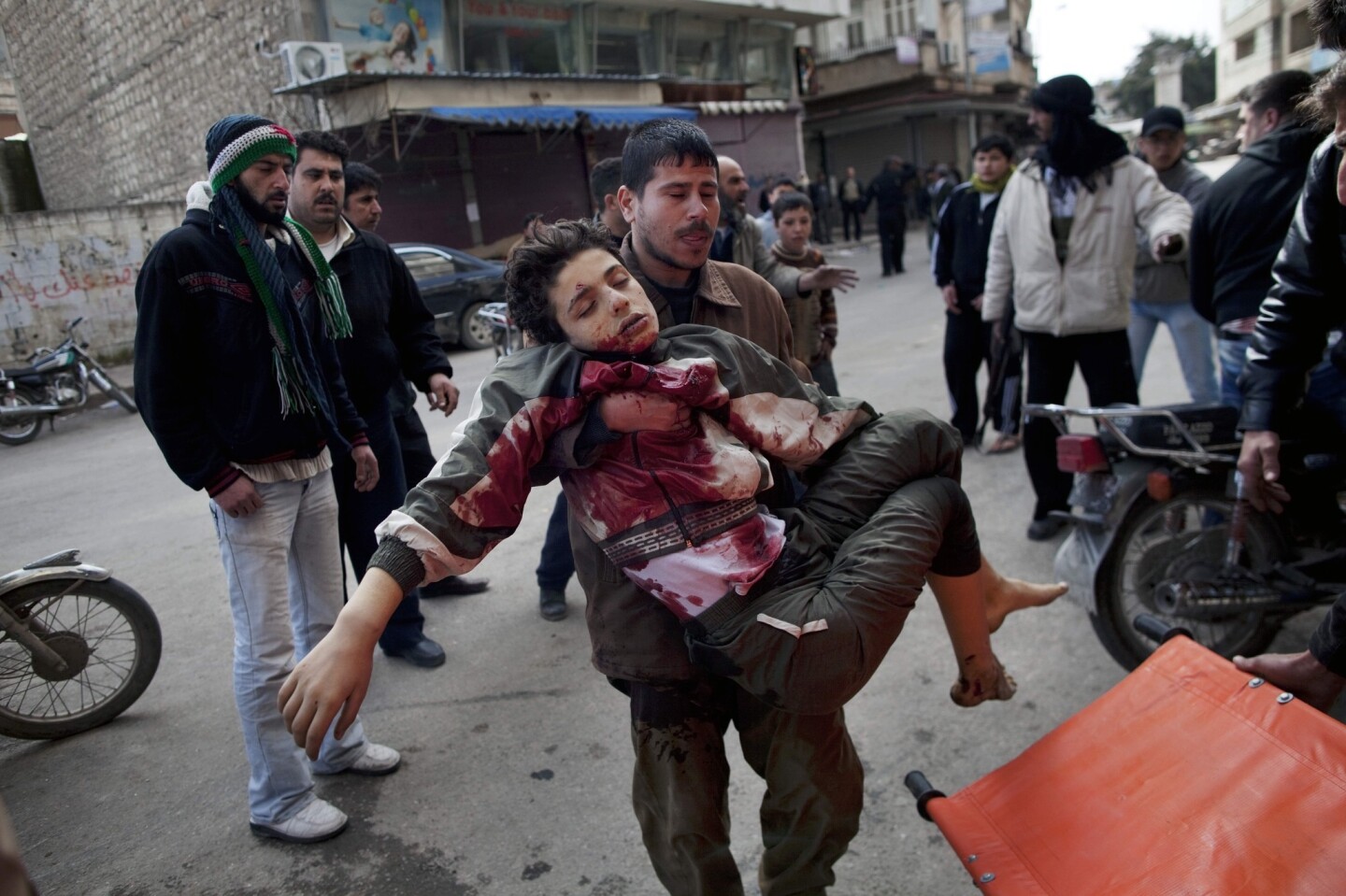 A man carries a boy who was severely wounded during heavy fighting between Syrian rebels and troops last year in Idlib.
(Rodrigo Abd / Associated Press)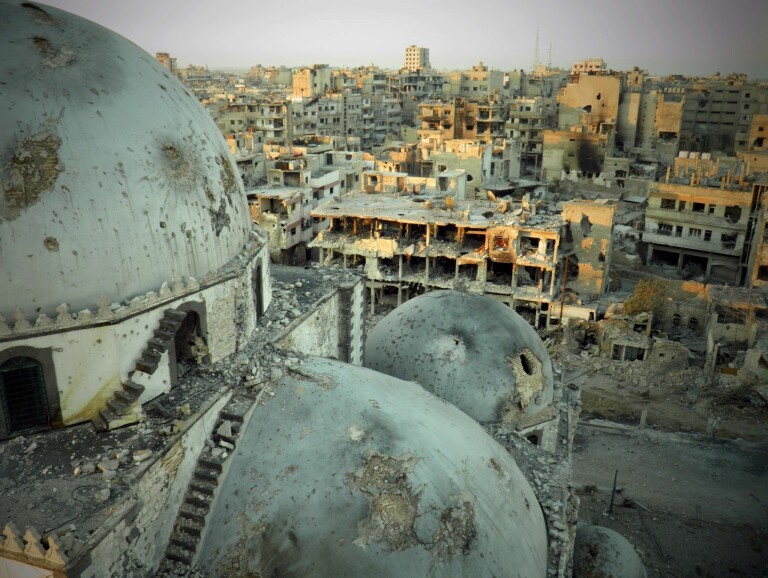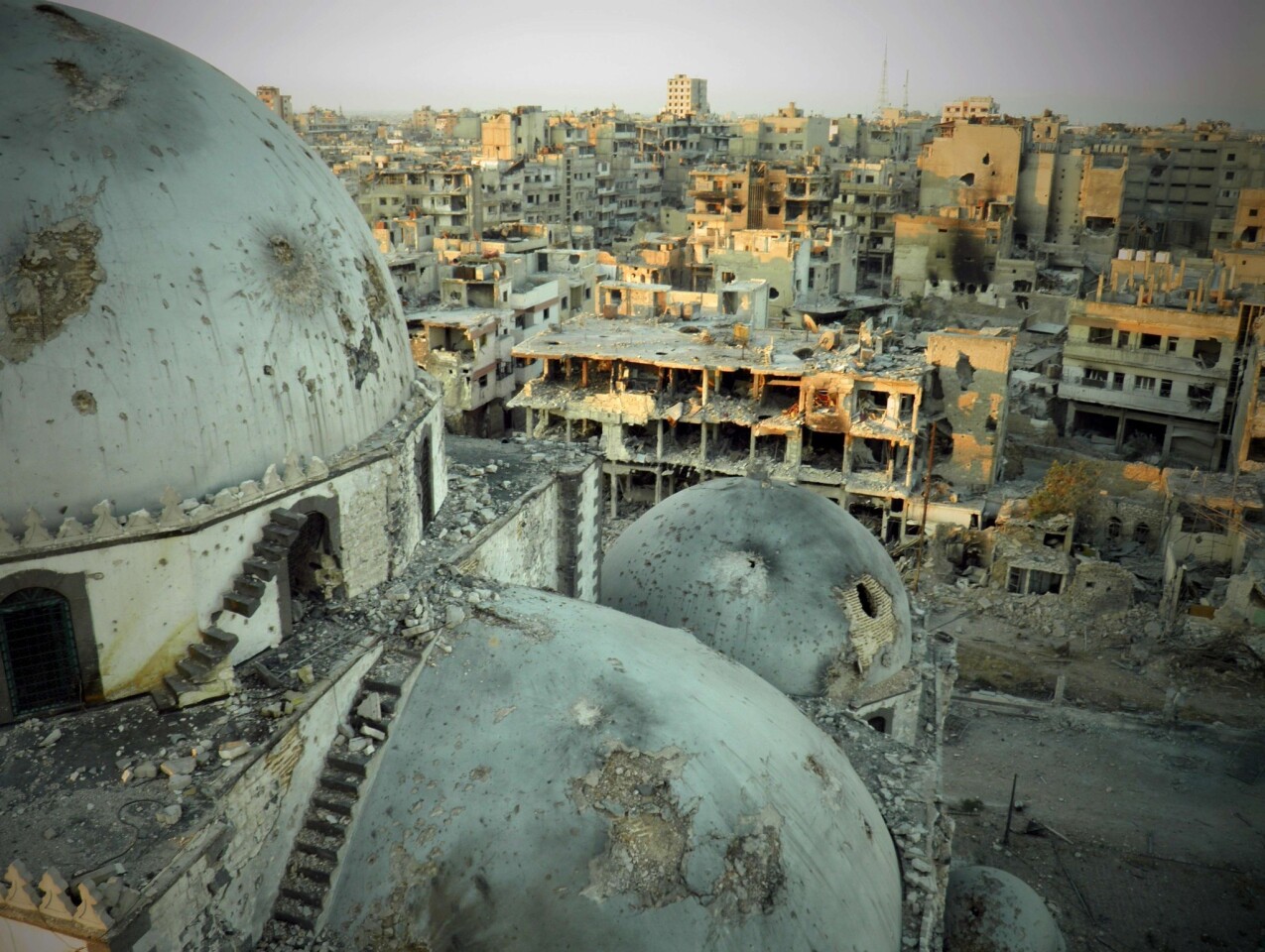 In Homs, the partially destroyed Khalid bin Walid mosque sits surrounded by ruin in the city's Khalidiya neighborhood.
(Shaam News Network)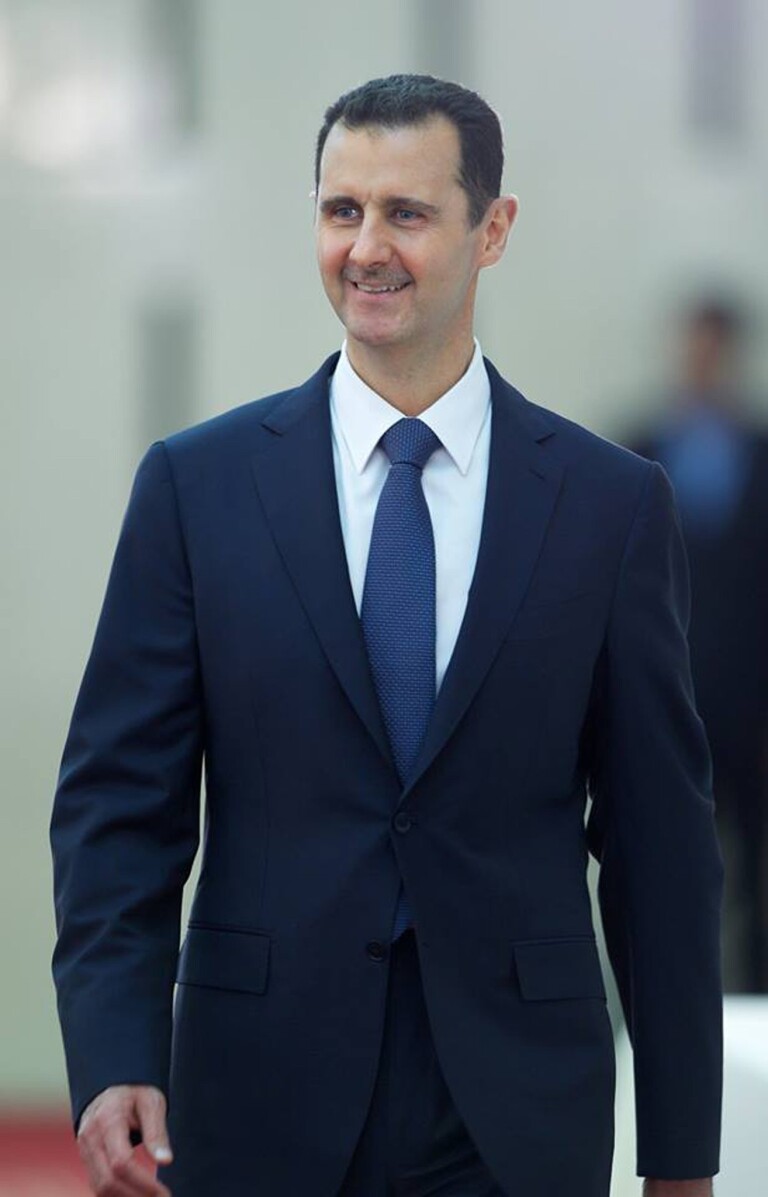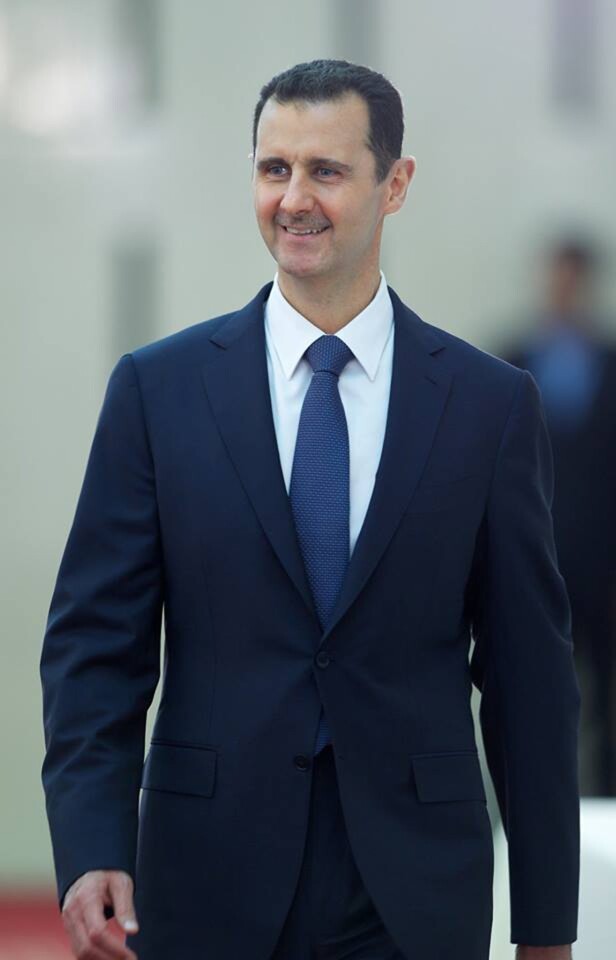 Syrian President Bashar Assad arrives at a dinner event in Damascus on the last week of the Muslim holy month of Ramadan.
(Virginie Nguyen Hoang / AFP/Getty Images)
WASHINGTON – Vividly describing the deaths of more than a thousand people in an alleged nerve gas attack outside Damascus, President Obama spoke to the nation from the East Room of the White House to argue his case for why the United States must hold Syrian President Bashar Assad accountable.
Obama called the Aug. 21 attack a "crime against humanity" that violated international law.
"When dictators commit atrocities, they depend upon the world to look the other way until those horrifying pictures fade from memory," Obama said. "But these things happened. The facts cannot be denied. The question now is what the United States of America and the international community is prepared to do about it."
TRANSCRIPT: Obama makes his case to the nation
In his first prime-time address from the White House in more than two years, Obama found himself unexpectedly tasked with a dual challenge: bolstering public support for his decision to launch military strikes against the Assad government while explaining his decision to pursue a diplomatic alternative.
Obama called a new Russian proposal to have Syria turn over its chemical weapons stockpile "encouraging," but cautioned, "It's too early to tell whether this offer will succeed, and any agreement must verify that the Assad regime keeps its commitments."
The almost contradictory messages reflected the unsettled state of affairs in the standoff with Syria over the alleged chemical attack. The White House and U.S. allies worked quickly Tuesday to explore the viability of the proposal made by Russian on Monday.
The Obama administration said it was skeptical that Assad's government would follow through with the plan. Still, in a meeting with senators on Capitol Hill, Obama asked lawmakers to give him time to sort through the options, and Senate leaders, in a sign of the deep reluctance to endorse the president's push for another military intervention, readily complied.
But the president's speech from the East Room was announced before Russia's plan emerged. While diplomats in Paris, Damascus, Moscow and Washington worked through the details – running into early signs of the difficulty of crafting a workable plan – Obama continued his public relations campaign.
FULL COVERAGE: The debate over Syria
The speech, which aides rewrote on the fly Tuesday, was designed as the keynote of a week of meetings, briefings, speeches and phone calls aimed at lawmakers whose support Obama needs in his pursuit of congressional authorization for a punitive strike against Syria.
With polls showing Americans opposed to a strike by roughly a 2-1 margin, the White House sought to convince lawmakers to buck public opinion and back Obama on a vote some say could determine the future of his presidency and U.S. credibility abroad.
In his speech Tuesday, Obama stressed a strike would be limited – unlike the wars in Iraq and Afghanistan – but he answered some skeptical lawmakers who have wondered if a "pinprick" strike would be worth it.
"Let me make something clear: The United States military doesn't do pinpricks," Obama said. "Even a limited strike will send a message to Assad that no other nation can deliver."
But on Capitol Hill, resistance to military intervention seemed to firm up with the sudden appearance of the Russian alternative.
Senate Majority Leader Harry Reid (D-Nev.) indefinitely postponed an initial vote on an authorization resolution approved by the Foreign Relations Committee last week. He said he would be satisfied with a diplomatic solution. "I'm not a blood-and-thunder guy. I'm not for shock and awe," he said.
Meanwhile, key senators began to draft language that would incorporate the Russian plan, perhaps authorizing force only if Syria refused to allow an outside entity, most likely the United Nations, to secure its chemical weapons stockpile. It could also require a U.N. resolution condemning Syria for using chemical weapons on its own people.
Sen. Carl Levin (D-Mich.), chairman of the Armed Services Committee, emphasized that the resolution was still being crafted. But he said the goal was to eliminate the threat of Syria using chemical weapons by keeping open the possibility of force, "like the Sword of Damocles over Assad."
"It's because of the threat of a strike by the president, because of the possibility that Congress would authorize it, that there's movement at the U.N. So you've got to find a way to keep that pressure on. That's the key to success at the U.N.," Levin said.
The president told Democrats he needed a number of days to pursue the diplomatic channels. But he "was not overly optimistic," said Sen. Richard Durbin (D-Ill.), the assistant majority leader.
"What he's basically asked is for some time to work this out," Durbin said, a time frame that would delay any action until next week. "I think that's reasonable. We want this to end well; we want the end of chemical weapons in Syria. And if we can achieve that through the president's threatened use of military force, that's a good thing for safety in the world."
The European Union, wary of military action, warmed to the Russian proposal, as its top diplomat urged quick work on the nettlesome details involving the verification and destruction of the arsenal. Support from the EU, with its 28 member nations, added to the diplomatic momentum behind the idea.
Obama, along with his French and British counterparts, agreed Tuesday to explore the proposal with Russia and China, Syria's allies. The latter have used their veto power on the U.N. Security Council to block previous moves to punish Assad's government.
But Obama and his allies almost immediately ran into conflict with Russia, which demanded that the U.S. should forswear any threat to use force as part of a deal. Moscow also insisted that the Security Council should not be asked to implement the program under Chapter VII of the U.N. Charter, which authorizes the use of force, and proposed instead use of a much weaker tool, a "presidential statement."
Russian officials have been deeply resistant to even weak Security Council resolutions concerning the Syrian civil war, fearing that they could open the way to an international military force.
Skeptical of the plan already, administration officials warned Tuesday that the Russian proposal could disintegrate under such demands before the end of the week.
The plan "has to have consequences if games are played, or if somebody tries to undermine this," Secretary of State John F. Kerry said during a Google+ Hangout conversation on the subject.
British Prime Minister David Cameron told lawmakers the proposal needed to come before the Security Council as a resolution that includes a timetable, process and consequences if Syria reneges.
"What's important is to make sure this isn't some delay tactic, that this isn't some ruse," he said.
Kerry said U.S. officials have stressed to the Russians that "this must be done quickly."
Still, Russian Foreign Minister Sergei Lavrov said he was working with Syria to draft a proposal and planned to deliver it soon to U.N. Secretary-General Ban-ki Moon. And the Syrian government said it was serious about the Russian plan precisely because it could prevent a U.S. military strike.
"We agreed with the Russian initiative, proceeding from the understanding that it must cut the ground from under the feet of the U.S. aggression against our country," Syrian Foreign Minister Walid Moallem said during a meeting with the speaker of Russia's lower house of parliament, Sergei Naryshkin.
If Obama ends up rejecting the Russian proposal, he could be forced to resume his effort to win congressional authorization for a strike.
On Capitol Hill, the president's threat to strike Syria continued to draw new opposition, including Senate Minority Leader Mitch McConnell (R-Ky.), whose decision conflicts with the support offered by House Speaker John A. Boehner (R-Ohio), who reaffirmed his support for military action.
"I believe it's important to try to help the president provide a unified front," Boehner said, even as he made a nod to his own problems rounding up votes. "It's a very difficult issue for Congress."
The split between the two top GOP leaders in Congress comes as McConnell, who is running for reelection next year, aligned himself with the tea party wing of the GOP, which has gained influence at the expense of traditional defense hawks. McConnell said he did not believe limited strikes would deter Assad from using chemical weapons.
The two Republicans both raised concerns about the Russian proposal. Boehner said he was skeptical because of the "actors that are involved," but McConnell said it was "worth exploring."
ALSO:
1 in 4 men surveyed in Asia-Pacific say they committed rape
Voice of Iran hostage crisis tapped as VP, environmental advocate
Egypt bans thousands of unlicensed preachers from giving sermons
christi.parsons@latimes.com
Twitter: @cparsons
michael.memoli@latimes.com
Twitter: @mikememoli
paul.richter@latimes.com
Twitter: @richtpau
Times staff writers Henry Chu in London, Sergei L. Loiko in Moscow, Lisa Mascaro and Kathleen Hennessey in Washington and special correspondent Kim Willsher in Paris contributed to this report.
---
Must-read stories from the L.A. Times
Get all the day's most vital news with our Today's Headlines newsletter, sent every weekday morning.
You may occasionally receive promotional content from the Los Angeles Times.