Pakistani girl shot by Taliban opens British library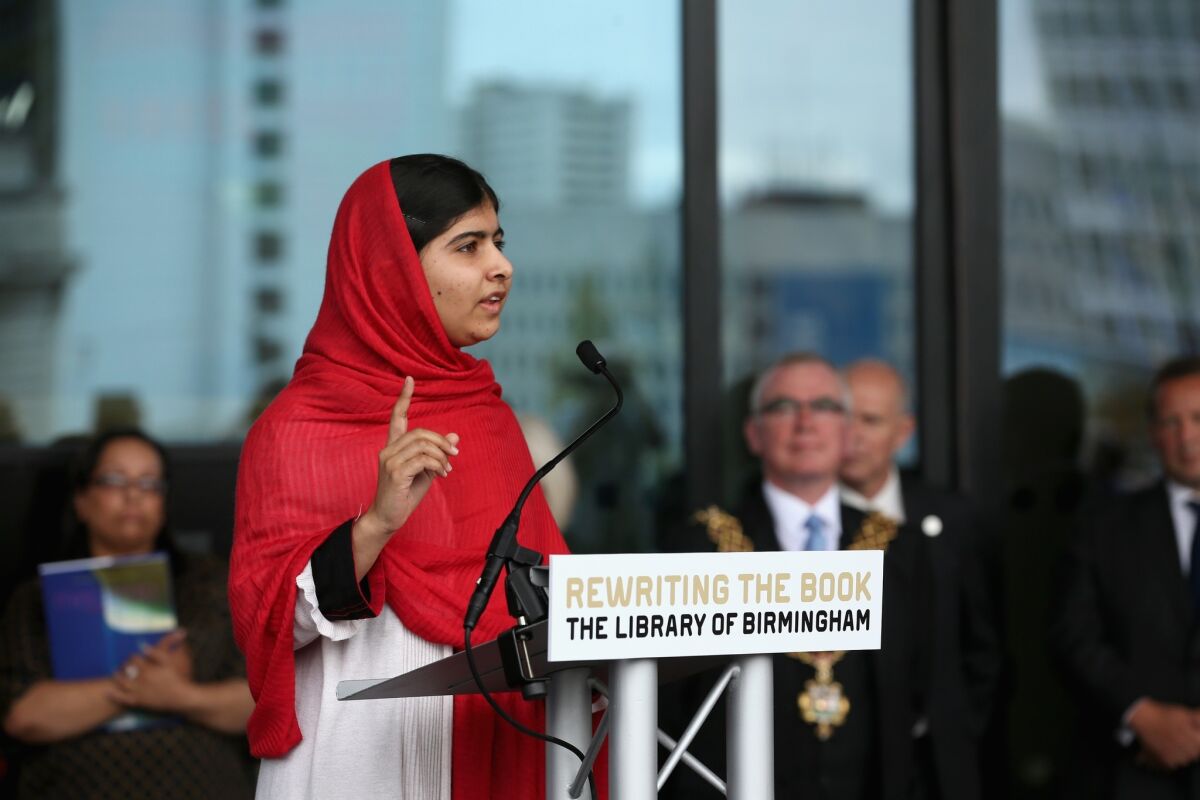 LONDON -- Malala Yousafzai, the Pakistani teenager who was shot in the head last year for advocating education for girls like herself, honored her own weapon of choice Tuesday: the book.
The 16-year-old, who was hospitalized in Britain after being shot by the Taliban, was chosen to deliver the opening speech for a new public library in Birmingham, England, that is being touted as the largest in Europe.
In a warmly received address outside the new 10-story building, whose more than 1 million books include a collection of the first folios of Shakespeare's works, Malala declared that "books are the only weapon that can defeat terrorism."
She also delivered an affectionate salute to "Brummies," as residents of Birmingham are known, for their support in the months after her shooting, when she was flown there for specialized surgery.
The girl, who was shot on Oct. 9, 2012, in the Swat valley of Pakistan, said she also felt proud "that a woman is the architect of this library. Thank you, Miss Francine Houben."
The 100,000-square-foot library, designed by Houben's Dutch firm, Mecanoo, is a far cry from most of Britain's stolid traditional libraries and public buildings. The focus is on light and space indoors and out, including a wildflower garden on the top roof terrace.
The collection of Shakespeare's first four folio editions is housed in a carefully reconstructed Victorian wood-paneled room.
After her attack, Malala was brought to Birmingham's Queen Elizabeth hospital for surgery that enabled her to recover all her faculties. Five months later, she resumed her schooling, this time in Birmingham, where she now lives with her family.
She has become something of a celebrity, and a spokesperson for girls' education in countries like Pakistan where there are powerful forces against it. In July, she celebrated her 16th birthday by delivering a speech on the subject to the United Nations in New York.
Speaking of Birmingham on Tuesday, she said: "It was here that I found myself alive after my shooting…and when I was discharged I was introduced to a new society which is different from Pakistan. People tell me they have read hundreds of books, even children of 6 and 7 have read more books than me."
She vowed to read thousands of books, saying, "I will empower myself with knowledge."
Her address closed with a heartfelt appeal to "not forget that 57 million children are out of school" and called on her audience to "speak up for the children of Pakistan, India and Afghanistan who are suffering from terrorism, poverty, child labor and child trafficking. Let us help them to read books and go to school. And let us not forget that even one book, one pen, one child and one teacher can change the world."
ALSO:
Israel says it, U.S. launched missile test in Mediterranean
Al Jazeera affiliate among four TV stations ordered closed in Egypt
Dennis Rodman's North Korea visit puts spotlight on jailed American
---
Must-read stories from the L.A. Times
Get the day's top news with our Today's Headlines newsletter, sent every weekday morning.
You may occasionally receive promotional content from the Los Angeles Times.