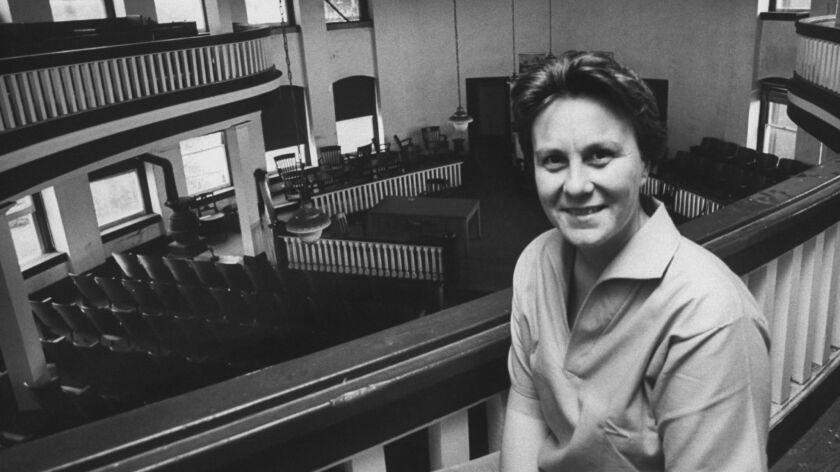 It was as if Scout herself had died.
Of course, everyone knows that Harper Lee, who died Feb. 19 at age 89, was not Scout, the protagonist of her novel "To Kill a Mockingbird." But the book was so beloved, and Lee herself had withdrawn so completely from public life, that she and Scout became twin tomboys frozen in time.
For five decades, if you sought out biographical details, you might have known this: Lee lived quietly in New York before eventually returning to Alabama; she was a Mets fan; for a time, she struggled with alcohol; she settled in Monroeville under the protective wing of her older sister, Alice, who like their father was a lawyer; in Harper's later years, her new attorney and Alice differed strongly and publicly about Harper's competency; and then there was the 2015 novel "Go Set A Watchman," discovered among Lee's archives, which became a bestseller, as any follow-up to "To Kill a Mockingbird" would have done.
During all those years, Harper Lee could have been famous; she could have appeared on talk shows and gone to fancy parties like her friend Truman Capote. Her book was a bestseller for decades, generating legions of devoted fans who no doubt showered her with letters and appeals for visits, appearances, a word. But she avoided fame, resisted sharing her daily life and private thoughts with the larger public. She gave us one great work of art and left it at that.
Despite being published in 1960, "To Kill a Mockingbird" remains painfully relevant. It is widely assigned in schools because of its direct engagement with racism as seen through the eyes of a young girl. That a story set in 1936 and published before the Civil Rights Act was passed has resonance today is a sad lesson in how little America has been able to deal with race and racism.
And even if it is still banned — this year, schools in Virginia took it off shelves after a parent's complaint — "To Kill a Mockingbird" is a book we can expect just about everyone to have read.
It is perhaps our last shared story, the last book we all read together as a nation.
Eventually, it will fail to speak to our contemporary condition. But for now, while we have said goodbye to Lee herself, Scout persists, waiting to be discovered by a new generation of readers ready to think about prejudice and how to stand up and speak out in the face of injustice.
---