Your 2013 Sundance reading list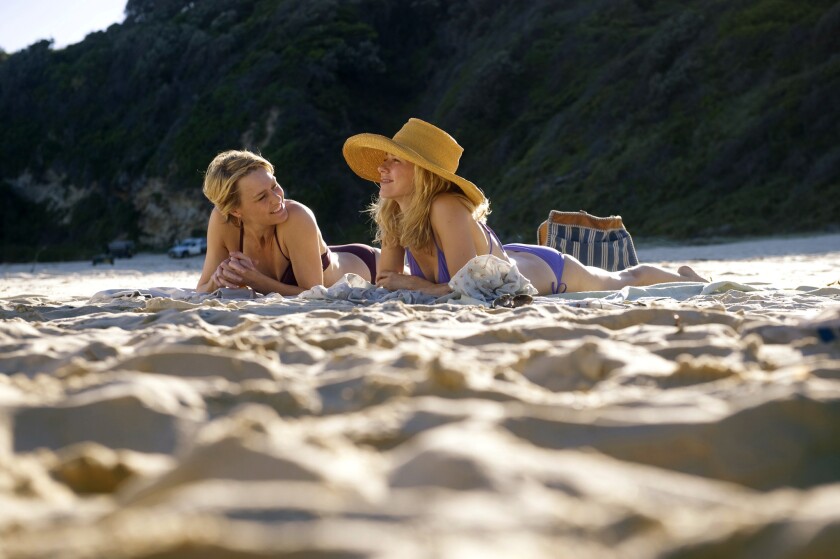 The Sundance Film Festival is well under way, giving us a preview of the independent features that may soon be coming to screens near us. The mix is interesting and sexy this year, and includes a good share of auteurs who've both written and directed their films.
And yet, books remain in the mix. Here's your guide to the books behind the movies that are taking Sundance by storm.
Movie: "Two Mothers"
Starring: Naomi Watts, Robin Wright, Xavier Samuel, and James Frechevile
Plot: Two close friends secretly carry on affairs with each other's sons
Based on: A short story by Nobel Prize winner Doris Lessing. Lessing's story begins years later, after the sons have been married off -- and is titled "The Grandmothers." Did that seem too elderly, even for independent film? The story can be found in Lessing's collection of the same name, "The Grandmothers," first published in the U.S. in 2004.
Movie: "jOBS"
Starring: Ashton Kutcher
Plot: Biopic about Apple founder Steve Jobs
Based on: The movie is based on the life of Steve Jobs and not a book about the life of Steve Jobs. Nevertheless, Walter Isaacson's best-selling biography "Steve Jobs," which came out shortly after Jobs died of cancer in 2011, tells the same story in what I'll wager is much greater detail.
Movie: "Austenland"
Starring: Keri Russell, JJ Feild, Bret McKenzie, Jennifer Coolidge, Georgia King, James Callis
Plot: A New York graphic designer goes on an immersive Austen-themed vacation, finding an Austen-like romance
Based on: The 2007 novel "Austenland" by Shannon Hale. "As with Bridget Jones, what 'Austenland' lacks in originality it makes up in cheeky irreverence," Ella Taylor wrote in our review of the book. "I don't want to oversell 'Austenland,' but if you're looking for some lit lite to see you through a day at the beach, you could do a lot worse." Extra bookish note: One of the film's producers is "Twlight" author Stephenie Meyers.
Movie: "The Spectacular Now"
Starring: Miles Teller, Shailene Woodley, Brie Larson, Jennifer Jason Leigh, Mary Elizabeth Winstead, Kyle Chandler
Plot: High school party boy meets geeky girl, complications ensue
Based on: The young adult novel "The Spectacular Now" by Tim Tharp. The book was very well-received; it was a finalist for the National Book Award in 2008.
Movie: "C.O.G."
Starring: Jonathan Groff, Denis O'Hare, Corey Stoll, Dean Stockwell, Casey Wilson, Troian Bellisario
Plot: A young man works for the summer at an Oregon apple farm, and things are strange -- because that young man is David Sedaris.
Based on: The David Sedaris story "C.O.G" that appeared in his 1997 collection, "Naked." This is the first time that Sedaris, who contributed to the script, has allowed one of his stories to be made into a film. "I'm not a sympathetic [character]," Sedaris told The Times. "I can't deny that I had to act like I was smarter than everyone else. It was like, 'Ewww.' I cringe, but I can't deny it. All I can say is, I was 20 and that was difficult."
Movie: "Big Sur"
Starring: Jean-Marc Barr, Kate Bosworth, Josh Lucas, Radha Mitchell, Anthony Edwards, Henry Thomas
Plot: Overwhelmed by the success of "On the Road," writer Jack Kerouac retreats to a cabin in Big Sur
Based on: The life of Jack Kerouac as he was writing the novel "Big Sur," published in 1962. Like the recent film version of "On the Road," the movie blurs the line between the fiction Kerouac wrote and the life he lived -- and, indeed, the real life informed his fiction. A first edition hardcover of "Big Sur" goes for about $750.
Movie: "Kill Your Darlings"
Starring: Daniel Radcliffe, Dane DeHaan, Ben Foster, Michael C. Hall, Jack Huston, Elizabeth Olsen
Plot: A little-known story from Beat Generation's early days, when college student Allen Ginsberg encountered Lucien Carr and a circle of men around him.
Based on: The real-life story of Ginsberg, Carr, William Burroughs, Jack Kerouac and David Kammerer. When Kammerer was found dead, Burroughs, Kerouac and Carr were arrested. Kerouac fictionalized the incident in two novels, "The Town and the City" (1950) and 1968's "Vanity of Duluoz."
ALSO:
Not dead yet: Libraries still vital, Pew report finds
Wanna come up and see William Blake's long-lost etchings?
Woe is Poe: The TV show 'The Following' loses its literary grip
---
Get the latest news, events and more from the Los Angeles Times Book Club, and help us get L.A. reading and talking.
You may occasionally receive promotional content from the Los Angeles Times.