Donald Trump might have captured the imaginations of millions of Americans, but it turns out that authors are a tougher sell for the presumptive Republican presidential nominee.
More than 600 American writers, including Stephen King, Junot Diaz, Cheryl Strayed and Dave Eggers, have signed an "open letter to the American people" pledging their opposition to Trump's candidacy.
The letter, posted on the website Literary Hub and credited to authors Andrew Altschul and Mark Slouka, states in no uncertain terms that Trump "deliberately appeals to the basest and most violent elements in society" and "denigrates women and minorities."
The writers lay out a long list of reasons they're opposed to Trump, including "because the history of dictatorship is the history of manipulation and division, demagoguery and lies" and "because neither wealth nor celebrity qualifies anyone to speak for the United States,to lead its military, to maintain its alliances, or to represent its people."
It concludes, "for all these reasons, we, the undersigned, as a matter of conscience, oppose, unequivocally, the candidacy of Donald J. Trump for the presidency of the United States."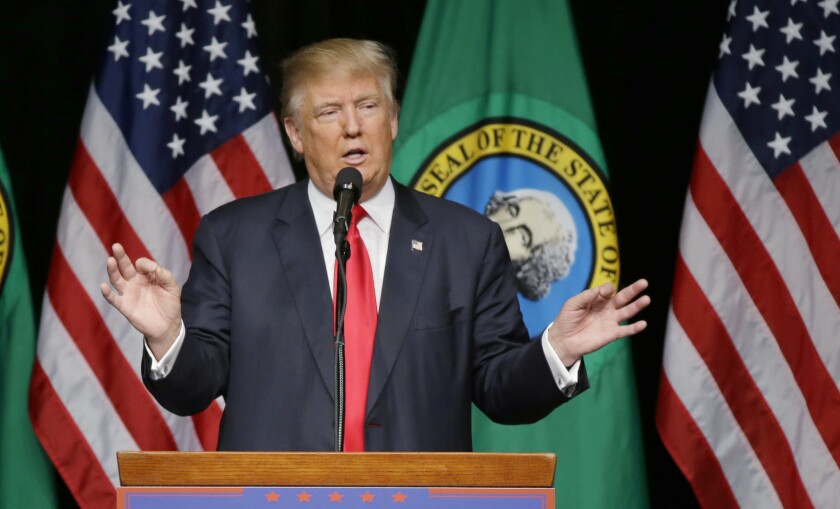 The list of signers reads like a who's who of American literature, featuring novelists Lauren Groff, Francine Prose, Michael Chabon, Karen Russell, Peter Ho Davies, Junot Díaz and Tobias Wolff.
It also features signatures from nine Los Angeles writers, including Sarah Shun-lien Bynum, Bernard Cooper and Aimee Bender.
The list was launched Tuesday morning with 450 signatories; after a few hours, the number had grown to more than 600.
On Twitter, several authors praised the letter. "Trump is the enemy in this electoral cycle & his defeat is going to take all our energy and fight and togetherness," tweeted novelist Laura van den Berg.
Journalist Connie Schultz, who is married to Ohio Sen. Sherrod Brown-- often mentioned as a possible running mate to likely Democratic presidential nominee Hillary Clinton -- posted a link to the letter, adding "Yet another reason you should hang out with writers."
ALSO
J.K. Rowling defends 'offensive and bigoted' Donald Trump's free speech
The new book 'The Other Slavery' will make you rethink American history
Now Ann Coulter likes Donald Trump so much she's writing a book, 'In Trump We Trust'
---