J.K. Rowling defends 'offensive and bigoted' Donald Trump's free speech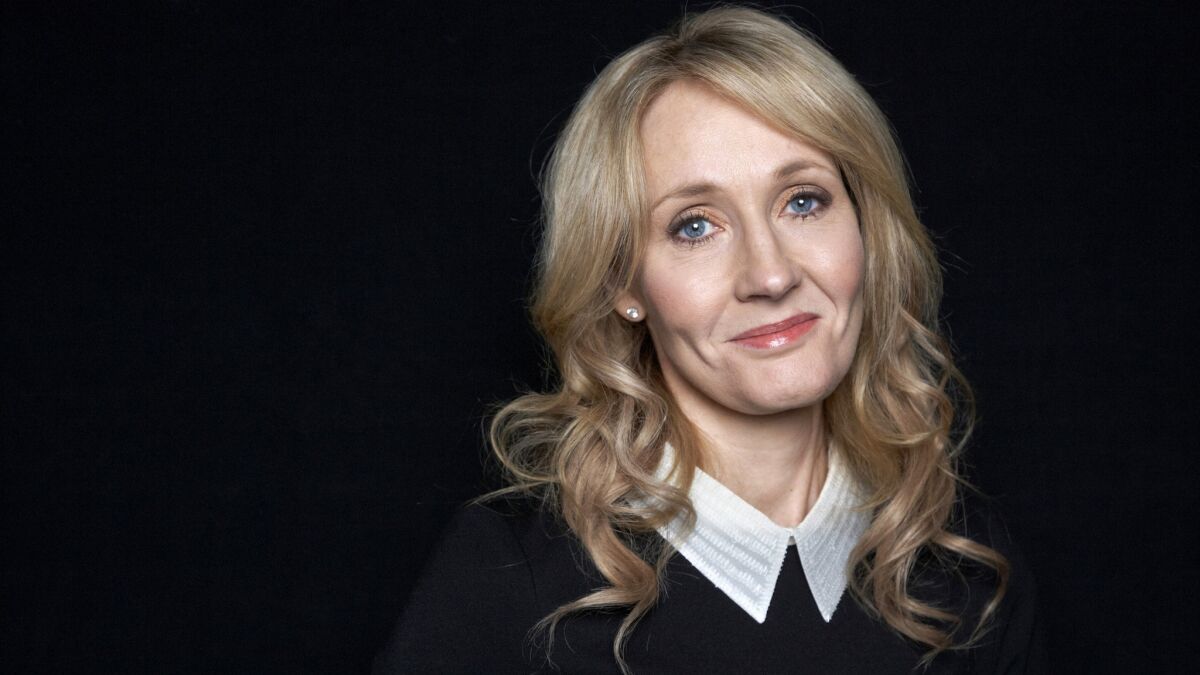 "Harry Potter" creator J.K. Rowling is no fan of Donald Trump. The author has gone so far as to compare him — unfavorably — to Lord Voldemort, the archvillain of her famous series of books.
But Rowling is more offended by threats to free speech than she is by the presumptive Republican presidential nominee.
In a speech Monday at the PEN Literary Gala in New York, Rowling sharply criticized a recent petition circulating in the U.K. seeking to have Trump banned from entering the country.
"Only last year, we saw an online petition to ban Donald Trump from entry to the U.K. It garnered half a million signatures," Rowling told the crowd, which reacted with scattered applause and laughter.
"Just a moment," a smiling Rowling said. "Now, I find almost everything that Mr. Trump says objectionable. I consider him offensive and bigoted. But he has my full support to come to my country and be offensive and bigoted there." The audience applauded her.
"His freedom to speak protects my freedom to call him a bigot," Rowling continued. "His freedom guarantees mine. Unless we take that absolute position, without caveats or apologies, we have set foot upon a road with only one destination. If you seek the removal of freedoms from an opponent simply on the grounds that they have offended you, you have crossed a line to stand alongside tyrants who imprison, torture and kill on exactly the same justification."
Rowling was at the gala to accept the 2016 PEN/Allen Foundation Literary Service Award, which has also been awarded to Philip Roth, Salman Rushdie and Toni Morrison.
PEN America, which hosted the gala, singled out Rowling's work on behalf of free speech and her work with the Lumos Foundation when it announced she would be presented with this year's award.
"Herself the frequent object of censorship in schools and libraries across the globe, as well as online targeting, Rowling has emerged as a vocal proponent of free expression and access to literature and ideas for children, as well as incarcerated people, the learning-disabled, and women and girls worldwide," the organization said.
Rowling's speech wasn't the first time a speaker at the PEN gala defended the right of people to express unpopular views. Last year, the organization honored Charlie Hebdo, the French satirical magazine whose offices were attacked by gunmen after the publication ran cartoons depicting the prophet Muhammad. Eleven people were killed in the attack, including the magazine's editor.
The magazine's next editor, Gérard Biard, spoke at the gala, saying, "It's the function of satire, being provocative and offensive, is it not? Being shocked is part of a democratic debate. Being shot is not."
The decision to honor the magazine was controversial among PEN's members, at least six of whom, including Teju Cole, Peter Carey and Michael Ondaatje, boycotted the gala.
Salman Rushdie criticized those writers as "Six Authors in Search of a bit of Character," saying, "What I would say to both Peter [Carey] and Michael [Ondaatje] and the others is, I hope nobody ever comes after them."
ALSO
Robert Shapiro will reveal what O.J. Simpson said after his court verdict was read
Don't let the drama around Sinead O'Connor eclipse her art
Naked Burt Reynolds and man-hunting in Vietnam: Helen Gurley Brown biographer Brooke Hauser on how the Cosmo girl came to be
---
Get the latest news, events and more from the Los Angeles Times Book Club, and help us get L.A. reading and talking.
You may occasionally receive promotional content from the Los Angeles Times.