The Man Booker Prize shortlist includes some surprises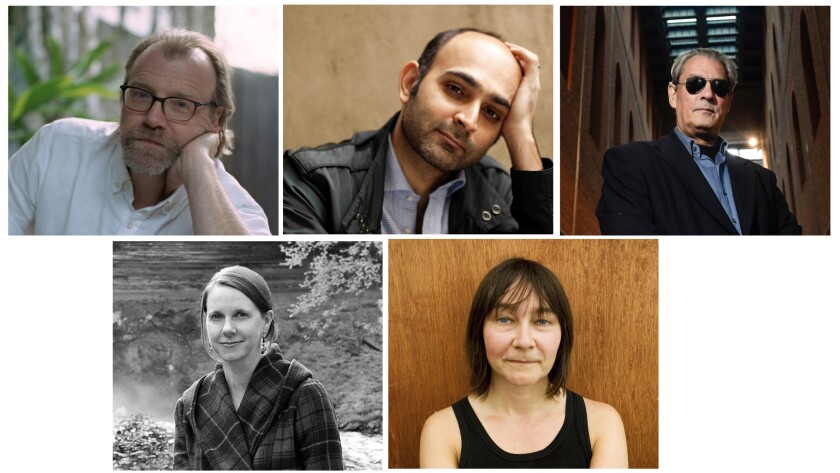 The shortlist for the Man Booker Prize, considered one of the most prestigious fiction awards in the world, was revealed Wednesday.
Three American authors made the cut from the longlist: George Saunders, for "Lincoln in the Bardo"; Paul Auster, for his novel "4 3 2 1"; and Emily Fridlund for "History of Wolves."
Saunders and Auster are veteran authors with a number of awards and plaudits. But for Fridlund, it's a surprise: "History of Wolves" is her debut novel.
Scottish novelist Ali Smith makes the shortlist for the fourth time with her novel "Autumn." Pakistani author Mohsin Hamidmade the shortlist again, this time for his novel "Exit West," which has won international acclaim.
The sixth book on the list is "Elmet" by Fiona Mozley, a debut author who is currently a PhD student in London. The novel, which was published in Britain just last month by a small imprint, J.M. Originals, is not yet for sale in the U.S.
The shortlist was winnowed down from a long list of 13 books, which was revealed in July. High-profile books on the long list that didn't make the cut include Colson Whitehead's Pulitzer Prize-winning "The Underground Railroad" and Zadie Smith's "Swing Time."
American writers have been eligible for the Man Booker Prize only since 2014, when the rules were changed to allow books written in English by authors from anywhere in the world (and published in Britain.). Previously, the award had been open to members of the British Commonwealth and Zimbabwe.
The first author to win under the new rules was the Jamaican-born Marlon James, who now lives in Minnesota, who took the prize in 2015 for his novel "A Brief History of Seven Killings." He was followed by American Paul Beatty, whose satirical novel "The Sellout," set in South Los Angeles, won the award in 2016.
The British betting company Ladbrokes quickly posted odds for the Booker Prize, with Saunders as a 2:1 favorite, Mozley and Hamid tied in second place at 4:1, Auster at 5:1 and Smith and Fridlund as 6:1 underdogs.
The Booker, which comes with a cash prize of $66,000, will be awarded at a London ceremony on Oct. 17.
OUR REVIEWS:
For a doorstopper, Paul Auster's "4 3 2 1" is surprisingly light
Emily Fridlund's debut novel "History of Wolves" is chilling, in a good way
Mohsin Hamid's "Exit West" imagines a new way out for refugees
George Saunders' "Lincoln in the Bardo" is remarkable
---
Get the latest news, events and more from the Los Angeles Times Book Club, and help us get L.A. reading and talking.
You may occasionally receive promotional content from the Los Angeles Times.