CicLAvia's poetry in motion: Finding poetry on Sunday's route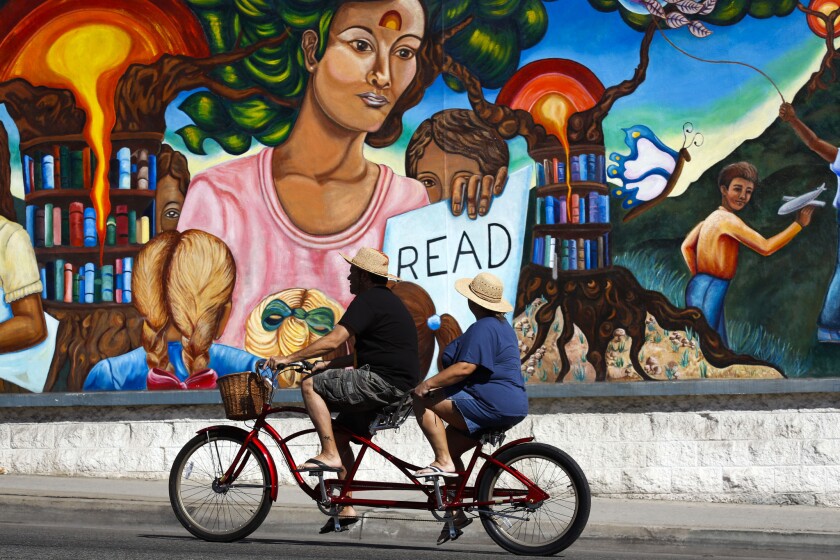 This Sunday, bikers, walkers, skaters, and other carless Angelenos will take to the streets in the first CicLAvia to take place in the Valley. Along the route, they can get a dose of poetry near the Studio City Farmers Market Hub.
At the behest of LA Riverworks, Harold Abramowitz co-organized the reading with Amanda Ackerman. "We do a lot of work in our individual and collaborative writing practices around ideas of nature, the environment, the relations and interactions of living beings with each other and a variety of ecologies, and more," Abramowitz explains.
Readers include Sister Spit contributor Myriam Gurba; feminist poet Margaret Rhee; three CalArts alumni -- K. Bradford, Laura Vena and Saehee Cho; and Los Angeles Road Concerts curator Stephen Van Dyck.
In their readings, all will be responding to a prompt from Abramowitz and Ackerman: "We would ask that the work you bring to read, new or old, written or as yet unwritten, respond to the idea of the river, or any other body, flowing, and the cyclists, or any other bodies, moving through space, in other words, responses that might involve duration and moving through space, or works of spatial and temporal duration... or works that reflect what a piece of writing might look like if the audience were the cyclist/river -- in other words, work that would suit a reader who is in motion (flowing, whirring through space) instead of static/sitting in place? What kind of writing could be written and then read to the moving river/moving body?"
"We are excited to hear what they've come up with!" Abramowitz says. "Anyone who enjoys hearing provocative and interesting literary work should find this a great event."
The poetry readings will take place from 2 p.m.-3:30 p.m. in Studio City, near the intersection of Laurelgrove Avenue and the Los Angeles River.
Book news and more; I'm @paperhaus on Twitter
---
Get the latest news, events and more from the Los Angeles Times Book Club, and help us get L.A. reading and talking.
You may occasionally receive promotional content from the Los Angeles Times.