Justice Department's Ferguson report to be published by New Press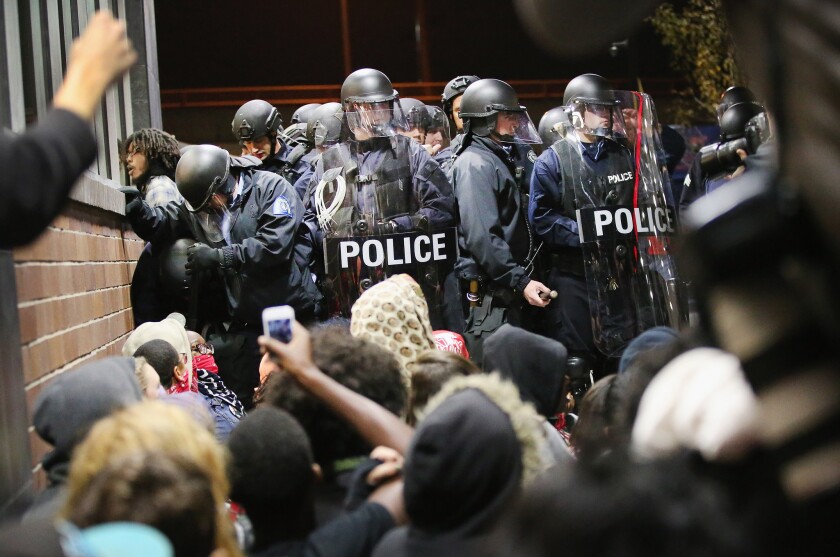 New Press will publish the U.S. Department of Justice's "Investigation of the Ferguson Police Department" and bring it to bookstores in July. The report, the result of a six-month DOJ investigation, found rampant injustice in the Missouri town where police shot and killed unarmed black 18-year-old Michael Brown.
Introducing the report when it was issued online in March, U.S. Atty. Gen. Eric Holder described Ferguson as: "A community where local authorities consistently approached law enforcement not as a means for protecting public safety, but as a way to generate revenue. A community where both policing and municipal court practices were found to disproportionately harm African American residents. A community where this harm frequently appears to stem, at least in part, from racial bias -- both implicit and explicit. And a community where all of these conditions, unlawful practices and constitutional violations have not only severely undermined the public trust, eroded police legitimacy and made local residents less safe -- but created an intensely charged atmosphere where people feel under assault and under siege by those charged to serve and protect them."
The New Press edition of the report will include a substantial introduction by Theodore M. Shaw, a former president of the NAACP Legal Defense and Educational Fund who is currently a law professor and director of the Center for Civil Rights at the University of North Carolina School of Law at Chapel Hill.
Of course, as a government document, the report is free, but there is a tradition for publishing such reports in book form. Recently, independent Melville House published "The Senate Intelligence Committee Report on Torture" as a 576-page, $16.95 paperback and e-book. The Pentagon Papers, a report on Vietnam commissioned by then-Secretary of Defense Robert McNamara and leaked to the New York Times and the Washington Post, were controversially published, in part, in both papers in 1971, and then appeared multiple times in paperback.
Ellen Adler, New Press' publisher, said in a statement that the Ferguson report "is a crucial document that deserves the widest possible readership."
Twitter: @paperhaus
---
Get the latest news, events and more from the Los Angeles Times Book Club, and help us get L.A. reading and talking.
You may occasionally receive promotional content from the Los Angeles Times.