George R.R. Martin's first published work was a 'Fantastic Four' fan letter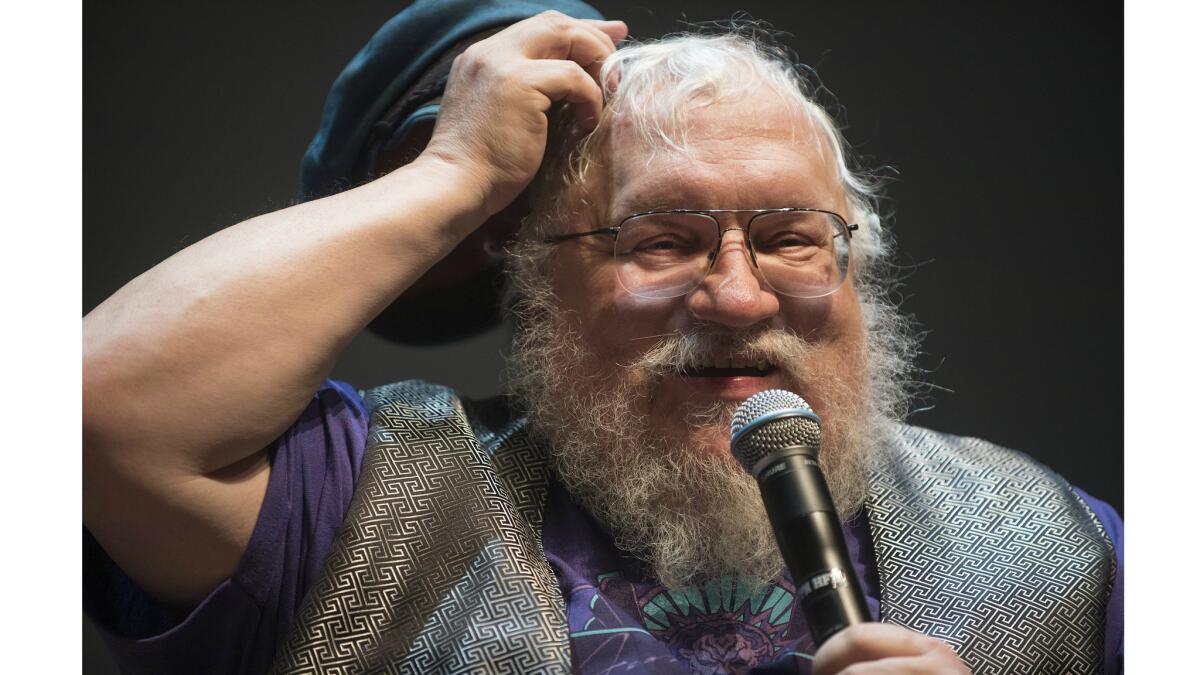 If you're a "Game of Thrones" fan who's written a fan letter to author George R.R. Martin, you might be happy to know he's been in your shoes.
The author of the "A Song of Ice and Fire" book series, upon which the hit HBO show is based, wrote a fan letter to Marvel Comics when he was just 15. It was the first published writing by the bestselling fantasy writer.
In the letter, featured in a History Channel documentary and reprinted by Entertainment Weekly, was in response to Marvel's "Fantastic Four" No. 17 comic book.
"Dear Stan and Jack, F.F. #17 was greater than great. Even now I sit in awe of it, trying to do the impossible — that is, describe it," Martin wrote. "It was absolutely stupendous, the ultimate, utmost!… It will live forever as one of the greatest F.F. comics ever printed, ergo, as one of the greatest of ALL comics."
The letter was attributed to George R. Martin of Bayonne, N.J. He later added the second "R" in reference to his confirmation name, Richard.
His letter appeared in Fantastic Four No. 20 in November 1963. The editors responded, writing, "We might as well quit while we're ahead. Thanks for your kind words, George, and now — it's time for our favorite department — where we talk to you straight from the shoulder."
Martin isn't the only popular author to share his earliest writing. In a 1993 book titled "First Words: Earliest Writing From Favorite Contemporary Authors," Stephen King revealed the first fiction he wrote at age 9, a short story called "Jhonathan and the Witches."
"Once upon a time there was a boy named Jhonathan," the story begins. "He was smart, handsome, and very brave. But Jhonathan was a cobblers son."
The story then takes a Stephen King turn, with the boy ordered by the king of his realm to kill three witches, which he does, gleefully.
The anthology also includes a story by a 15-year-old Madeleine L'Engle, who would go on to write the classic young adult fantasy novel "A Wrinkle in Time."
The story, about six people waiting to enter the gates of heaven, showcases some of the fantasy themes that would show up in her later work.
"Nan entered last, into a most beautiful garden full of thousands of flowers, or were they flowers? Why no, of course not, they were fairies," the young L'Engle wrote. "A beautiful one fluttered up to her and in a voice that sounded like the tones one would imagine blue Canterbury bells would make swinging in the breeze told Nan that the fairy queen desired her presence."
J.K. Rowling, the creator of Harry Potter, also started her literary career early. According to Marc Shapiro's biography of the Scottish author, "J.K. Rowling: The Wizard Behind Harry Potter," a 6-year-old Rowling wrote her first story about a rabbit (named "Rabbit") who had measles.
Unfortunately for fans of Harry Potter (and rabbits), the story, if it still exists, has never been published.
Sign up for our Book Club newsletter
Get the latest news, events and more from the Los Angeles Times Book Club, and help us get L.A. reading and talking.
You may occasionally receive promotional content from the Los Angeles Times.