What would Jane Austen think of a 12-foot wet Darcy statue?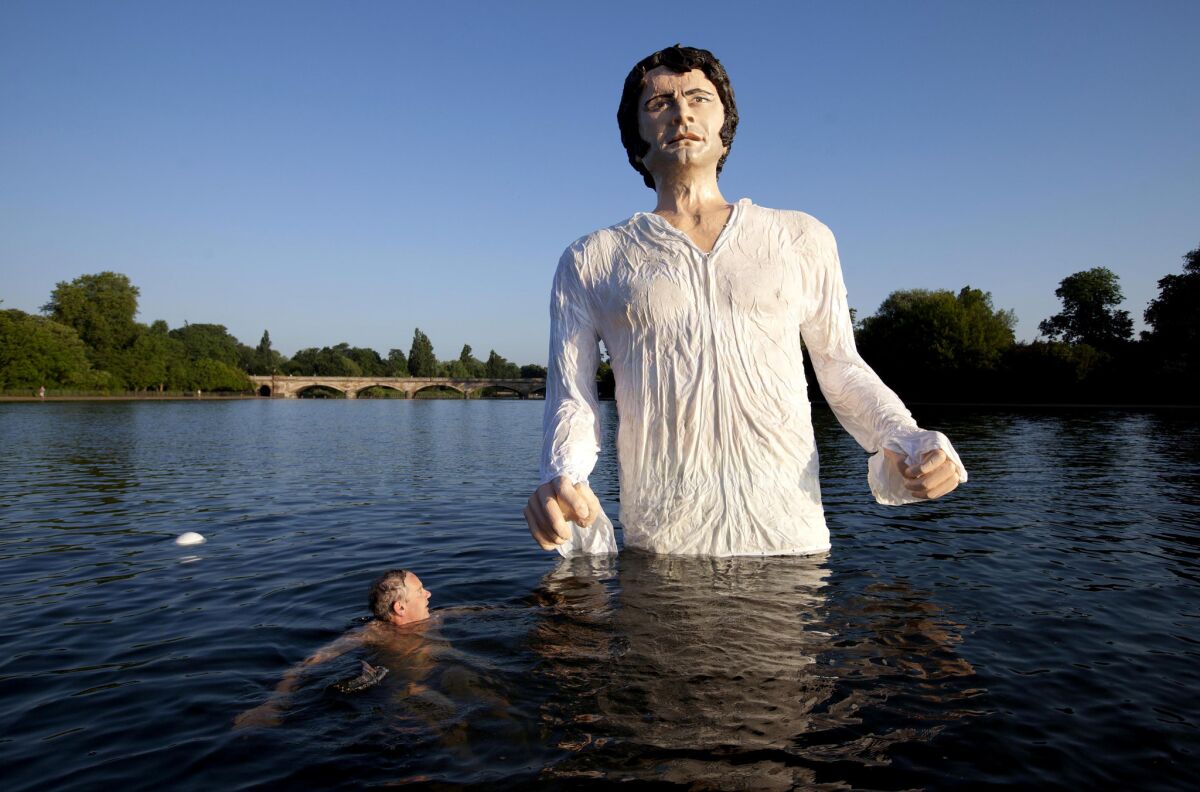 When Jane Austen wrote "Pride and Prejudice," she didn't imagine a sexy Mr. Darcy emerging from a pond in a dripping-wet white shirt. Yet thanks to the filmmakers behind the 1995 miniseries of the novel, viewers got to see Colin Firth, as Darcy, do exactly that.
Firth was such a perfect Mr. Darcy that it's easy to believe Austen herself would have been smitten by him. But would she be as taken with a new sculpture memorializing that scene?
The 12-foot sculpture, currently installed in the Serpentine lake in Hyde Park in London, may prove that not all Darcys are created with equal charm.
It depicts Firth/Darcy in a seemingly sopping wet white shirt that clings to his sculpted pecs. His hair, complete with long sideburns, squats on his head like a lump of mud. His skin has the texture of pockmarked fiberglass. And his face is twisted into an expression of consternation that makes him look less like the handsome actor than a fun house dummy being retired to a dusty back room.
What's more, standing 12 feet above the lake's surface, he's frighteningly gigantic.
The sculpture comes courtesy the British network UKTV, as a promotion for its new channel, Drama. When the network surveyed British viewers, they named the lake scene as their favorite television drama moment. Other favorites were from "EastEnders," "Coronation Street," "Doctor Who" and "Sherlock Holmes." But the dripping Mr. Darcy topped them all.
Adrian Wills, general manager of Drama, told the Sun, "Jane Austen spent a lot of time walking in Hyde Park and along the banks of the Serpentine, so we would like to think she would have approved of our new dashing Darcy."
Would she?
ALSO:
Diesel Books opens its fourth store
Charlie Huston channels his anger in 'Skinner'
Ernest Gaines, Joan Didion among those receiving national arts honors
Carolyn Kellogg: Join me on Twitter, Facebook and Google+
---
Get the latest news, events and more from the Los Angeles Times Book Club, and help us get L.A. reading and talking.
You may occasionally receive promotional content from the Los Angeles Times.