More print copies of the controversial 'Fire and Fury' are on the way to meet extraordinary demand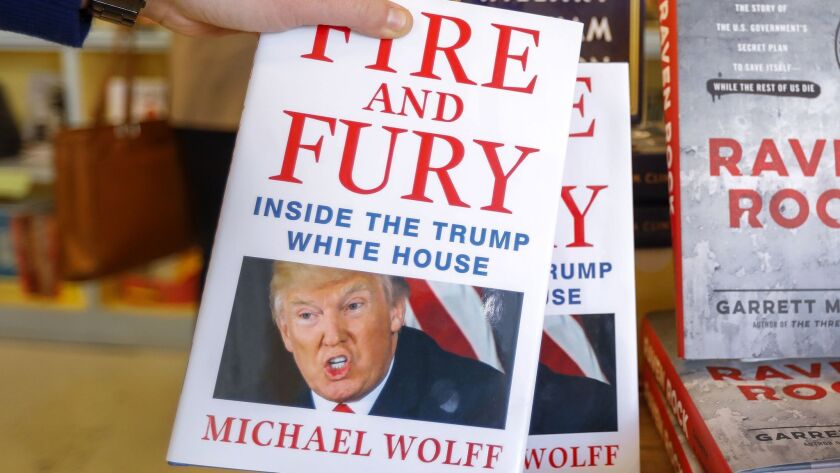 The furor over journalist Michael Wolff's bestselling book "Fire and Fury: Inside the Trump White House" showed no sign of abating, with publisher Henry Holt and Co. rushing to print more copies of the book, and responding to a cease-and-desist letter from President Trump's lawyer on Monday.
CNN reports that Henry Holt has ordered more physical copies of the book after evidently being caught flat-footed by high demand. Since last week, "Fire and Fury" has been the No. 1 bestselling book on the Amazon and Barnes and Noble websites. Amazon is advising customers that orders for the book will be fulfilled "within 2 to 4 weeks," while Barnes and Noble says it expects to ship orders on Jan. 19.
Demand for the book has affected brick-and-mortar bookstores as well, with retailers either selling out of the exposé within hours, or still waiting to receive copies of the book from distributors. In Southern California, Eso Won books has sold out and ordered additional copies of the book, as has Vroman's, reports the Orange County Register.
"Fire and Fury," which goes behind the scenes at the White House, first caught the nation's attention last week. Wolff makes several shocking claims in the book, asserting that Trump never expected to win the presidency, prefers to eat fast food because he's afraid of being poisoned, and appeared not to know who former Speaker of the House John Boehner was.
The book also claims that former Trump advisor Steve Bannon believed that a meeting between Donald Trump Jr. and several Russians at Trump Tower was "unpatriotic" and "treasonous," and that he referred to Trump's daughter Ivanka Trump as "dumb as a brick." After the excerpts were published, Trump slammed both Wolff and Bannon on Twitter, calling author Wolff "a total loser who made up stories in order to sell this really boring and untruthful book" and referring to his former chief aide Bannon as "Sloppy Steve."
On Thursday, Trump's attorney Charles J. Harder sent a cease-and-desist letter to Wolff and Henry Holt, demanding the book be pulled from publication. First, Henry Holt moved up the book's release date, and on Monday morning, John Sargent, the CEO of parent company Macmillan, shared a letter saying that the publisher planned to stand behind Wolff and his book.
"[A] demand to cease and desist publication — a clear effort by the President of the United States to intimidate a publisher into halting publication of an important book on the workings of the government —is an attempt to achieve what is called prior restraint," Sargent wrote. "That is something that no American court would order as it is flagrantly unconstitutional.
"There is no ambiguity here," the letter continued. "This is an underlying principle of our democracy. We cannot stand silent. We will not allow any president to achieve by intimidation what our Constitution precludes him or her from achieving in court. We need to respond strongly for Michael Wolff and his book, but also for all authors and all their books, now and in the future. And as citizens we must demand that President Trump understand and abide by the First Amendment of our Constitution."
While physical copies of "Fire and Fury" are, at the moment, exceedingly hard to come by, e-book versions and the downloadable audio book are available immediately for those who can't wait for the book's next print run.
A pirated version of the book has been making the rounds. On Monday night, Wikileaks' Twitter account posted a link to a PDF version of the book hosted on Google Drive, which was since taken down.
RELATED
Should you read "Fire and Fury"?
"Fire and Fury": An analysis from Washington
Michael Wolff, author of new Trump book, not one to shy away from controversy
---
Get the latest news, events and more from the Los Angeles Times Book Club, and help us get L.A. reading and talking.
You may occasionally receive promotional content from the Los Angeles Times.