Blinded by dollar signs? PW names E.L. James person of the year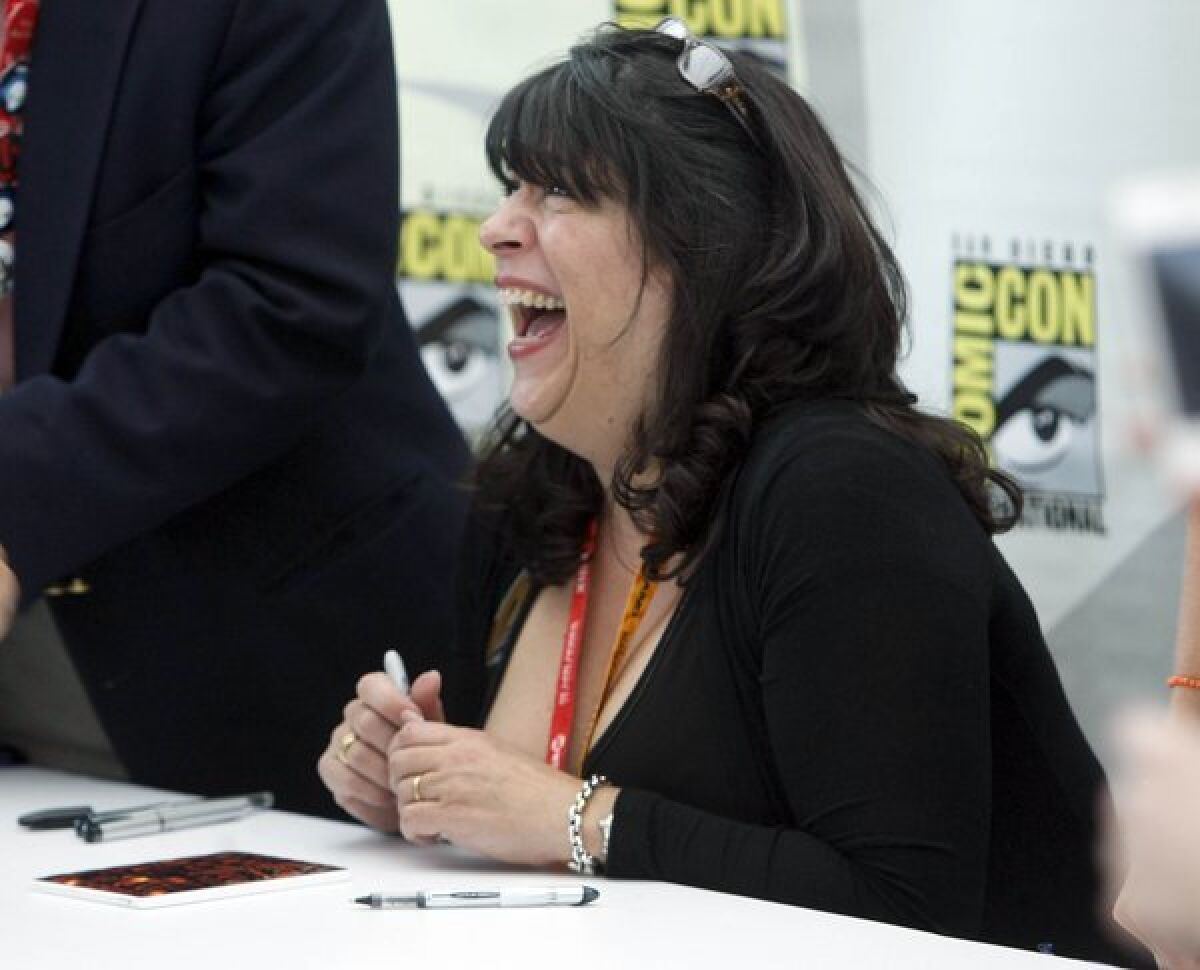 What was Publishers Weekly thinking? The trade journal has named author E.L. James the Publishing Person of the Year. An interview with James is forthcoming in its Monday issue.
James, of course, is the author of the mega-selling erotic trilogy "Fifty Shades of Grey," "Fifty Shades Darker" and "Fifty Shades Freed." But she's not just the hottest thing to hit bestseller lists since Harry Potter -- she's an author who initially hit bestseller lists while working entirely outside of traditional publishing channels. This makes her Publishing Person of the Year, um, how?
This is how Publishers Weekly explains its decision: "James, the pen name of Erika Leonard, became the author of the fastest-selling adult series of all time after her erotic trilogy, initially posted online as 'Twilight' fan fiction, became a massive viral hit. The series was acquired by Random House's Vintage unit in March and the books--'Fifty Shades of Grey,' 'Fifty Shades Darker' and 'Fifty Shades Freed' -- have sold over 35 million copies in the U.S. alone (combined print and digital), bringing in more than $200 million in revenue to the publisher. Because the success of the series continues to reverberate throughout the industry in a number of ways--among other things, the money it's brought in helped boost print sales in bookstores and turned erotic fiction into a hot category--we have selected James as the most notable player on the publishing stage this year."
I'm going to try to break this down.
1. James borrowed characters from "Twilight," the popular YA series written by Stephenie Meyer.
2. Outside of regular publishing channels, James found a tiny electronic publisher for her book in ebook form.
3. The books "went viral" -- a mysterious process that happened largely outside of the control of any individuals involved.
4. James signed a deal with Random House paperback imprint Vintage, and the book went on to be an even bigger success, making $200 million in revenue.
5. Brick and mortar bookstores have seen a "Fifty Shades" benefit (although this is really a case of the rising tide floating all boats -- nothing about this book was geared specifically to benefit traditional bookstores over e-retailers).
You know what's missing from the rationale? Intent. James wrote fan fiction, she got it independently published by a micro e-press, it went viral, she got a book deal, she started collecting serious paychecks.
All that is great news for an individual author, but it hardly justifies making that individual the Publishing Person of the Year. Let me imagine some things an author in James' position might have done to merit such an accolade:
- create a model for viral ebook distribution
- found an independent ebook store
- work to legitimize fan fiction
- establish or support networks of erotica readers and writers
One thing Publishers Weekly didn't try to tell us is that James wrote a good book. She did not. She didn't even invent her characters -- she borrowed the virginal girl and powerful man from "Twilight" and then threw them into bed together. Then she tied them up. The prose is so embarassing that to poke fun at the novel, comedians simply read it out loud (not entirely safe for work).
It's really impossible to say that James has done much more than get very, very lucky, although PW tries to make that case. Someone who stumbles across a jackpot is certainly fortunate, but should they be annointed with an industry's laurels?
Maybe someday, PW will find a person in publishing who is doing something, rather than having something done to them, and name the individual Publishing Person of the Year.

ALSO:
Why is Len Riggio Publishers Weekly's man of the year?
Suzanne Collins follows 'Hunger Games' with 'Year of the Jungle'
Carolyn Kellogg: Join me on Twitter, Facebook and Google+
---
Get the latest news, events and more from the Los Angeles Times Book Club, and help us get L.A. reading and talking.
You may occasionally receive promotional content from the Los Angeles Times.