The way of Zen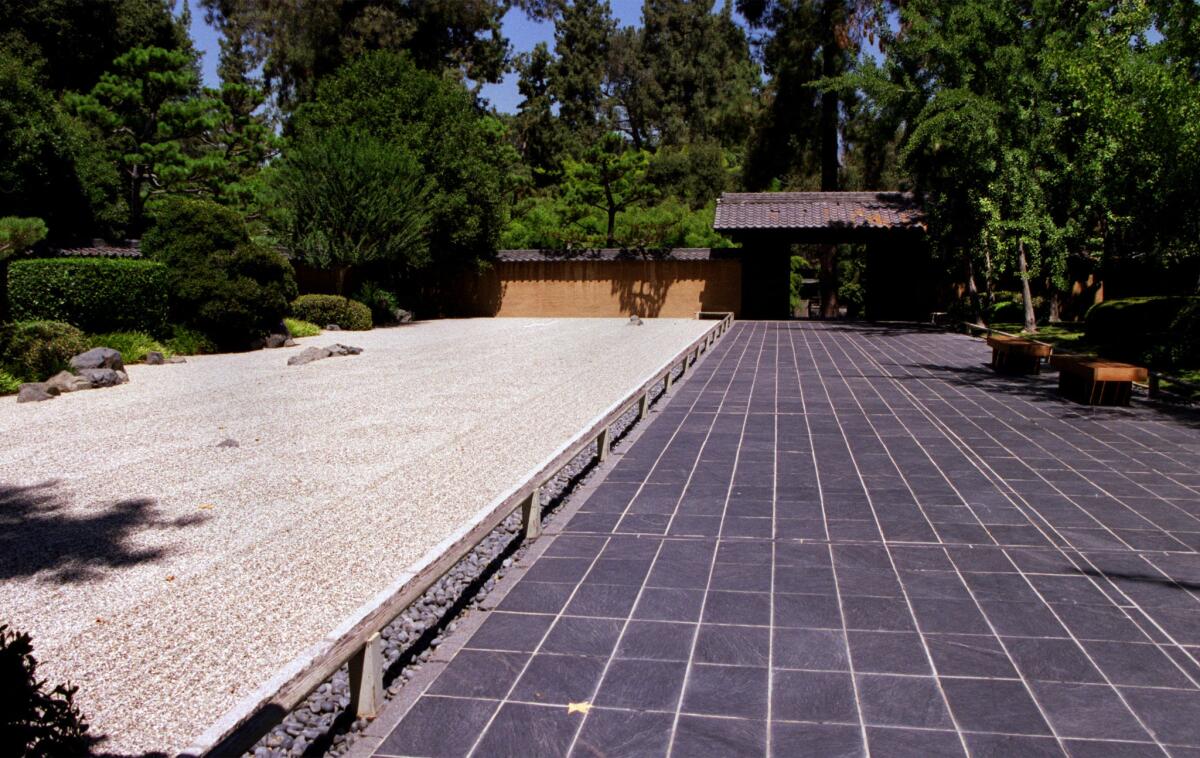 A week or so ago, on my way to meet a friend in Little Tokyo, I stopped into Bunkado on 1st Street, where I found a copy of Paul Reps and Nyogen Senzaki's "Zen Flesh, Zen Bones." Bunkado is my favorite store in Little Tokyo, in part for its variety (tea sets, flower arrangement guides, sake decanters) but even more so for the shelf of Japanese-themed books at the front.
Ninety years ago, another store called Bunkado — a bookstore affiliated with a small publishing house called Sodosha — occupied the cultural center of Little Tokyo. Among the publications it fostered was Shoson Nagahara's novella "Lament in the Night," a searing look at the underside of early 20th century immigrant life.
I can never walk into this new Bunkado without thinking of the original, and all the history, all the heritage that in Los Angeles we often disregard. And yet, this is one of the messages of "Zen Flesh, Zen Bones," a book I first encountered as a college student, although I did not then understand what it was about.
Instead, I read it through an intellectual filter, informed by my own wish for … what? a kind of permanance? … without understanding that such a desire is beside the point. Indeed, the lesson of the book is that permanence, like so much else, is an illusion, that all we have is the day-to-day, and that enlightenment, transcendence (if we can even talk in such terms) arises from acceptance, from the recognition that we have no control.
Originally published in 1959, "Zen Flesh, Zen Bones" was a product of its moment, America's first-wave fascination with Zen. But the beauty of the book is how, more than half a century later, its stories linger, speaking to us not out of a particular moment but from the timeless core of our humanity.
Gathering four classic texts — "101 Zen Stories," "The Gateless Gate," "10 Bulls" and "Centering" — it traces hundreds (and, in the case of the last work, thousands) of years of parables, offering not theology but practice, examples of how to live. The individual stories are short, often less than a page, but pointed, unsettling and comforting at once.
In "A Real Prosperity," a rich man asks a monk to write something honoring the prosperity of his family; the monk delivers a brief note, reading, "Father dies, son dies, grandson dies." The rich man grows enraged, certain he is being mocked, but the monk responds: "No joke is intended. … If before you yourself die your son should die, this would grieve you greatly. If your grandson should pass away before your son, both of you would be broken-hearted. If your family, generation after generation, passes away in the order I have named, it will be the natural course of life. I call this real prosperity."
It's easy to dismiss this as sophistry, a sort of garden variety philosophizing; it tells us nothing, after all, that we don't know. But this is the whole idea, that the truth is right in front of us, if only we can quiet our minds enough to see.
"This day will not come again," reads a tale called "Inch Time Foot Gem," "Each minute is worth a priceless gem." It reminds me of the passage in Ruth Ozeki's recent novel "A Tale for the Time Being" in which the 13th century Zen master Dõgen exhorts: "Wake up now! … And now! … And now!"
That's the challenge, without question, regardless of when or where we live. But the wonder of "Zen Flesh, Zen Bones" is how it applies this even to the most temporal concerns. "Killing," for instance, rather brilliantly connects respect for life to respect for the art of living, on the most secular terms.
"Those who speak against killing," the story tells us, "and who desire to spare the lives of all conscious beings are right. It is good to protect even animals and insects. But what about those persons who kill time, who are destroying wealth, and those who destroy political economy? We should not overlook them."
ALSO:
Flannery O'Connor and the art of prayer
Harryette Mullen walks Los Angeles into verse
Just say 'nein': Talking with Eric Jarosinski about NeinQuarterly
Get the latest news, events and more from the Los Angeles Times Book Club, and help us get L.A. reading and talking.
You may occasionally receive promotional content from the Los Angeles Times.