A video interview with Mark Z. Danielewski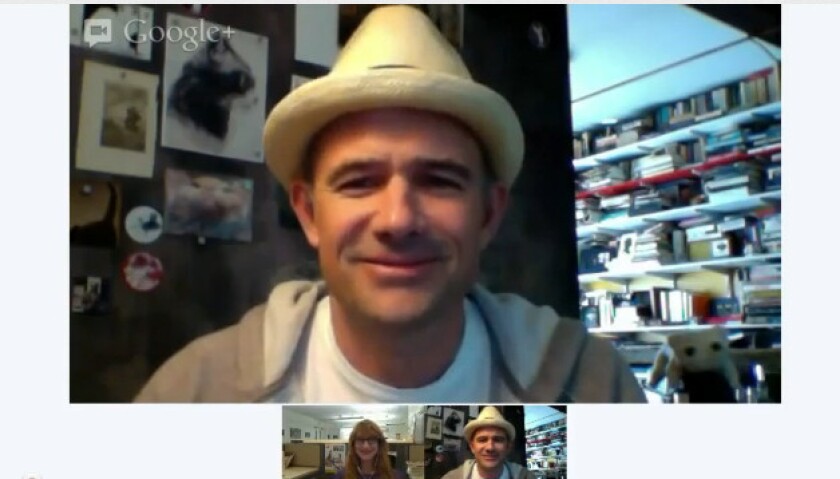 Author Mark Z. Danielewski is known for the form-shattering novels "House of Leaves" and "Only Revolutions." His latest, "The Fifty Year Sword," is no different. Danielewski joined us from his "Atelier Z" to talk about the interwoven ghost story, seeing major U.S. publication for the first time. The video is below.
In our conversation, Danielewski talks about the structure of "The Fifty Year Sword," which includes blank pages, color as guide and illustrations that were stitched in thread.
"The Fifty Year Sword," which is a perfect Halloween story, has been performed in a number of different ways. Danielewski explained how he presented it on this book tour -- no shadow puppets, but he was accompanied in some venues by pianist Christopher O'Riley.
He also talked about his writing process; while most authors write text that they then hand off to an editor and publisher, Danielewski does not. He writes within a layout program, so he can see how the words fall on the page. That's an integral part of how he writes, and has been since "House of Leaves," which was published in 2000.
Danielewski also talked about his work in progress, "The Familiar." It's a serial novel planned to run a whopping 27 episodes, and it's responsible for his recent obsession with cat T-shirts.
Described as a story about a girl who finds a kitten, "The Familiar" uses "familiar" in the magical sense -- a creature that is also a spirit that's a guide or ghost. Danielewski has steeped himself in cat lore, and shared some with us in the video -- but unfortunately, his Devon Rex cat Carl did not make an appearance.
ALSO:
Salman Rushdie: Beyond the tabloids
Joan Didion and the art of political narrative
E-books, schmee-books. This publisher is going vinyl
---
Get the latest news, events and more from the Los Angeles Times Book Club, and help us get L.A. reading and talking.
You may occasionally receive promotional content from the Los Angeles Times.