Bryan Ray Turcotte is saving L.A. punk history one band flier at a time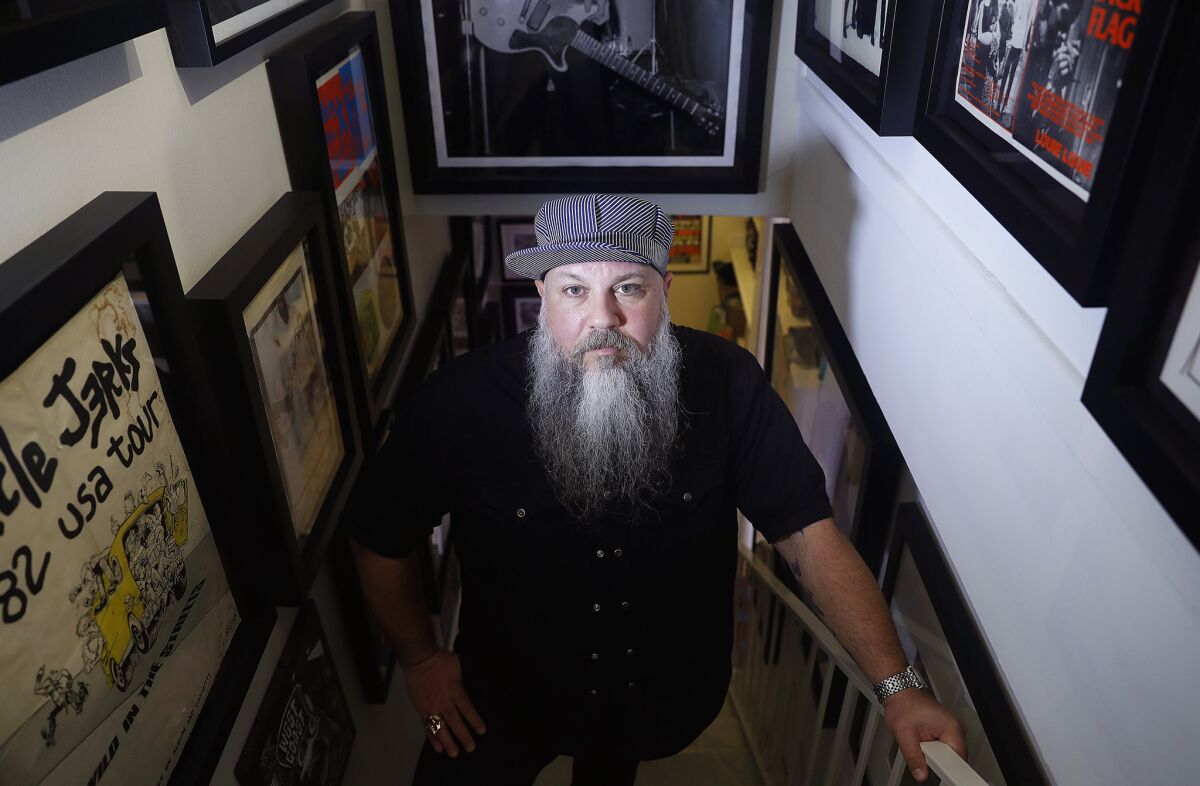 Tucked inside an old-school office park off Beverly Boulevard, the two-story headquarters of Kill Your Idols publishing looks more like a museum of punk-rock history than an indie media company. That's because owner Bryan Ray Turcotte, who founded Kill Your Idols in 1999 — and has since released more than 40 books and zines — has hand-built a business that thrives off his passionate and prolific collecting.
Stacks of 8-track tapes, band T-shirts, and even the shoes worn by Ric Clayton (famed illustrator for Venice-born band, Suicidal Tendencies) when he served a stint in L.A. County jail, are methodically stacked into a charismatic clutter in Turcotte's office, as framed posters of the Sex Pistols and New York Dolls line the stairwell. With more than 100,000 pieces in his total collection, which include the hotel room key to where the Dolls' Johnny Thunders died and a master mold used to make the signature "energy dome" hats worn by Devo, Turcotte's allegiance to music history is deep.
Don't ask permission — just do it yourself.
— Bryan Ray Turcotte
In fact, he traces back much of Kill Your Idols' do-it-yourself ethos to his teenage years, when he was a guitarist in a San Jose punk band. There, Turcotte and the rest of the "band kids" handled all aspects of promotion themselves — from photographing shows to illustrating fliers and managing booking schedules.
"That schooled me a lot on that idea: don't ask permission — just do it yourself," he says.
For the last 20 years, Turcotte committed to that DIY spirit, operating Kill Your Idols less as a commercial venture and more as a creative endeavor. Turcotte launched his publishing company almost two decades ago with "F* Up + Photocopied: Instant Art of the Punk Rock Movement," a hardback collection of fliers from punk shows of the late '70s and early '80s. Through his own comprehensive collectibles and collaborations with other artists, musicians and creators, Turcotte is preserving a fleeting moment in history and culture; an era when a rebellious musical uprising opened its arms to all sorts of alienated groups — from self-described outcasts, to LGBT individuals. Punk wasn't just a music movement, he says, but a youth movement that encouraged people to question authority, be true to themselves and perpetuate change. Turcotte himself felt welcomed into this fringe set from the age of 16, when he learned how to play guitar and joined a band.
"I lost all my friends from growing up soon as I became punk," he says. "Everyone sort of turned their back on me and I kind of found that empowering in a certain way."
In this pre-internet world of the '70s and '80s, word would spread about upcoming punk shows by word-of-mouth or largely, fliers. Posted on boards and telephone poles and subsequently ripped down and pocketed by kids as reminders to go, Turcotte amassed hundreds of fliers as a teen.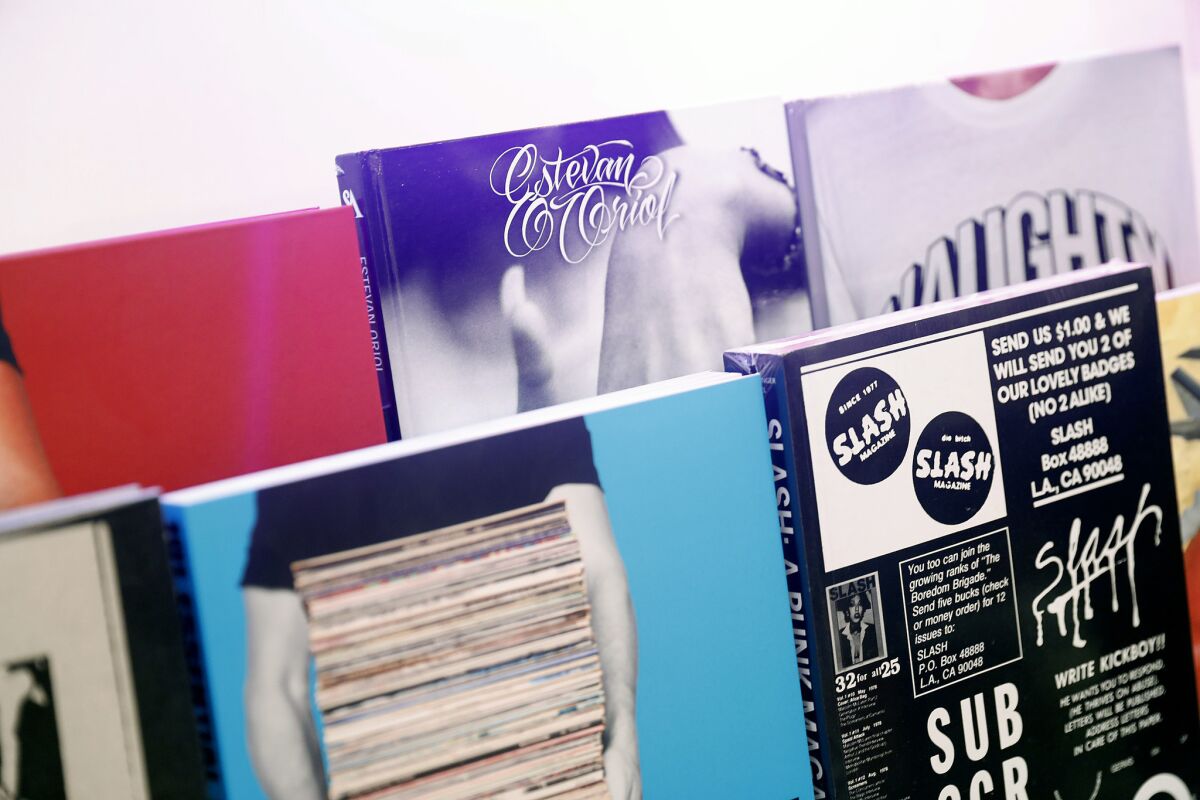 "You had to collect the fliers to understand what was happening in the next week or month," he says. Turcotte hung onto these paper pieces of history well past the show date, and believes the artwork of these fliers captures the spirit of the punk movement at the time even better than the actual music.
"I can show a punk flier to my son — who's 10 — and … you get the energy," he says. "You don't need an explanation."
These fliers jump-started his his life as a collector, says Turcotte, and because they — along with the zines, buttons and T-shirts of the time — were designed to be disposable, they're even more important to save and use today to inspire future generations. In fact, when Turcotte's mom called to tell him they were moving from his childhood home, he hopped in his car and drove from L.A. to the Bay Area to carefully, "one staple at a time," pull each flier off his bedroom wall.
Turcotte has gone on to release theme-driven zines and an array of photo-heavy as well as art-focused hardback books. Most of the works are released in extremely limited batches, with zines typically hand-numbered — never reprinted — and produced in runs of just 100 to 500. Books are often released in slightly larger batches of 1,000 to 5,000.
"I just don't want to dilute or overreach," says Turcotte.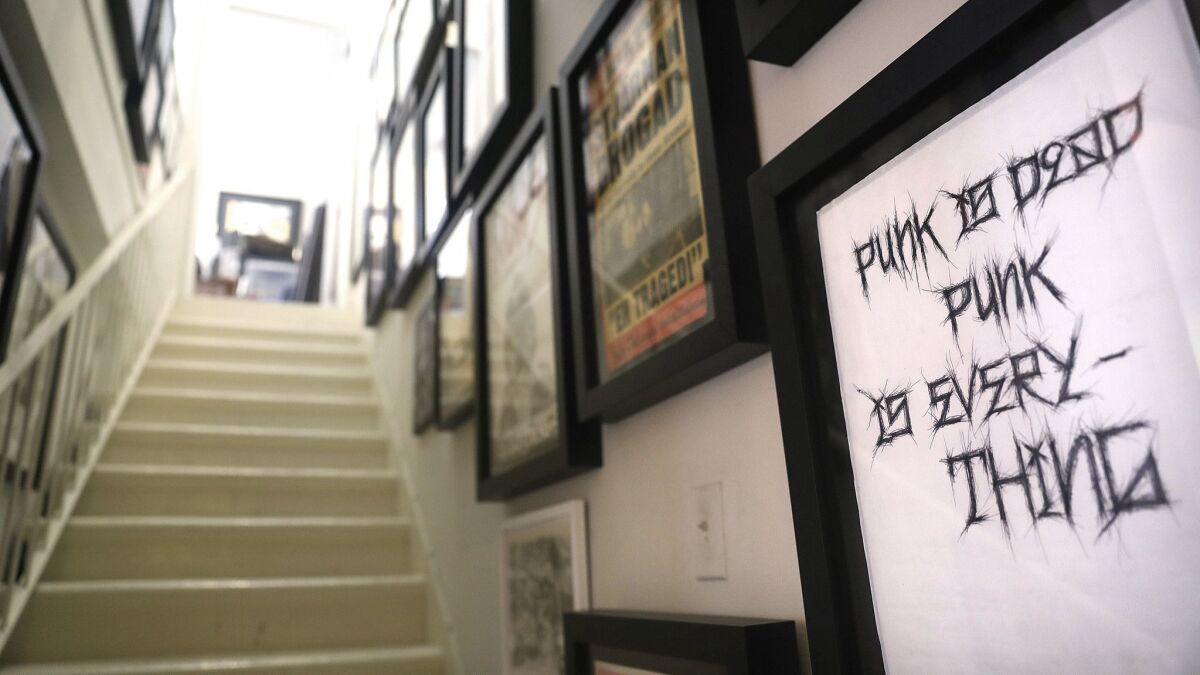 The zine aesthetic is simple and "hyper-curated" with "one message, one focus," he says. This is often embodied with a single cover image and one-word title; such as "Stoned," which features the famed gravestones of a handful of Hells Angels, Rick James and Johnny Ramone; and "Xmas," which includes all sorts of unconventional Santa photos, including St. Nick skateboarding, holding guns and being arrested.
Many of Turcotte's publications — produced in collaboration with friends, musicians and artists — have a distinctly Southern California feel, capturing some of the region's most deeply ingrained subcultures. One such publication is "Welcome to Venice: When I Have Fun They Call 911," released earlier in 2018 by Kill Your Idols and Berkeley-based Gingko Press. This glossy collection of Sharpie-drawn illustrations, concert fliers and archival photography celebrates the work of Venice-born artist Ric Clayton. Clayton's skull-heavy illustrations also capture Venice's rough-around-the edges heyday of punk, skateboarding and graffiti culture. While the book is available online, Kill Your Idols largely restricts in-store sales to independent shops, and chooses collaborators who do the same.
I lost all my friends from growing up soon as I became punk. Everyone sort of turned their back on me and I kind of found that empowering in a certain way.
— Bryan Ray Turcotte
"It's not a money-making company," says Turcotte. "But at the end of the day I think it's important."
He's been asked why he doesn't do more self-promotion, sell books in wider release or simply improve Kill Your Idol's bare-bones website to make it more accessible for shoppers. Yet Turcotte is steadfast in wanting customers to feel like they're buying books directly from him, like, "they went to the Black Flag show and they bought the shirt from the band," he says.
Turcotte is able to operate Kill Your Idols as an intimate, artistic arm because it's not his main source of income. In fact, his Fairfax publishing headquarters is also home to his liquor company, Laurel Canyon Spirits (currently producing a coffee liqueur), and his production company, Beta Petrol, which performs a wide variety tasks, including album recording, video production, music supervision and more.
His six employees oscillate between his many ventures, while Turcotte himself continues to also play in a band, curate art shows and direct music videos.
"I feel like I'm just getting started still, which is odd to say at 50," he says.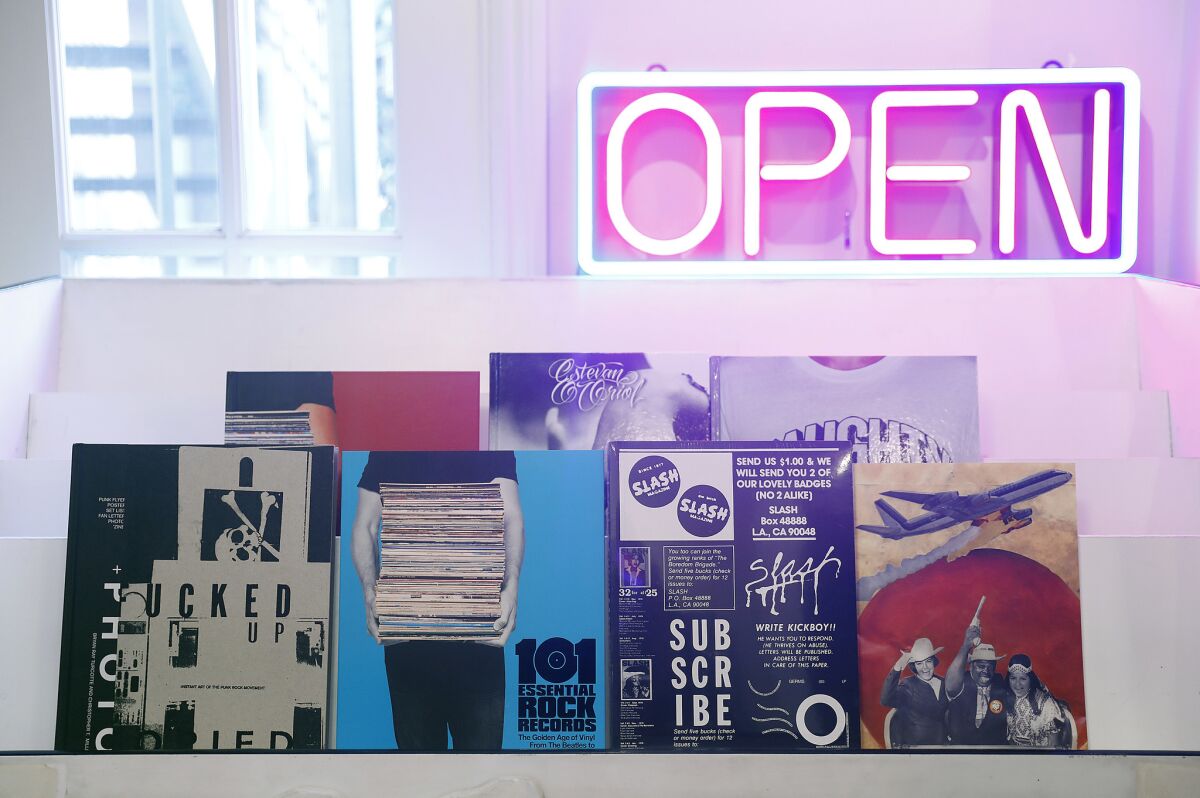 When Turcotte first uprooted to L.A. in 1987 he was just 19 and shared a small apartment with a handful of bandmates. He dabbled in restaurant work, got a job at a local record store and an underground club. Then he muscled his way into a job at Slash Records (who represented X, the Germs, and other punk legends), by showing up and working for 45 days as an unpaid employee, until the vice president gave in and gave him a job.
"Leaving to L.A. was like a calling for me," he says. "The second I got here I knew there was no way I was going home."
At the time, Turcotte's interest in all aspects of the music industry — from being in a band to learning how to produce a record — made people view him as "schizophrenic and crazy," he says. It's this dexterity however that's allowed him to build a multidimensional mini-empire in which even an indie publishing house like Kill Your Idols can weather a changing media landscape.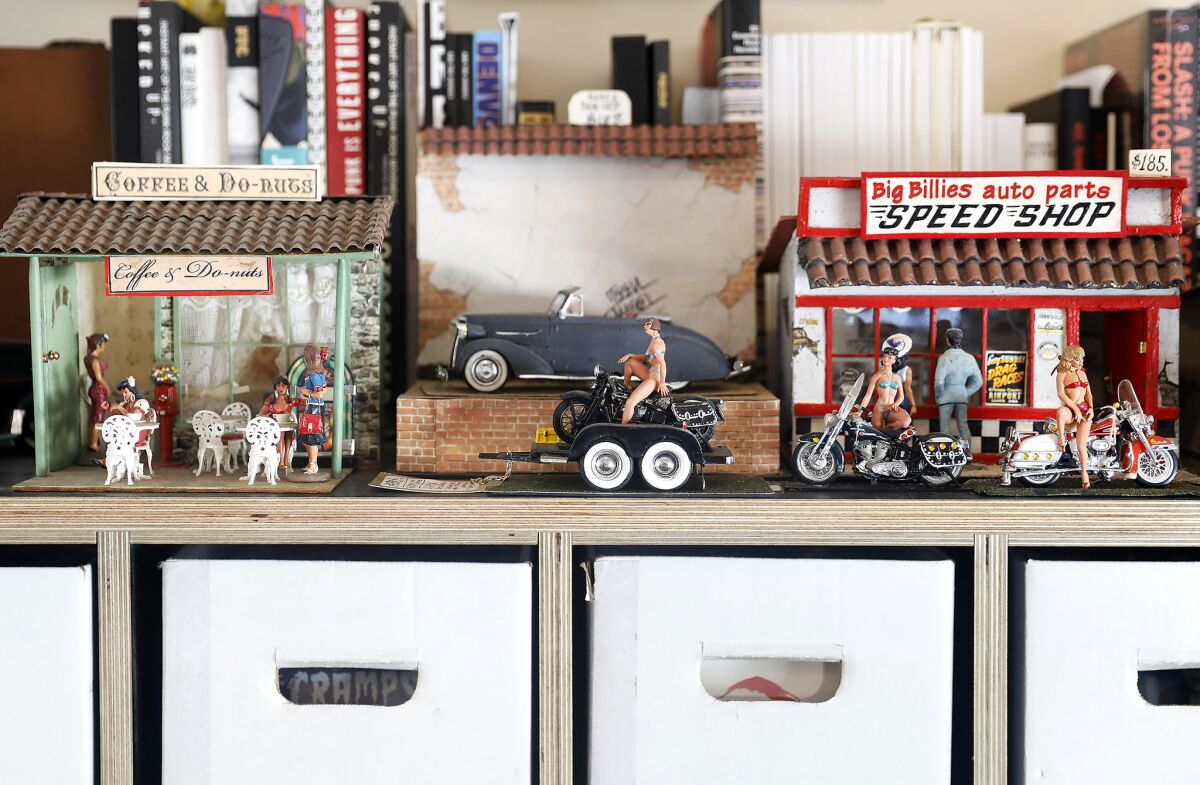 "People say print is going away; that doesn't bother me," he says. "That doesn't affect me per se. I don't look at it as purely a printed book sales platform." For Turcotte, publishing encompasses multiple platforms including films, art exhibits and live events.
For instance, in 2017, Turcotte combined many of these facets with the release of "Teen Angels," a collection of covers and artwork from the namesake zine that chronicled Southern California Chicano and gang culture from the 1980s to 2000s. He debuted the book at the Los Angeles Art Book Fair alongside an exhibit dedicated to Teen Angel (the artist behind the original zine). Turcotte had his own archival Teen Angel collectibles on display, sold out of the 1,000 copies of the "Teen Angels" book produced by Kill Your Idols, and had his production arm, Beta Petrol, tape the whole thing.
Turcotte shows no signs of slowing either. In 2019, Kill Your Idols will release eight books and a handful of zines, making it the publisher's biggest year yet in 20 years of operation.
In addition to works featuring Darby Crash's personal items and historical punk setlists, Kill Your Idols will release a book on Japanese biker gangs with photographer Estevan Oriol, widely known for his work documenting Los Angeles celebrity, low-rider and gang culture.
"As long as I can see my kids and sleep and all that, I'm going to keep going," says Turcotte. "I have too much to do in this world."
---
Get the latest news, events and more from the Los Angeles Times Book Club, and help us get L.A. reading and talking.
You may occasionally receive promotional content from the Los Angeles Times.