A unique gathering of Latina writers in Los Angeles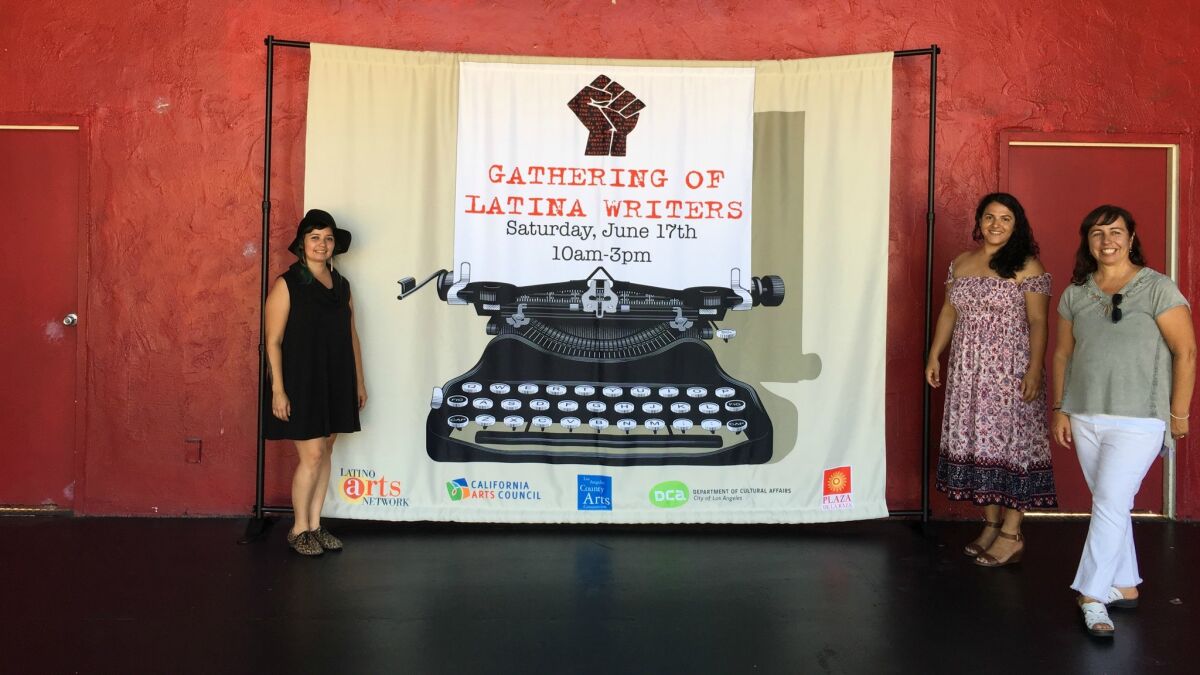 The Gathering of Latina Writers converged on Saturday morning at the Plaza de La Raza Cultural Center in Lincoln Park, where an occasional train horn interrupted proceedings — but not for long. "The train represents the patriarchy," joked Angela Aguirre of the Latina feminist poetry collective Chingona Fire before carrying on with her performance.
Throughout the day, groups of women gathered before an outdoor stage under the shade of umbrellas, attended panels in the black box theater and perused speakers' books in the plaza beside pink bougainvillea, papel picado (paper cut-outs) and a flowering magnolia tree. The event seemed to fill a need. The poet Jen Hofer remarked on "the incredible diversity of latinidad" in attendance, and "Compton's poet" Claudia Rodriguez asked, "Why has it taken so long for something like this to be organized?"
The free event was the first iteration of what will be a larger gathering planned for 2018. Both are organized by writers Jessica Ceballos y Campbell and Iris de Anda, as well as Rebecca Nevarez and Tomas Benitez of the Latino Arts Network of California.
In all, the gathering was remarkable not only because it felt like the start of something, but because its programming went deep. There's a lot of lip service paid to creating safe spaces for community and discussion, but rarely are those discussions executed with genuine rigor and sensitivity.
During multiple panels, discussions of identity were particularly nuanced. Ceballos y Campbell asked of the festival itself — the gathering of Latina writers — "who are we leaving out when we say that?" Panelists unpacked identifying as Latino/a/x and/or Chicano/a/x — "never a 'Hispanic,'" as read liz gonzalez's introductory bio, a line that led her fellow panelist Claudia Rodriguez to quip "there's the panel right there." When asked how a complex identity informed her work, Wendy C. Ortiz replied, "I don't know how it doesn't inform my work." Vickie Vertiz echoed her sentiment — of intersecting identities she said, "there is no way to separate them." Ceballos y Campbell contextualized the day's gathering in place: "Latina writers are such a huge part of the history of Southern California."
A panel on publishing, moderated by Iris de Anda, was the most widely attended with roughly 50 people in the audience, but the question of publishing came up in nearly every discussion. Désirée Zamorano referred to it as a "great white world," and a number of panelists offered from their own experience the benefits of self-publishing in an industry struggling – or perhaps not struggling enough – to be diverse. Zine-maker Jess Castillo explained, "I wanted to get work out and I didn't want to wait to do it." Hofer, in reference to her own experience with Libros Antena Books, agreed.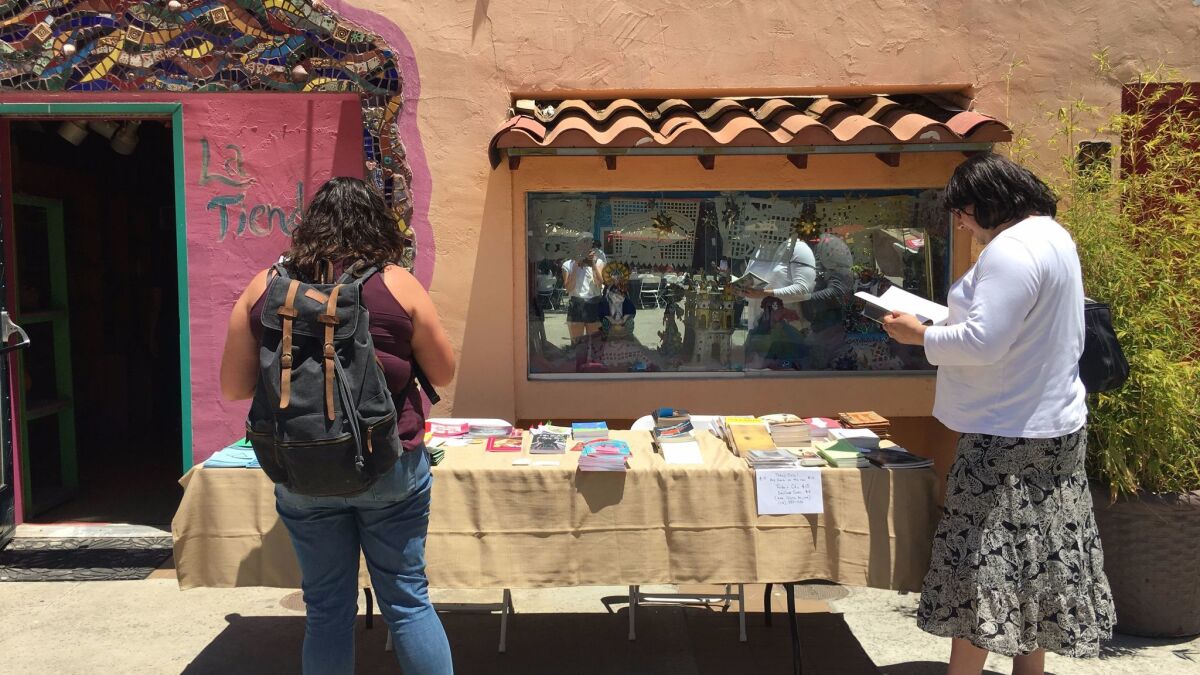 Xochitl-Julisa Bermejo, poet and founding member of Women Who Submit, a group that supports women sharing their writing, described how publishing with mainstream and even indie presses begs a thorny set of questions that writers benefiting from white, straight, male or other privilege may not have considered. "Am I being fetishized? Am I being a token? Am I only speaking to white people?" She ultimately chose to publish her debut poetry collection with Sundress Press because of its feminism and diversity. "I want to be in conversation with other Latinas," she said. Literature presents a window into worlds unlike our own, but it can also provide a necessary mirror. Yesika Salgado of Chingona Fire put it this way: "I'm just here to remind you of your story, with my story," she said.
Ceballos y Campbell's hope for future events is that she and her fellow organizers continue "facilitating spaces in an equitable way" and promoting "cross-cultural community," but she did ask her final panel if Latina-only spaces were also important. Trini Rodriguez of Tia Chucha Centro de Cultural responded simply: "As long as there's a question of access denied, then those spaces are necessary." The Latina Writers Conference will span two days, Feb. 23-24. "We want to highlight these communities of writers," said Ceballos y Campbell, "and the work that they're doing."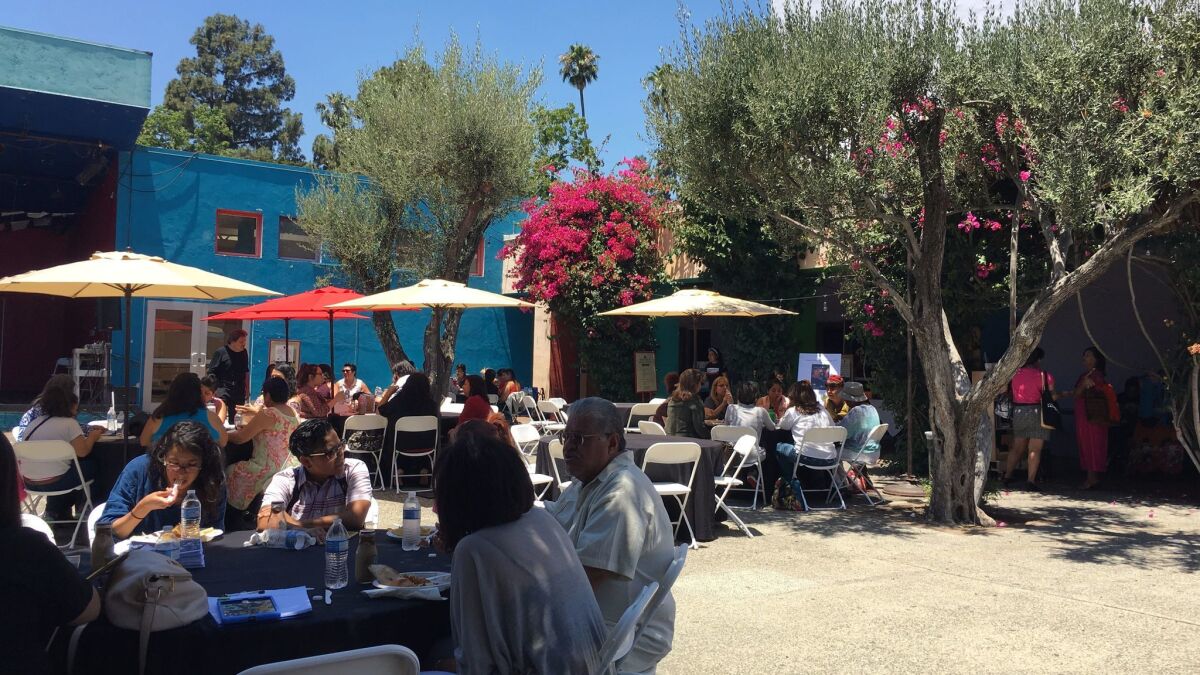 Get the latest news, events and more from the Los Angeles Times Book Club, and help us get L.A. reading and talking.
You may occasionally receive promotional content from the Los Angeles Times.