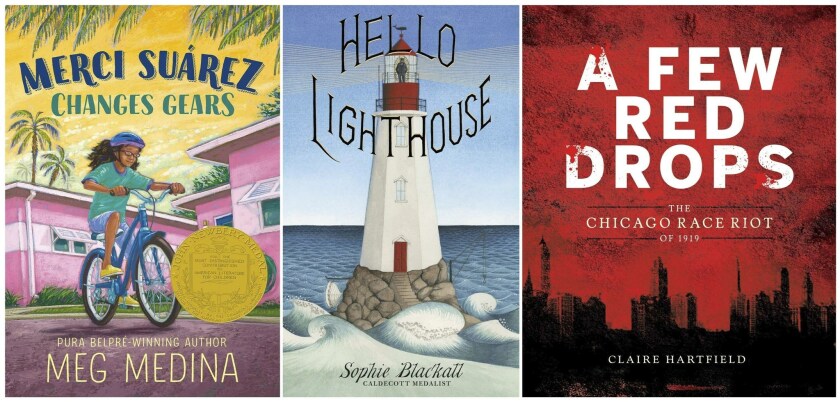 The American Library Assn. announced the winners of its annual children's awards on Monday, with Meg Medina's middle-grade novel "Merci Suárez Changes Gears" taking home the group's prestigious John Newbery Medal for the most outstanding contribution to children's literature.
Medina's novel, about a sixth-grade student trying to fit in at her school while also dealing with an ailing grandfather, was also a finalist for the Kirkus Prize for Young Readers' Literature.
Karen Lotz, president of Candlewick Press, which published Medina's book, said the publisher was "thrilled that the ALA Youth Media Awards, the most distinguished awards for children's literature in the United States, have recognized ... Meg Medina's story of a loving Latinx family confronting change."
The ALA awarded its Randolph Caldecott Medal for the most distinguished American picture book for children to Sophie Blackall's "Hello Lighthouse," which takes children on a tour of the titular seaside structure.
The organization gave its Coretta Scott King Author Award to Claire Hartfield for "A Few Red Drops: The Chicago Race Riot of 1919" and its Coretta Scott King Illustrator Award to Ekua Holmes for her artwork in "The Stuff of Stars." Both prizes are given each year to an African American author and illustrator.
The Michael L. Printz Award for excellence in literature written for young adults went to Elizabeth Acevedo for her novel-in-verse "The Poet X," which also won the National Book Award for Young People's Literature.
Two authors were honored with lifetime achievement awards by the ALA. Walter Dean Myers, the late author of books like "Fallen Angels" and "Monster," was named winner of the Children's Literature Legacy Award, and M.T. Anderson ("Feed," "Thirsty") won the Margaret A. Edwards Award for lifetime achievement in writing for young adults.
The YALSA Award for Excellence in Nonfiction for Young Adults went to Don Brown's "The Unwanted: Stories of the Syrian Refugees."
The ALA also named 10 books as winners of its Alex Awards for best adult books that appeal to teen audiences. Among them were Madeline Miller's "Circe," Tara Westover's "Educated: A Memoir" and Jonathan Evison's "Lawn Boy."
Some of the honored authors expressed their excitement on Twitter:
Hey everyone, I'm overwhelmed. TY 4 your screams & shouts & hugs & love & good wishes. And congrats 2 every1 who earned awards 2day. I'm overwhelmed but in the best way possible. XOXOXO

— Meg (busy writing this month) Medina (@Meg_Medina) January 28, 2019
Thank you EVERYBODY for your incredibly kind words. I'm overwhelmed. And not at all sure any of this is real. But thank you! ❤️❤️❤️

— Sophie Blackall (@SophieBlackall) January 28, 2019
That said, I want to give my sincerest thanks to the committees of the Printz & Pura Belpre Award for giving THE POET X the highest honors this morning at #alayma. I am humble, grateful & excited for the readers who will come across this novel because you amplified its voice. 💫 https://t.co/hzSejjvQAA

— Elizabeth Acevedo (@AcevedoWrites) January 29, 2019
The full list of winners is posted on the ALA website.
---