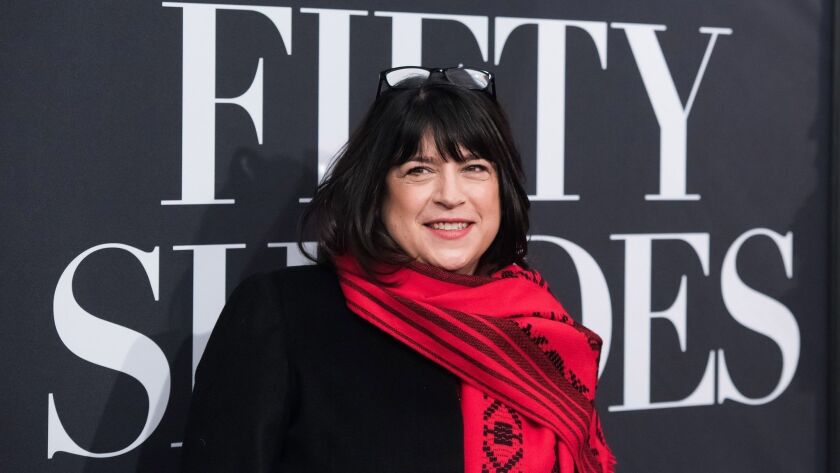 E.L. James, the British erotica author whose "Fifty Shades of Grey" trilogy became a worldwide publishing phenomenon, will release a new novel this spring.
James' "The Mister" will be published in April by the Penguin Random House imprint Vintage Books, the publisher said in a news release. It will be James' first book not to feature Christian Grey and Anastasia Steele, the couple at the center of her bestselling "Fifty Shades" books.
"The Mister" is a romance novel that will focus on "the privileged and aristocratic young Englishman Maxim Trevelyan" and a mysterious woman named Alessia Demachi. The book is set in London and Cornwall, England, and the Balkans, the publisher said.
In the news release, James said she was excited to introduce her fans to "this passionate new romance."
"It's a Cinderella story for the 21st century," James said. "Maxim and Alessia have led me on a fascinating journey and I hope that my readers will be swept away by their thrilling and sensual tale, just as I was while writing, and that, like me, they fall in love with them."
James' "Fifty Shades" trilogy follows Christian Grey, a Seattle businessman with a taste for sexual sadism and bondage, and Anastasia Steele, his young lover. The first book in the series, "Fifty Shades of Grey," was published in 2011, with the sequels "Fifty Shades Darker" and "Fifty Shades Freed"released the following year.
The novels were savaged by critics, but quickly became bestsellers, and James cashed in on their success by publishing two reprises of the books, "Grey: Fifty Shades of Grey as Told by Christian" in 2015 and "Darker: Fifty Shades Darker as Told by Christian" in 2017. Her novels have sold more than 150 million copies around the world.
The books also formed the basis for three films, which starred Jamie Dornan as Christian and Dakota Johnson as Anastasia. The movies were box office hits despite receiving largely negative reviews from critics.
"The Mister" seems to have some similarities to the "Fifty Shades" books, with the male protagonist, Maxim, described by the publisher as a man with "good looks, aristocratic connections and money," much like Christian in James' previous novels.
Vintage Books publisher Anne Messitte praised James as "an extraordinary storyteller" in the news release.
"Readers are going to be surprised and delighted with the romance that James has in store for them," Messitte said. "She has hit her stride again, with an erotic love story that's full of suspense, adventure and menace — a story that gives us a peek behind the curtain into worlds most of us can only imagine."
"The Mister" is scheduled for publication on April 16, 2019.
---