If nobody in L.A. reads, how do you explain the L.A. Times Festival of Books?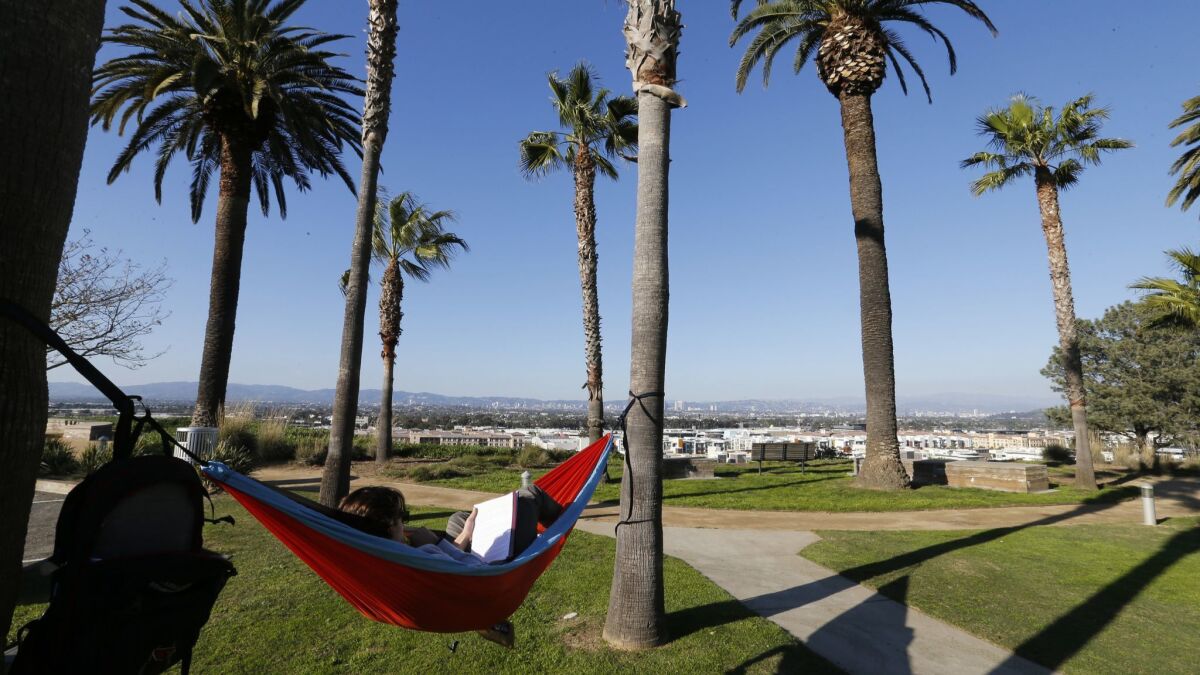 There's an unkind stereotype out there that Angelenos are loath to crack open a book. If that's true, how do you explain the Los Angeles Times Festival of Books?
Last year, 150,000 people flocked to the city's biggest celebration of reading and storytelling. This year, the 23rd Festival of Books will be at USC on April 21 and 22. More than 500 authors and performers will be there, including Diana Gabaldon, Jorge Ramos, Patton Oswalt, Junot Díaz, Reza Aslan, Maria Shriver and Leslie Odom Jr.
So why the bad rap for reading? Janet Fitch, an L.A. native and the author of "White Oleander" and "The Revolution of Marina M.," thinks it goes back to when New Yorkers first started coming out to the West Coast to work in the early days of Hollywood — people who may have "disliked the work they were doing, came to drink and be witty and they were unhappy," she said.
Those people's initial assumptions about L.A. live on, she said: "Here we are almost 80 years later, still laboring under that preconception." (Fitch will be speaking on the panel "Fiction: Epics Old and New" at the festival on April 22.)
Another thing to consider: L.A. readers aren't as "public" as readers in other cities. Listening to an audiobook while you're commuting to work in your car is less visible than cracking open a paperback on the subway. There's also what Pamela Ribon called "swimming pool culture": It's more pleasant to stay home and read on your balcony or in your backyard in L.A. than it is in a lot of other places.
"I feel like I never get to read the things I want to read because I have so much reading to do," said Ribon, a screenwriter and author of the new graphic novel "My Boyfriend Is a Bear." "Who doesn't read in L.A.? What are they doing? What are they looking at on their phones?" They're reading, of course. (Ribon is on the panel "Graphic Novels: Working Twice as Hard" on April 22.)
Adrian Todd Zuniga, the host of the reading series "Literary Death Match" and the author of the newly released novel "Collision Theory," said the stereotype is proof that "the perpetuation of the 'stupid L.A. person' persists."
He said he partly blames pop culture for that: the idea that New York and San Francisco are the big literary hubs while L.A. is all shallow beach-goers.
"I love the idea that people outside of L.A. think that people in L.A. are just walking around being the dumbest possible people, just walking into walls," he said. In reality, L.A. is "filled with the hardest-working people ever." (Zuniga will be on the panel "Fiction: Iconoclastic Voices" on April 21.)
To get tickets to see these and other events, visit events.latimes.com/festivalofbooks/. The festival is open from 10 a.m. to 6 p.m. April 21 and 10 a.m. to 5 p.m. April 22. General admission is free; advance tickets to events have a $2 processing fee. In addition to the author panels, there will be hundreds of booths showcasing the things that make L.A. a great literary city. Campus eateries will be open, along with food trucks at four locations.
If you want to take public transit, you can take the Metro to Expo Park/USC station. Since Sunday is Earth Day, rides on the Metro that day will be free. Oh, and don't forget to bring your book.
Follow me on Twitter @jessica_roy.
---
Get the latest news, events and more from the Los Angeles Times Book Club, and help us get L.A. reading and talking.
You may occasionally receive promotional content from the Los Angeles Times.