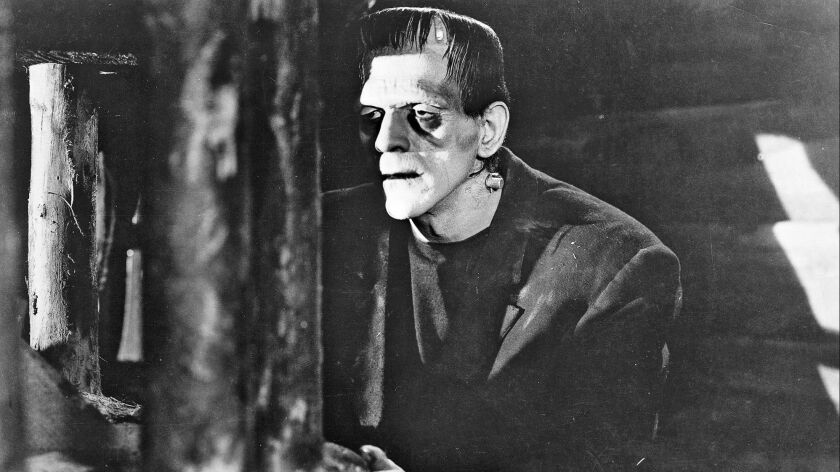 The Library of Congress is celebrating Halloween in an appropriately spooky way: with a live reading of "Frankenstein," streaming now.
"Frankenreads: A Public Read-Athon of Frankenstein" is being streamed live on YouTube, with celebrity readers — including actor/wrestler John Cena — joining literary figures such as R.L. Stein in reading the book from cover to cover in one marathon session.
"Frankenstein" was published 200 years ago, in 1818, when author Mary Shelley was just 20. It has become one of the lasting horror stories of the Western canon.
The book has been adapted into plays and films many times, the most famous of which was probably James Whale's 1931 movie starring Boris Karloff as the monster. (Mel Brooks' "Young Frankenstein" is a close second.)
Today's live reading is a project of the Keats-Shelley Assn. of America, one of many events happening across the world Wednesday.
The exhibit "It's Alive! Frankenstein at 200," which includes a copy of "Frankenstein" extensively annotated by Shelley, is on at the Morgan Library and Museum in New York through Jan. 27.
Shelley wrote the novel after she, Percy Shelley and their friend Lord Byron challenged each other to write the best horror story.
"Frankenstein" is about a scientist who creates a living monster from the bodies of the dead. Threaded through with ideas of science going too far, the creepy nature of a man trying to create life, and the hollow life of the undead monster, the novel has become a staple of English literature courses. ("Frankenstein," as your most pedantic friends will remind you, is the name of the scientist, not the monster.)
---