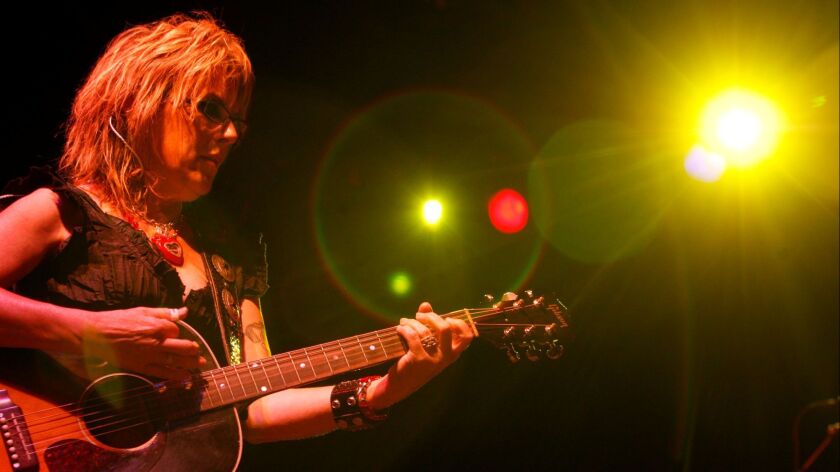 Lucinda Williams, the Louisiana-born singer-songwriter known for her distinctive voice and introspective lyrics, is writing a memoir.
The New York Times reports that the book, as yet untitled, is set for publication by Henry Holt and Company in 2020.
"I have a lot to say and a big story to tell," Williams said. The book will cover her personal life as well as detailing "her experience navigating an unfriendly record industry," the New York Times reports.
Williams released her first album, "Ramblin'," in 1979, but first broke through commercially in 1988 with a self-titled record that drew praise from critics.
That album spawned the songs "Passionate Kisses" and "The Night's Too Long," which were famously covered by Mary Chapin Carpenter and Patty Loveless, respectively.
She gained an even wider audience in 1998 with her album "Car Wheels on a Gravel Road," widely considered a landmark record in the alternative country movement. Her latest album, "This Sweet Old World," a re-recording of her 1992 record "Sweet Old World," was released last year.
Williams' memoir will cover her childhood in Louisiana and several other Southern states, as well as her early musical career, when she lived in Austin, Texas, Houston, Los Angeles and Nashville. Williams is the daughter of Miller Williams, the acclaimed writer who served as President Clinton's inaugural poet in 1997. He died in 2015 after a battle with Alzheimer's disease. In this video, she performs a song for him written from his poem "Compassion."
"I want everyone to know what's behind the songs and to know more about me than what people previously thought they knew," Williams said. "It's time to tell my truth."
---