Washington Post and Scribner to publish Mueller report as a book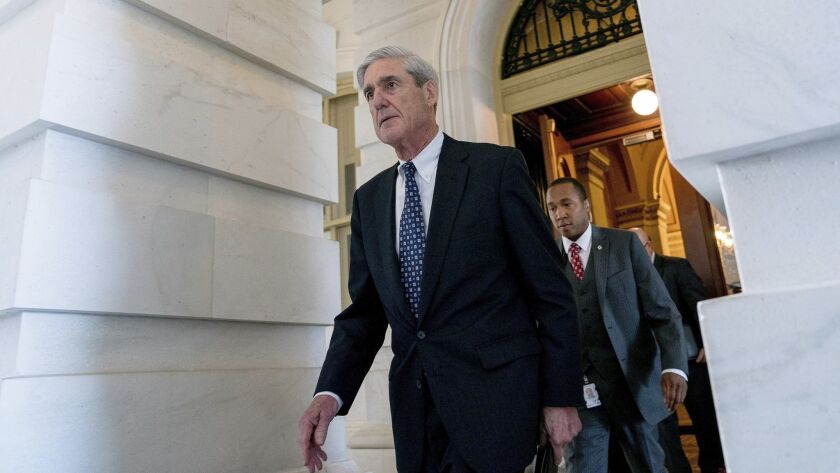 The Washington Post and Simon & Schuster imprint Scribner are planning to release a book version of special counsel Robert S. Mueller III's report if it ever becomes public, the publisher announced Thursday.
The book is expected to contain the special counsel office's findings in its investigation of Russian interference in the 2016 presidential election, as well as reporting by the Post into the controversy that has dogged President Trump and his administration in connection with the probe.
It's not a sure thing that the report will become public. The special counsel office is to submit its work to Atty. Gen. William Barr, who will then determine what to do with it, and it's far from certain that he'll release it to the public.
Andrew Coan, a law professor at the University of Arizona, told The Times that nobody can predict what will happen after Mueller submits his report to Barr.
"No one really knows or can predict with any uncertainty how this is going to play out," Coan said. "Not only do we not know what the attorney general is going to do with Robert Mueller's report, we don't know what Robert Mueller's report is going to look like."
The Post's book is to feature an introduction by journalists Rosalind S. Helderman and Matt Zapotosky, Scribner said, and be edited by Peter Finn, the Post's national security editor.
It will also cover the criminal indictments that have resulted from Mueller's investigation, Scribner said. So far, over 30 people have faced charges related to the investigation, including Trump's former campaign chairman, Paul Manafort, who was convicted of fraud last year.
Post Executive Editor Martin Baron said that the planned book will come at "a supremely important moment in American history."
"The Post has dedicated vast reporting resources to the special counsel's investigation and the events that led to it, and we are now proud to join with Scribner in providing context and perspective," he said.
Government reports have been published as books before, sometimes to critical acclaim. In 2004, W.W. Norton & Company published the 9/11 commission report as a book; it was later named a finalist for the National Book Award for nonfiction.
And in 2014, indie press Melville House published the Senate Intelligence Committee's report on torture by the CIA.
"The Mueller report is the most anticipated investigative document of this century, and its findings are of vast importance to the United States and to the rest of the world," Scribner publisher Nan Graham said in a news release. "We are thrilled to partner on this book with The Washington Post, whose reporters and editors have provided indispensable and authoritative analysis of Robert Mueller's historic investigation and the related filings."
---
Get the latest news, events and more from the Los Angeles Times Book Club, and help us get L.A. reading and talking.
You may occasionally receive promotional content from the Los Angeles Times.