CNN commentator Sally Kohn's L.A. book party was canceled (but she's got another event this week)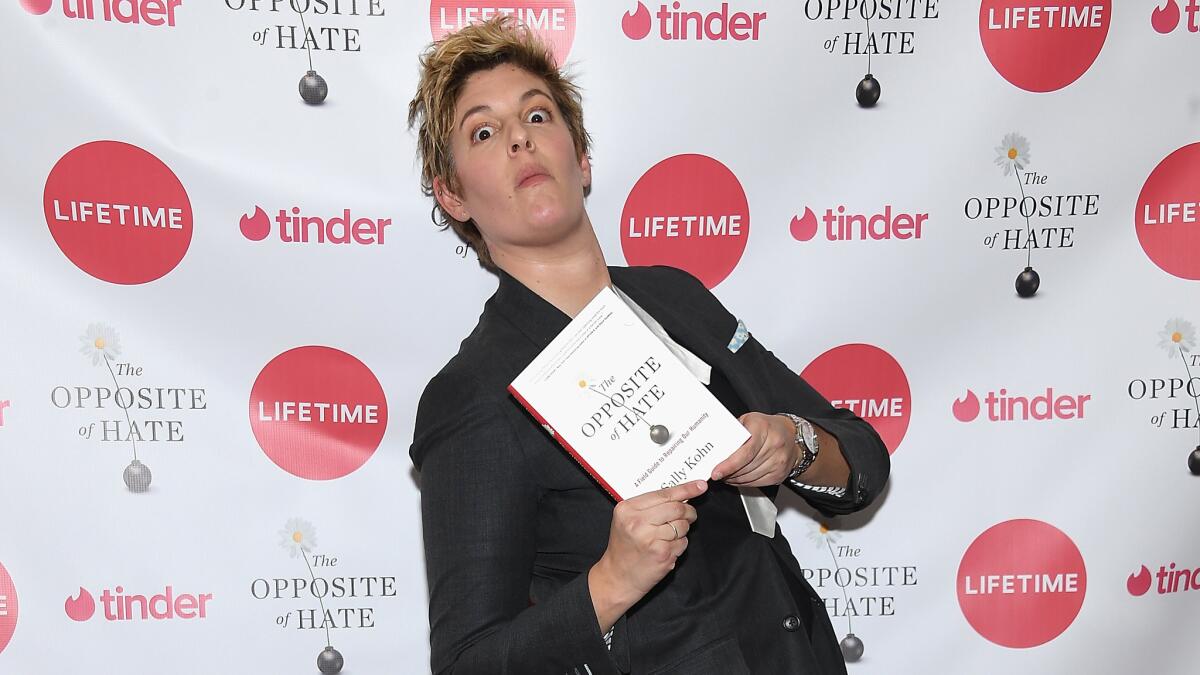 A planned Los Angeles book party for CNN political commentator Sally Kohn was canceled following accusations that she misquoted African American writer and podcast host Aminatou Sow in her book, "The Opposite of Hate: A Field Guide to Repairing Our Humanity."
The Hollywood Reporter reports that Kohn had been scheduled to appear Friday at a karaoke party at GIPHY Studios in honor of her book. Singer Katy Perry and producer Shonda Rhimes were listed as the co-chairs of the host committee for the event, which was to be sponsored by the dating app Tinder. A similar party was held for Kohn in New York on April 6 at the Guggenheim Museum.
In an email to those who had planned to attend the party, Kohn wrote: "While I am disappointed that I won't get to share this evening with all of you, I will continue to advocate for the book's message of fostering community and building bridges in divisive times. I hope you will join me on that journey."
Released April 10, Kohn's book quickly became controversial after Aminatou Sow, co-host of the podcast "Call Your Girlfriend," accused Kohn of misquoting her and of inflating their relationship, which is of acquaintances who once shared a taxi.
Kohn refers to Sow as a friend of hers and quotes her as saying in a conversation, "Why is it black women are always asked to do the work? Once you're provoked, the rules of engagement change, and I can ...kill you and I'm justified in doing that."
Sow told the Cut that she had "no recollection of telling Sally those exact words" and that she did not give her permission to use the conversation in the book. "It is just shocking to me that knowing what the subject matter was, it was not treated with more care," she said. "If you quote somebody and say they're the moral authority, wouldn't you send them a galley? If I was your friend, you would probably want to protect me more."
Kohn apologized to Sow and told her that she would remove the passage from any new editions of the book, but she maintained that she quoted Sow accurately.
Kohn also faced criticism from author Ijeoma Oluo, who said Kohn used tweets Oluo had written in her book without permission and drew a misleading contrast between Sow and Oluo. In a Facebook post, Oluo wrote: "[T]he tweets being used take my work out of context in a way that if isn't deliberate, is at least extremely negligent. ... If Kohn is unaware of how I would feel about seeing my words used like this, it is an ignorance built from privilege. And if you are writing a book about issues that directly impact the lives of black people, and you are using the words and work of black people in it — it's a privileged ignorance that isinexcusable."
Kohn is still scheduled to speak in Los Angeles on Wednesday evening. She will be discussing her book with author Reza Aslan at Live Talks Los Angeles at the Ann and Jerry Moss Theatre at New Roads School in Santa Monica.
Sign up for our Book Club newsletter
Get the latest news, events and more from the Los Angeles Times Book Club, and help us get L.A. reading and talking.
You may occasionally receive promotional content from the Los Angeles Times.