Sean Penn and Jane Smiley weren't drinking the 'Bob Honey' haterade on stage in L.A.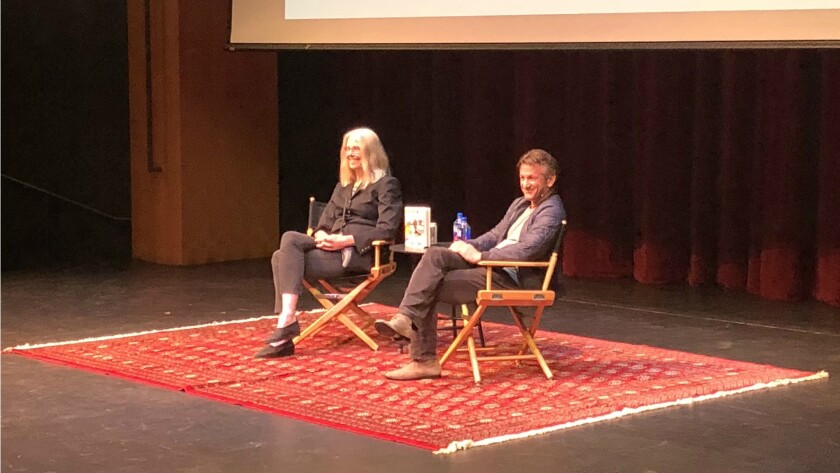 "Writing is very much like acting," said Sean Penn from the stage during his sold-out event Monday night in Los Angeles, where he discussed his debut novel, "Bob Honey Who Just Do Stuff." "It's only better because there's no one there to judge it."
That is, until publication, when readers and books critics weigh in.
The novel has been hammered on Twitter and received a dressing down from critics at The Washington Post and Tthe New York Times. At the Live Talks L.A. event at the Ann and Jerry Moss Theatre in Santa Monica, Penn was joined by Pulitzer Prize-winning novelist Jane Smiley, a boon not lost on him. "I'm really grateful that Jane Smiley's talking to me about my book," he said.
"The thing I love about writing novels is it's private," said Smiley. Only later, once a book is published, does she think, "Uh-oh, I can't believe I said that."
"I so can believe I said this," replied Penn, uncowed. "This is exactly the book I intended to write," adding that he wrote "Bob Honey" for the people drawn to read it.
Smiley teased that from a quick scan of the novel's Amazon reviews, about "25% are really glad they did."
"That's a better ratio than I get in terms of people meeting me," Penn joked. In the book, Bob Honey considers the possibility that everyone else is wrong, which Penn relates to: "I am infinitely capable of considering that."
Penn's literary aspirations have been long-simmering, but he recently reached a place where the creative control of writing fiction surpassed the collaboration — and cost — of filmmaking. "Something in me was having to work harder to play well with others," he said, a line he'd also used on an appearance on "The Late Show With Stephen Colbert," and that the capital necessary for movies forces screenwriters to "self-censor your imagination."
The passage from "Bob Honey" that Penn read to the small theater was difficult to follow, although the phrase "mail-order merkins" cut through the din. Smiley chose to share another short section describing a young black woman as "juvie Jemima," which was called out by Claire Fallon in a viral piece on the Huffington Post, a response that neither speaker mentioned.
Penn described the impetus to "mine the country's shared collapse of mental health" in "Bob Honey": It's "not necessarily an opinion piece," he said, but a comic novel. (For readers who feel the humor is lost on them, a potentially illuminating admission from Penn: "I used to watch surgery channels and laugh.")
A sense of humor is much more idiosyncratic than a sense of tragedy, offered Smiley, making the comic novel a brave undertaking.
Penn, to his credit, deflected the notion that a famous actor publishing a novel was particularly brave, responding "I'm 57 and my pool is heated" — in other words, he leads a privileged life.
Unsurprisingly, the crowd attracted fans of Penn the celebrity. "I would have never picked [the book] up had I not known he was the one who wrote it," Traci Phillips admitted. Troy Brown admires "some of his political stances." (He also gets mistaken for Penn constantly. His wife, Mary, thought the reading would be a fun outing — someone asked to have his picture taken with Brown in the parking lot before the event.)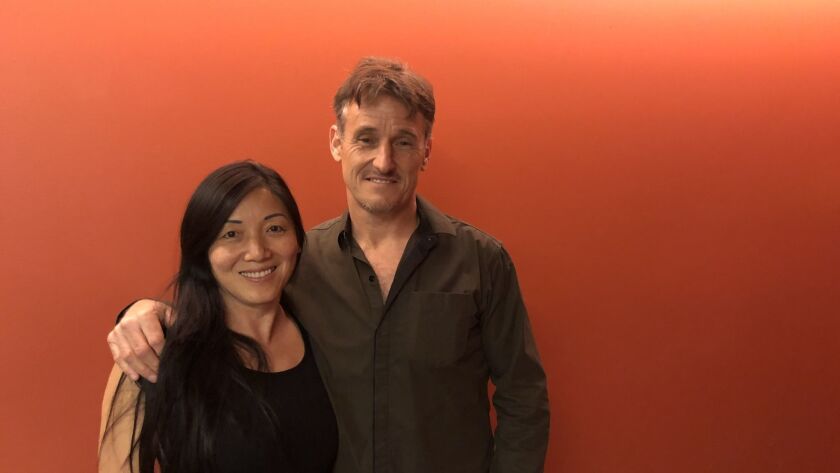 Christopher Gonzalez, however, considers himself more of a book fan than a Penn fan, and the "Bob Honey" jacket copy intrigued him. "I'm a little confused about what kind of book it is," he said. "The only way I'm gonna know is by checking it out."
Smiley took a similar tack. The first time she read "Bob Honey" she "didn't understand a thing," it was only on a second reading, she said, that the novel clicked. "It says something about the world that we live in that nobody else has said," she ventured. There was a moment when it seemed she might go on to elaborate. She didn't.
---
Get the latest news, events and more from the Los Angeles Times Book Club, and help us get L.A. reading and talking.
You may occasionally receive promotional content from the Los Angeles Times.