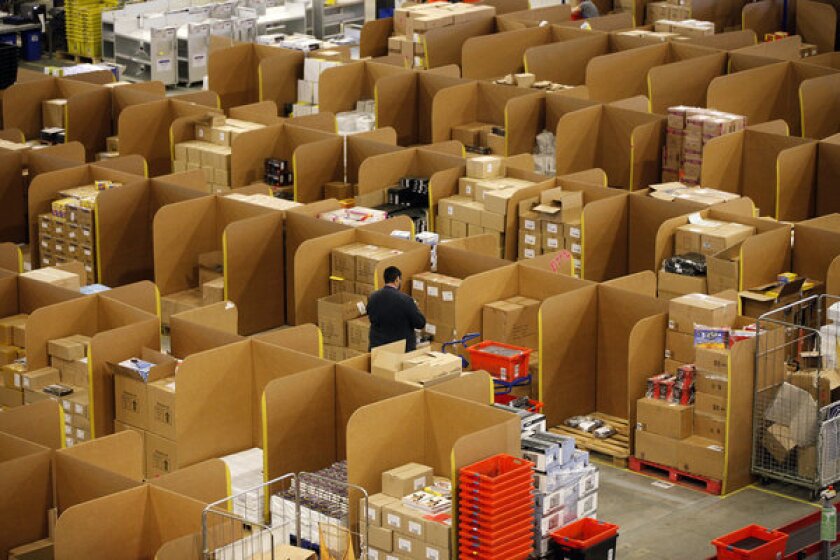 It's the day after Christmas and all through the house, so much wrapping paper is spilling and suffocating my spouse.
Here in Los Angeles, as in much of the rest of the United States, we recycle. Today our blue bins overflow with the paper and cardboard memory of our Christmas of abundance and good cheer.
Across our city, and in many other distant cities, the bins of many book buyers overflow with the ubiquitous boxes and plastic cushions with which Amazon.com ships its products. Over in London, the writer and mother of three Helen Hamer has an extra large haul of wrapping paper she has to dispose of.
A few weeks before Christmas she ordered a single copy of a small children's book called "Animal Train." It arrived in a rather large box, wrapped up in a train of brown shipping paper. She pulled the brown paper out — and kept pulling and pulling. Eventually the Daily Mail reported her plight and posted a comical picture of Hamer holding the stream of brown paper, Rapunzel-like, from a second-story staircase.
"I'd unraveled 30 feet of packaging paper before I got to the one book I'd ordered," Hamer told the newspaper.
A few years back, in response to complaints about excessive packaging of its packages — "wrap rage," they called it — Amazon launched its "Frustration Free Packaging Initiative." And today, the online retailer offers some handy recycling tips.
However, Jacket Copy would like to point out there's one sure-fire way to avoid the having to recycle all of those Amazon's boxes: Shop at your local independent bookstore.
---