Let motorcycles drive between lanes, and give them room, California Highway Patrol says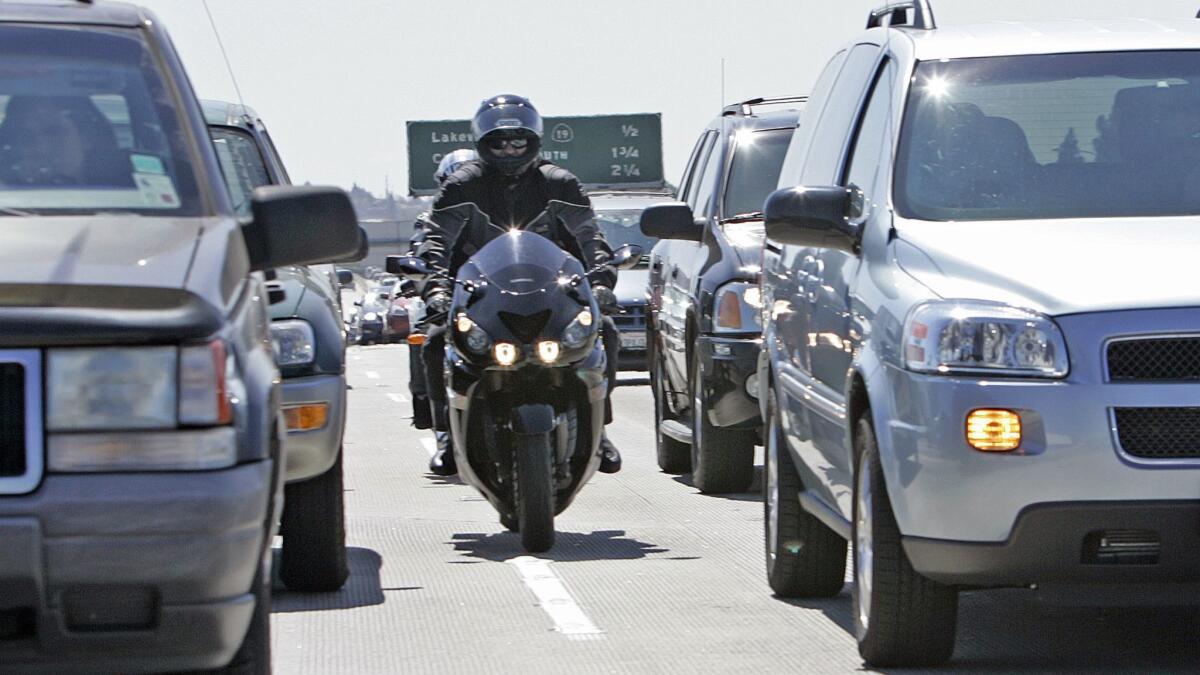 Lane splitting by motorcycles has been allowed by California law for nearly two years. Now the California Highway Patrol has issued safety guidelines on the topic — guidelines that apply not only to motorcyclists but also to drivers of cars and trucks.
The law enforcement agency also said Thursday for the first time that interfering with lane splitting is illegal.
State legislation explicitly allowing lane splitting — in which motorcycles drive in the space between traffic lanes on public roads and freeways — took effect in January 2017 and stipulated that the CHP could issue safety tips on the topic.
The resulting tip sheet, published Thursday, notes that lane splitting can be dangerous and urges "extreme caution."
"Every rider has the ultimate responsibility for their own decision making and safety," CHP Commissioner Warren Stanley said in a statement.
Drivers of cars and trucks have responsibilities too. It's illegal to intentionally block or impede a motorcyclist, including by opening a vehicle door, the CHP tip sheet says. It also says vehicles in the far left lane should move to the left part of the lane so motorcycles have room to pass on their right.
To reduce risks, the CHP tip sheet advises motorcyclists to remember the following:
-- "Consider the total environment when you are lane splitting (this includes the width of lanes, the size of surrounding vehicles, as well as current roadway, weather, and lighting conditions)."
-- "Danger increases at higher speed differentials." A speed differential is the difference between the speed of the motorcyclist and that of nearby vehicles.
-- "Danger increases as overall speed increases."
-- "It is typically safer to split between the far left lanes than between the other lanes of traffic."
-- "Avoid lane splitting next to large vehicles (big rigs, buses, motor homes, etc.)."
-- Riding on the shoulder is illegal; it is not considered lane splitting."
-- "Be visible — avoid remaining in the blind spots of other vehicles or lingering between vehicles."
-- "Help drivers see you by wearing brightly colored/reflective protective gear and using high beams during daylight."
In years past, the CHP in partnership with the Department of Motor Vehicles published similar guidelines for lane splitting. Those were more specific, indicating that the practice was least dangerous at certain speeds.
The guidelines issued Thursday — which the CHP developed in partnership with the DMV, the California Department of Transportation, the Office of Traffic Safety and multiple motorcycle safety organizations — do not give advice on how slow traffic should be.
Motorcycle safety studies have said that lane splitting, though unnerving to some drivers and apprentice motorcyclists, is safer than not splitting when done intelligently — principally because it reduces the risk of a rider being hit from behind while stopped in freeway traffic.
California is the only U.S. state that allows lane splitting, though the practice is legal and common in most European and Asian countries.. Legislators in other states, notably Nevada, Texas and Washington, have proposed laws similar to California's. None have passed.