Quail Motorcycle Gathering, the 'Pebble Beach of motorcycles,' turns 10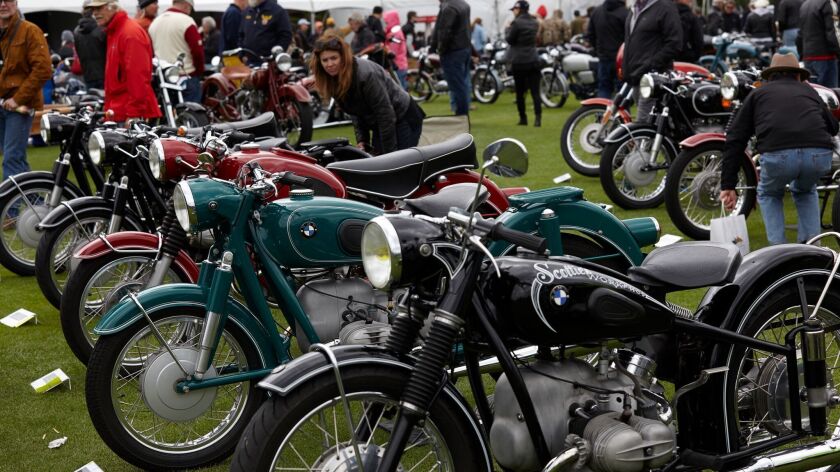 The Quail Motorcycle Gathering, the West Coast's premiere showcase for bike builders, collectors and enthusiasts, is marking its 10th anniversary by expanding.
With a nod to the future, the Carmel Valley exhibition on Saturday will feature its first display of electric motorcycles. With a nod to the past, it will also acknowledge the iconic motorcycle stylings of custom bike maker Arlen Ness.
The annual Monterey Peninsula show, staged at the Quail Lodge and Golf Club by founder Gordon McCall, has become one of the country's principal motorcycle events. Drawing a crowd of about 3,000 attendees and a concourse display of roughly 350 motorcycles, the one-day moto-centric gathering is part beauty pageant, part manufacturer billboard and part social hub, becoming a must-make calendar date for some.
"This is a local, intimate event, but it has also become a premium event," said Zero Motorcycles Chief Executive Sam Paschel, whose company returns this year as a sponsor. "It's a great place for us to be seen, because it's an event that's actually shaping bike culture."
That culture is broad. As in previous years, McCall will welcome an eclectic sampling of motorcycle hardware — from Ness' artful choppers to one-off handmade custom bikes.
Collectors bring bikes to show and sell. Motorcycle companies exhibit new models. Enthusiasts come to see friends and rub elbows with the legends of the sport. Parts and accessories makers demo their wares.
Ginger Damon, whose Gigi Montrose Moto Couture women's motorcycle clothing booth will return to this year's Quail, said the show is both business and pleasure.
"It's such an elegant event, and it's so well done and comfortable, but it's also a smart investment," Damon said. "It has really raised my exposure."
The Quail is competing for attention with an increasing number of annual motorcycle events. In addition to the industry-driven AIMExpo and Progressive International Motorcycle Shows, the bike calendar also features custom or alternative events like the One Show in Portland, the Handbuilt Show in Austin, the Outlier's Guild Moto Show in Los Angeles, Mama Tried Motorcycle Show in Milwaukee, and a variety of activities tied to the annual Sturgis Motorcycle Rally in South Dakota.
While most of those are genre-specific — the One and Handbuilt focusing largely on custom bikes, and Mama Tried on Harley-Davidsons — the Quail has taken a more comprehensive approach.
"It's no disrespect to an all-British meet or an all-Harley meet, but we try to be really inclusive," said McCall, who is director of motorsports for Quail Lodge parent Peninsula's events division. "There will be turn-of-the-century bikes and bikes so new you can still smell the paint."
This year's gathering will feature, in addition to antique board trackers, classic European race bikes and American scramblers, the North American reveal of a new sport bike from Keanu Reeves' Arch Motorcycle, the first electric effort from Matt Chambers' new Curtiss Motorcycles — formerly Confederate Motors — a 25th anniversary tribute to the Ducati Monster and a competitive class for cafe racers.
Perhaps because of its association with the Quail Motorsports event that precedes the nearby Pebble Beach Concours d'Elegance every August, a Quail Motorcycle Gathering award has grown in regard, and is now seen as the equivalent of a prize from Pebble.
Bike builder Hugo Eccles, of San Francisco's Untitled Motorcycles, credited the Quail Design and Style Award he won last year for his Moto Guzzi Supernaturale with helping him form relationships with Ducati and Yamaha, for whom he is building custom machines, as well as launching discussions for similar deals with Aprilia and Triumph.
As the show has grown in stature, it has spread over the weekend. For many visitors, the Saturday Quail show is preceded by the Quail Ride, an optional Friday event that includes a guided tour of the peninsula, "parade laps" on famed Laguna Seca race track, and a catered lunch.
Previous years have included stops at Talbott Vineyards and Paraiso Vineyard, and the Talbott Moto Museum.
In addition, the Quail will partner this year with former grand champion road racer Kenny Roberts and his Welcome Home Heroes charity, by co-hosting a Saturday night fundraising dinner and a Sunday ride.
The show is also a destination for the Why We Ride fundraiser for Pediatric Brain Cancer. This annual two-day ride, organized by filmmaker Bryan Carroll, starts in Simi Valley, overnights in Pismo Beach and ends with a banquet in Monterey.
"There's this really cool event, and you get to do some of the best riding in California to get there," Carroll said. "We do the ride to raise funds while showing off the Quail and the journey to the Quail."
McCall's annual show has come under criticism by some who object to the ticket prices, which are quite high compared with other motorcycle shows. Entrance to the show is $75 for advance tickets, going up to $95 at the gate. Exhibitors pay $150 for admission for two and the chance to show a bike. Ticket prices include parking and free food and drinks.
A ticket for the Saturday show and Friday ride costs $350.
"There's an assumption made when you see manufacturers present as sponsors that this is a big revenue generating affair, but it's actually a tough business model," McCall said. "At other shows, you pay $10 to park, $10 to get in, $15 for a water-logged hot dog, and so on. I don't think we're out of line here on our ticketing."
Fans said there is also the intangible value of attending a motorcycle meet that attracts so many motorsports powerhouses.
Terry Karges, a motorcycle collector who is also executive director of the Petersen Automotive Museum, notes that it was through McCall, at the Quail, that he met motorcycle historian Paul D'Orleans, who curated the Petersen's current "Custom Revolution" bike show.
It was also through McCall, at the Quail, that he met Richard Varner, who is now a Petersen board member and Karges' partner in the Moto America racing program — a partnership that also includes former racing great Wayne Rainey, whom Karges also met through McCall.
It was even McCall who put Karges' name forward when former Petersen Chairman Bruce Meyer was beginning the museum's search for a new director.
"Bruce called Gordon and said, 'We need a new director,'" Karges said. "Gordon told him to call me. So, yeah, I like the Quail."
---