'Outnumbered Overtime' anchor Harris Faulkner on being 'part of the solution' at Fox News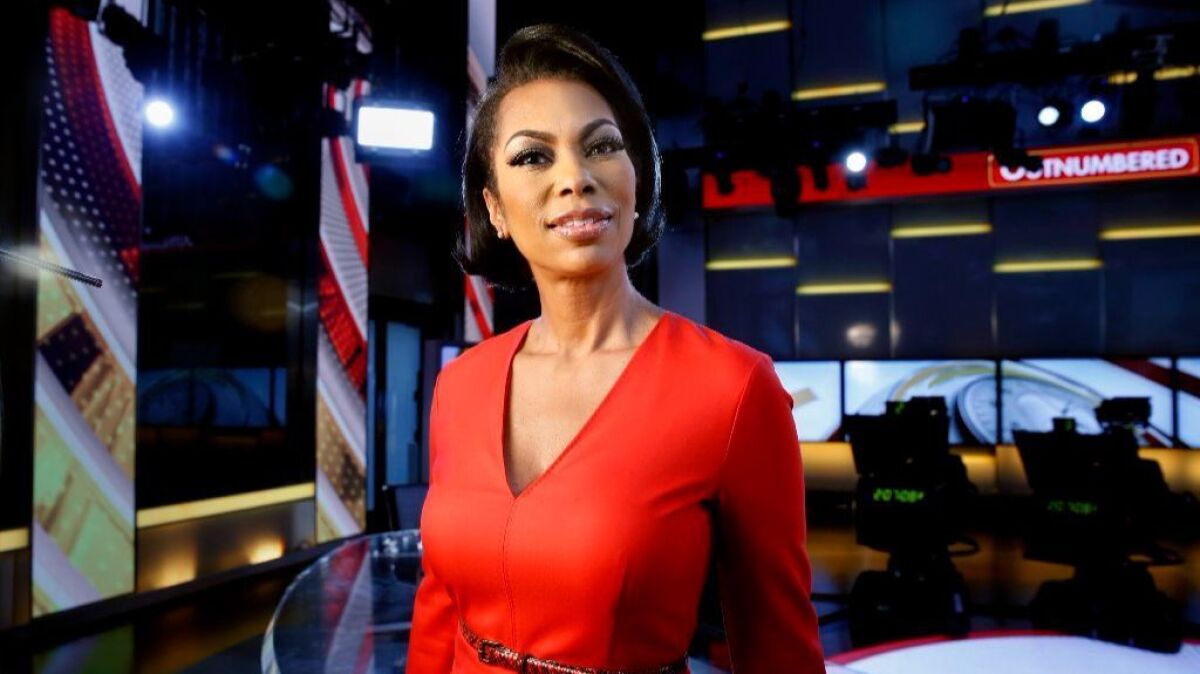 Reporting from New York —
During summer 2016, in the weeks after a sexual harassment scandal broke at Fox News, daytime anchor Harris Faulkner would look around a conference room during meetings at the network's headquarters and wonder about her female colleagues.
"Are there victims here?" the anchor of the daily afternoon newscast "Outnumbered Overtime" would ask herself. "How do I be part of a culture that can survive this?'" In retrospect, Faulkner said, "It seemed like an out-of-body experience trying to process all the nuances and the details that were coming out."
Nearly 18 months later, the channel more than survived, finishing 2017 as the most watched cable network for the second straight year despite losing its top rated prime-time personality, Bill O'Reilly, also under a cloud of harassment allegations. But Faulkner has kept her eye on how the network was going to make good on a stated commitment to improve diversity and working conditions for the women who work there.
"Were there days when I wanted to walk away?" she asked during an interview in her brightly decorated office at the network's Midtown Manhattan headquarters. "Yeah, especially when people judged me in public in front of my children. But I didn't, and I'm glad that I haven't."
Fox News, with its polarizing conservative personalities, can stir enough passion among viewers that strangers who recognize Faulkner on the street will ask her how she can work there after the harassment allegations were revealed.
But the 52-year-old UC Santa Barbara alum believed she could be "part of the solution." On Oct. 2, she became one of five solo women who now host their own daily hours on Fox News (a year ago, there were only two, including Megyn Kelly, who left for NBC). Faulkner, who joined Fox News in 2005, is also currently the only black woman with a daily program on one of the three major cable news channels.
Faulkner's show, "Outnumbered Overtime," is watched by an average of 1.6 million viewers and has lifted the ratings for the 1 p.m. Eastern time, and has an 82% advantage over CNN and a 78% lead over MSNBC. Faulkner also remains a co-host of "Outnumbered," the talk show that proceeds it; it draws 1.8 million viewers each day, also leading its cable news competition by a wide margin.
As one of the commentary-free anchors who puts the news in Fox News, Faulkner juggles guest interviews and breaking stories with no-nonsense precision during the midday hours when a White House briefing or off-the-cuff comment by President Trump can shift the national conversation for the rest of the day.
Lately, the "Outnumbered" circle has been discussing the sexual misconduct allegations of news personalities at other networks and members of Congress. Faulkner makes a point of reminding her co-hosts that Fox News has dealt with the same issues.
"We can't talk about it like it didn't happen in our own halls to some degree," she said.
The spotlight on the harassment issues that plagued Fox News is still intense. On Saturday, parent company 21st Century Fox was forced to clarify remarks that Executive Chairman Rupert Murdoch made in a TV interview that appeared to minimize the severity of the problem. When asked by Sky News whether the allegations were harmful to the company, he replied, "That's all nonsense." The company said Murdoch was referring only to the scandal's effect on his efforts to acquire European pay TV service Sky.
"Under Rupert's leadership and with his total support, the company exited (former Chief Executive) Roger Ailes, compensated numerous women who were mistreated; trained virtually all of its employees; exited its biggest star; and hired a new head of HR," a 21st Century Fox spokesperson said in a statement. "By his actions, Rupert has made it abundantly clear that he understands that there were real problems at Fox News."
Faulkner, speaking before Murdoch made his comments, said she has seen signs of a transformation since Ailes and other executives left. "It's becoming different," she said. "I'm not Pollyanna. Nobody has a magic wand. I pray that we are [midway] toward the end in this journey." She cites a human resources department that has doubled in size and access to outside legal counsel. "If women are in a place where they want to communicate now, they almost have so many choices they have to ask which should I choose," she said.
The fear of retaliation for speaking out has also abated. "One thing I can tell you that is very different from a year and a half ago is if I get stopped in the hallway and somebody sees me talking about this, I don't need to feel like I need to go, 'Uh-oh. Shhhh,'" Faulkner said. "If you've got something to say, let's say it."
Faulkner did not become a part of a racial discrimination suit filed by former and current black employees in April that has since gone to arbitration. She was not asked to be a part of it, nor did she want to be. At the time, she believed she was seeing progress on that front as well.
"You can't change anything from the kitchen or inside of the courtroom," she said. "I've been black my whole career. I've been curvaceous my whole career. I've had people say just all sorts of inappropriate things. I have seen and heard them do some things I would never imagine people would do."
For Faulkner, that includes a 2015 holiday cooking segment on "Fox & Friends" in which she prepared her mother's peach cobbler recipe with her then-8-year-old daughter Bella at her side. During the demonstration, "Fox & Friends" co-host Brian Kilmeade asked Faulkner if she served Kool-Aid at her meals.
"Do I do what?" Faulkner asked.
After Kilmeade asked a second time, Faulkner said, "No, I don't make Kool-Aid" and went back to the demonstration.
Faulkner recalled how she had made a decision to stay focused on the task at hand. She did not want Kilmeade's use of a racial stereotype to spoil the experience for her daughter and the viewing audience.
"I processed in that moment who I needed to be as a mother in front of millions of people," she said. "I can't make the moment all about the color of my skin, whether someone makes an inappropriate comment or not. I still feel like there are people watching me with the idea that it's aspirational to make your dreams come true. And I'm making one of my mom's favorite things."
Faulkner was willing to let Kilmeade's gaffe go after it happened. But a clip of the exchange went viral on YouTube, where it has received 1 million views. Then she saw Larry Wilmore dissect it on his Comedy Central show. During the bit, the show highlighted the face of Faulkner's daughter.
Faulkner's two phones lighted up with calls from friends who'd watched. Her daughter was getting asked about it by classmates. After giving Kilmeade the benefit of the doubt, she decided she needed to discuss the "Fox & Friends" exchange with him.
"I went to his office," she said. "We sat. He said, 'I didn't mean anything by it. I want you to know I have no idea what it really means, blah, blah, blah.' By the end of the conversation, I apologized. He said, 'Why are you apologizing?' I said, 'Because I need to hear the words 'I'm sorry' right now.' So we moved on. What I learned is that if we let it, it will divide us completely… but it was very costly to stick through that moment so that the people around me could learn about [perseverance] and forgiveness. If he came to me this day and apologized, I would accept it."
Through a Fox spokesperson, Kilmeade declined to comment on the matter.
Faulkner has seen the rewards of gutting it out through difficult times. She was stalked by a man for five years early in her career in local TV. But at a career stop in Minneapolis, she met Tony Berlin, now a public relations executive, who became her husband and father of her two daughters.
Faulkner's willingness to stick with a mission through adversity is rooted in her background as a military brat. Her father was an Army pilot who did two tours in Vietnam, and his influence is strong in her life.
"You have to be resilient," she said. "Don't cut and run."
'Outnumbered'
Where: Fox News Channel
When: 9 a.m. weekdays
'Outnumbered Overtime'
Where: Fox News Channel
When: 10 a.m. weekdays
Twitter: @SteveBattaglio
---
Inside the business of entertainment
The Wide Shot brings you news, analysis and insights on everything from streaming wars to production — and what it all means for the future.
You may occasionally receive promotional content from the Los Angeles Times.