3 things to watch as Disney reports first-quarter earnings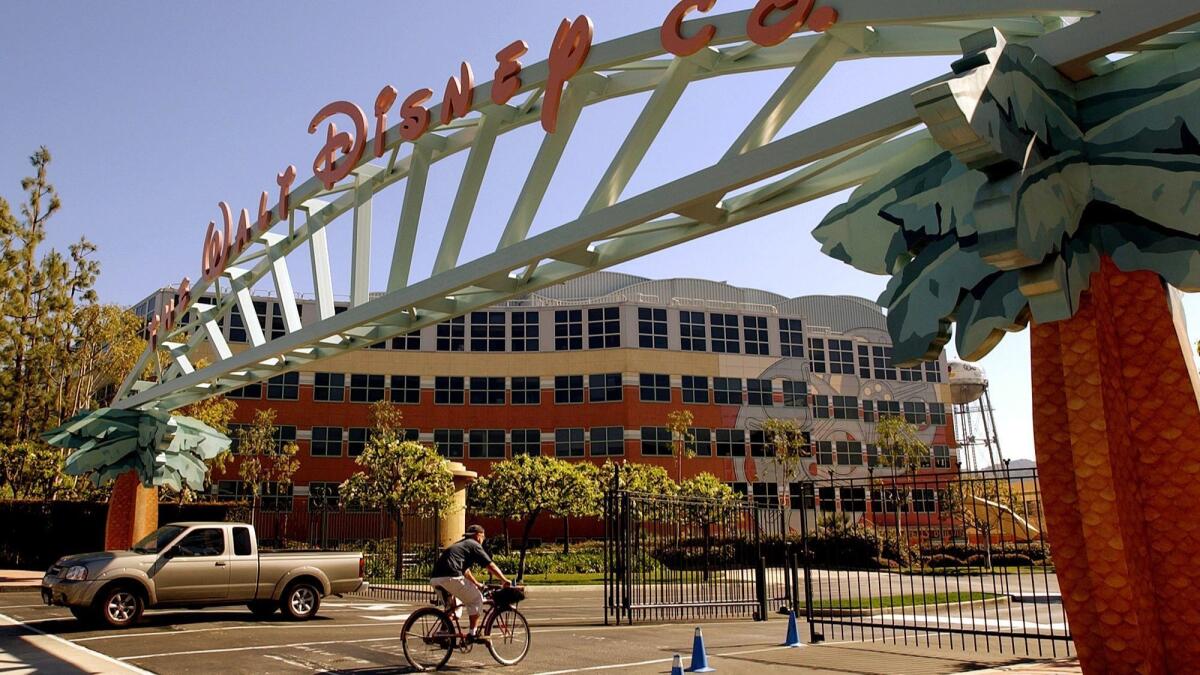 Walt Disney Co.'s quarterly earnings conference calls of late have typically centered on ESPN, which has shed millions of subscribers amid a sea change in TV viewing habits.
But when the Burbank entertainment giant reports fiscal first-quarter earnings Tuesday, investors and analysts are likely to focus on Disney's $52.4-billion acquisition of film and TV assets from 21st Century Fox Inc. Expect analysts to pepper Disney Chief Executive Robert Iger with questions about the pact.
The deal, announced in mid-December and subject to regulatory approval, would give Disney access to a host of intellectual property as it prepares to launch two streaming services — one for sports called ESPN+ and another for film and television.
Evan Ferreby, portfolio manager at RiverPoint Capital Management, which owns about 248,000 shares of Disney stock, wants to know when the deal will close and how the acquisition of the Fox film studio would affect Disney's movie slate. Fox has several valuable franchises in its stable, among them "X-Men" and "Avatar."
"We like the deal. We think it is important for Disney moving forward, especially as they roll out these streaming services," Ferreby said. "It makes their content more valuable."
Since the Disney-Fox deal was announced Dec. 14, shares of Disney have fallen about 5%, though the drop has occurred amid a wider market correction.
Helped by brisk business from its theme parks and movie business, Disney is expected to deliver earnings per share of $1.61, 4.5% higher than the same three-month period a year ago, according to analysts polled by FactSet. Revenue is expected to be $15.5 billion, up nearly 5%.
Amid a deep sell-off on Monday, shares of Disney lost $4 in regular trading, closing at $104.70.
Here's a look at some potential story lines:
Could Comcast muck things up?
Aside from queries on the the pending Fox deal, analysts may ask Iger about a CNBC report from Monday that said Comcast Corp. might place another bid for the Fox assets (the cable provider abandoned an earlier bid for the assets in December).
Comcast, owner of NBCUniversal, declined to comment on the CNBC report, and Disney did not respond to a request for comment.
During a conference call with analysts last month, Comcast Chief Executive Brian Roberts spoke broadly about the company's interest in acquisitions.
"It shouldn't be a surprise that we study every situation that comes along," Roberts said. "We believe our shareholders expect this from us. But the bar is set high, and we have been and will remain disciplined."
'Star Wars' fatigue?
Disney has placed several huge bets on the "Star Wars" brand since buying Lucasfilm in 2012, but is the space opera franchise losing some of its force with consumers? Analysts may broach that delicate subject with Iger.
Disney's "Star Wars: The Last Jedi" has grossed more than $1.32 billion worldwide since being released in mid-December, but some observers have nonetheless pegged the film as a disappointment, given the lofty expectations.
The movie's theatrical haul will fall far short of the performance of 2015's "Star Wars: The Force Awakens," which was the first new film in the saga in a decade and took in more than $2 billion worldwide. And despite a big promotional push, "The Last Jedi" also struggled in China, a key overseas market, where it finished in second place during its opening-weekend run in theaters.
There are other areas of weakness. In 2017, sales of "Star Wars" toys fell from a year earlier, according to data from research firm NPD Group. However, "Star Wars" was still the No. 1 toy line during last year's holiday season.
Disney's next "Star Wars" film, a spinoff about Han Solo, comes out in May. In addition to several other movies planned for the franchise in the coming years, Disney is building "Star Wars"-themed areas at Disneyland Resort and Walt Disney World Resort.
ESPN issues
Although the Fox deal is expected to be a focus, ESPN is still likely to get some attention on the earnings call.
The sports network, for several years, has faced subscriber losses amid the cord-cutting trend and other changes in media consumption. Less than a decade ago, ESPN was available in about 99 million homes in the U.S., but that number has fallen to about 87 million homes, according to Nielsen data.
Disney's new ESPN+ streaming service will launch later this year and is aimed in part at helping the company capture younger viewers who have turned away from traditional pay-TV options.
The company's media networks unit — whose crown jewel is ESPN — had a tough run during the recent fiscal fourth quarter, reporting segment operating income of $1.48 billion, a drop of 12% from a year earlier.
ESPN also faced upheaval at the top in recent months: John Skipper, who'd been president of the network since 2012, abruptly resigned Dec. 18, citing a substance addiction problem.
"The desire to watch sporting events live and ESPN's abundance of long-term sports rights makes ESPN the most valuable piece of real estate in pay TV today," wrote Edward Jones analyst Robin Diedrich in a recent research note."However, we expect slower growth as competition for consumer time and entertainment dollars increases."
Times staff writer Meg James contributed to this report.
Twitter: @DanielNMiller
Inside the business of entertainment
The Wide Shot brings you news, analysis and insights on everything from streaming wars to production — and what it all means for the future.
You may occasionally receive promotional content from the Los Angeles Times.