ESPN President John Skipper resigns, citing substance addiction problem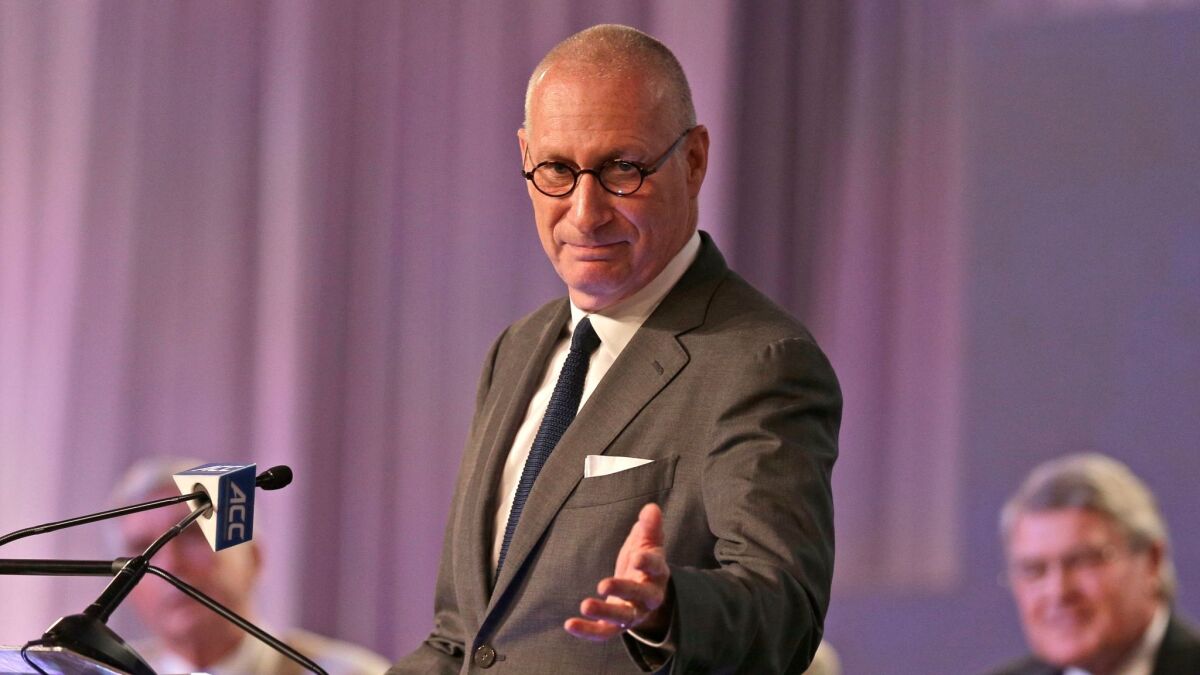 ESPN President John Skipper resigned Monday, citing a substance addiction problem, an announcement that stunned the sports media business and raised questions about the future direction of the Walt Disney Co. unit.
Many in the sports TV industry believed the company had grounds to oust Skipper for reasons unrelated to his personal issues. There had been rumors for months he was on his way out, though they were quelled by recent reports that he had signed a contract extension.
The sports juggernaut remains a big moneymaker for Disney, but Skipper faced growing pressure as ESPN struggled with continued subscriber losses and escalating fees paid to sports leagues. Under his watch, ESPN also endured a number of high-profile controversies, layoffs and star departures which, at times, created an image of a business in turmoil.
"It's been a tough year for ESPN,'' said Lee Berke, a sports TV media consultant.
Skipper's resignation comes at a crucial time for Disney, which last week announced a deal to buy film and TV assets from 21st Century Fox for $52.4 billion. Integrating Fox's 22 regional sports networks will be a major task that requires familiarity with the company. Additionally, Disney is preparing a 2018 launch of a direct-to-consumer streaming service called ESPN+, which will have live events not offered on the cable channel.
George Bodenheimer, who served as ESPN's president from 1998 to 2011, is taking the helm at ESPN for the next three months and will help find a permanent successor for Skipper, Disney Chairman and Chief Executive Bob Iger said in a statement.
A general consensus among sports TV industry insiders is that Skipper's job is likely to go to an internal candidate who can keep the current initiatives at ESPN on track.
"Bodenheimer knows the organization extremely well and has been part of it for a long time," Berke said. "There is a lot to get up to speed on when it comes to ESPN and all the potential acquisitions and business activities going on. It tends to point toward somebody from the inside."
Internal candidates include distribution chief Justin Connolly, a respected executive who is most well-versed in the challenges of reaching consumers in the digital age, which will be key to ESPN's efforts to stem a decline in revenue.
Connor Schell, the executive vice president of content who oversaw the Oscar-winning documentary "O.J.: Made in America" and co-created the "30 for 30" series, also is considered a contender for the job. His responsibilities were recently expanded to oversee ESPN's signature show "SportsCenter."
Bodenheimer got his start at the network as a mailroom clerk. He rose through the ranks to be the company's longest-serving president, then became the company's chairman before leaving in 2014.
One sports TV agent who spoke on the condition of anonymity because he frequently does business with ESPN said he would not be surprised if Iger convinced Bodenheimer to stick around.
"I would not be shocked if Bodenheimer does it for a couple of years," the agent said. "He's a great guy and he is beloved by the people there. He can lift morale and start doing things in a smarter way."
Skipper's resignation comes less than a month after another senior Disney executive — John Lasseter, the chief creative officer of Pixar and Walt Disney Animation Studios — announced he was taking a six-month leave of absence, citing unspecified "missteps." Several female employees had complained about their interactions with the executive.
Skipper, who turns 62 Tuesday, joined Bristol, Conn.-based ESPN in 1997 and served as executive vice president of content before becoming president in 2012.
After working at Rolling Stone and Spin Magazine, Skipper joined Disney's magazine publishing unit in 1990. He later helped launch ESPN the Magazine before taking on various executive roles at the sports network. He invested in original content and paid higher sports rights fees for NFL football, NBA basketball and U.S. Open Tennis.
"I have struggled for many years with a substance addiction," Skipper said in a statement Monday. "I have decided that the most important thing I can do right now is to take care of my problem.… I come to this public disclosure with embarrassment, trepidation and a feeling of having let others I care about down."
Iger issued a statement wishing Skipper well. "I respect his candor and support his decision to focus on his health and his family," he said.
Beyond Skipper's personal issues, ESPN has been facing its own systemic challenges driven by changes in how people are watching television. Seven years ago, ESPN was available in about 99 million homes in the U.S., but now it is found in about 87 million homes, according to Nielsen data. Those losses, due to the growing number of people who get video content online, have significantly reduced the fees that Disney receives from pay-TV operators for the rights to carry ESPN, which is the most expensive basic cable TV channel.
The sports media company also has endured a number of high-profile controversies that turned the brand into a hot-button issue.
The latest flared up last week with a Boston Globe report describing a "locker-room culture" at ESPN in which men hit on female colleagues, give them unsolicited shoulder rubs and openly rank them by appearance.
ESPN pushed back against the Globe's report, which was based on interviews with about two dozen current and former employees.
"We work hard to maintain a respectful and inclusive culture at ESPN," spokeswoman Katina Arnold said in a statement last week. "It is always a work in progress, but we're proud of the significant progress we've made in developing and placing women in key roles at the company in the boardroom, in leadership positions throughout ESPN, and on air."
In October, Skipper had to shut down a 10-day-old partnership with upstart media outlet Barstool Sports. The company aired a late-night show called "Barstool Van Talk" that used a frat house approach that many employees at the network believed was inappropriate.
The conflict over the program illustrates the issues facing ESPN going forward — how to reach viewers in the elusive 18-to-34 demographic who spend less time with television and are used to consuming edgy content online.
Earlier this year, Skipper had to manage the social media habits of some of his on-air talent including "SportsCenter" co-host Jemele Hill, who called President Trump a racist. Skipper then suspended her for two weeks in October after she tweeted that fans unhappy with Dallas Cowboys owner Jerry Jones should boycott the team's advertisers and stop buying merchandise. The conflict added to a perception — mostly stoked by rivals and Trump's tweets — that the channel was becoming too political.
Skipper's tenure did include the successful launch of late-night show "SportsCenter With Scott Van Pelt," which uses an irreverent approach to covering the day's events. It has become the most-watched late-night program in all of television among men 18 to 34.
Skipper has also been praised for improving the diversity of ESPN's staff on and off the air.
Many ESPN employees and members of the media rallied around Skipper on Twitter, expressing support for the executive and thanking him for his leadership.
Hill described Skipper as "one of the finest people" she'd ever worked for, despite her suspension.
ESPN radio host Sarah Spain also took to Twitter to praise Skipper's leadership, particularly his diversity efforts in a notoriously male-dominated industry.
"John Skipper's commitment to diversity & inclusion at ESPN has been not only inspiring, but comforting to those of us who want to believe things are headed in the right direction," Spain tweeted. "Deeply saddened to hear of his resignation."
Times staff writer Meg James and Chicago Tribune staff writer Phil Rosenthal contributed to this report.
---
UPDATES:
5:30 p.m.: This article was updated throughout.
10:30 a.m.: This article was updated to include additional reaction to Skipper's resignation.
9:20 a.m.: This article was updated throughout with additional details.
This article was originally published at 8:30 a.m.
---
Inside the business of entertainment
The Wide Shot brings you news, analysis and insights on everything from streaming wars to production — and what it all means for the future.
You may occasionally receive promotional content from the Los Angeles Times.