Disney not trying to thwart Netflix, executive says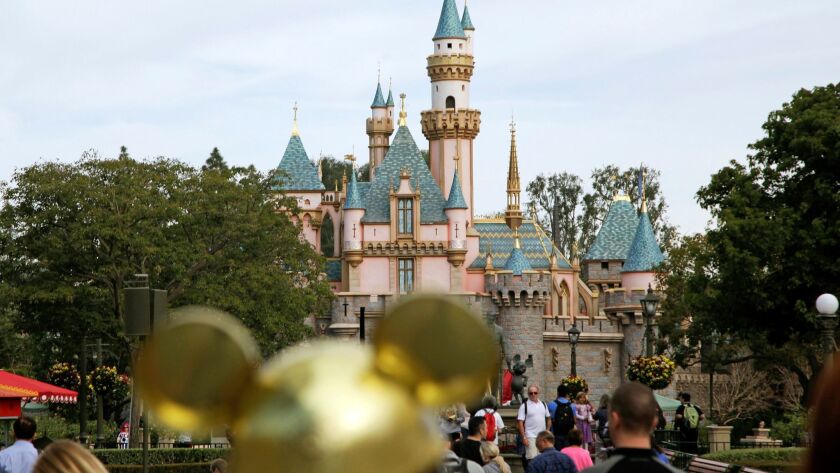 Walt Disney Co.'s aggressive push into video streaming is not designed to hobble a potent rival — Netflix — but rather to capture more consumers as the media industry rapidly changes, according to a top Disney executive.
"We are not trying to hurt or kill Netflix," Kevin Mayer, Disney's chief strategy officer, said Tuesday at the Code Media conference in Huntington Beach. "We are trying to serve consumers. … Our success will not come from Netflix's expense."
Disney last summer announced that it is pulling back its recently released movies and television shows that currently run on Netflix. Disney will end its distribution agreement with Netflix for new films, beginning with the 2019 theatrical slate. Instead, Disney plans to use its own products to stock its planned Disney-branded streaming service that is expected to launch in late 2019. The move, however, will rob Netflix of a key source of content, giving Netflix another incentive to build its original programming arsenal.
Disney also plans to later this spring launch ESPN-Plus, a $4.99-a-month streaming service for sports fans. The programming available through ESPN-Plus will be different from what viewers find on the various ESPN television channels.
That's because Disney does not plan to immediately disrupt its lucrative traditional businesses. The company wants to preserve its relationships with pay-TV providers that carry ESPN, ABC, Disney Channel and other TV networks and the movie theater chains that play and promote Disney's feature films.
"The model serves us well. I'm not sure there is an urgent need to disrupt it," Mayer said during a question-and-answer session with Recode's Peter Kafka.
Mayer is more typically a behind-the-scenes guy and one of Disney Chief Executive Robert Iger's key lieutenants. But the 25-year Disney veteran has been extremely influential, helping negotiate the Pixar Animation, Marvel Entertainment and LucasFilm deals — as well as the recently unveiled $52.4-billion takeover of 21st Century Fox's movie and TV production studios, regional sports outlets and other TV channels.
Mayer did not discuss details of the proposed Fox acquisition. But his remarks touched on Disney's strategy, which during the next two to three years will revolve around launching the two streaming services and completing the company's planned acquisition of the Fox assets.
Mayer helped negotiate Disney's proposed purchase of much of Rupert Murdoch's Fox. The transaction is expected to take about 18 months to complete because of required regulatory approvals.
The Burbank entertainment giant also plans to consolidate Fox's stake in Hulu, which will give Disney majority control in the decade-old streaming service. Mayer said Disney aims to run more adult-themed programming, including ABC shows and potentially Fox content, on Hulu.
But Disney might be in for a fight when it comes to claiming Hulu. Santa Monica-based Hulu is owned by four conglomerates: Disney, Fox, and Comcast Corp.'s NBCUniversal each own 30% of Hulu; Time Warner Inc. owns the remaining 10%.
Time Warner could sell its stake, particularly if it gets swallowed by telecommunications giant AT&T. (The Trump administration is trying to block that deal and a federal judge probably will decide the outcome this spring.)
Comcast, however, might become the wild card.
The Philadelphia cable giant tried to bid on the Fox assets and has been mulling over whether it makes sense to take another run at them. Such a move could disrupt the Disney-Fox deal, although some analysts think it is unlikely that Comcast could unravel the deal.
Disney's pursuit of Fox began when Iger first approached Fox Executive Chairman Rupert Murdoch last summer. Murdoch overlooked Comcast's overtures and made the deal with Disney, in part, because it would give his family and other Fox shareholders valuable stock in Disney.
Comcast offered Murdoch considerably more money — slightly more than $60 billion — for the Fox assets, according to a person familiar with the situation who was not authorized to speak publicly. That is roughly 10% more than Disney's offer, fueling speculation that Comcast might not go away so easily. CNBC first reported Comcast's continued interest in acquiring the Fox assets.
---
Inside the business of entertainment
The Wide Shot brings you news, analysis and insights on everything from streaming wars to production — and what it all means for the future.
You may occasionally receive promotional content from the Los Angeles Times.