Disney shareholders reject executive pay plan in nonbinding vote at annual meeting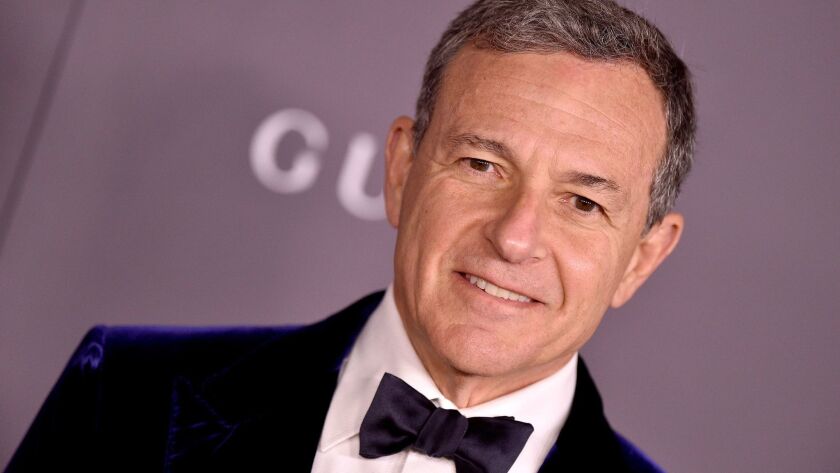 Walt Disney Co. shareholders have voted against the company's pay plan for Chief Executive Robert Iger, who last fiscal year received $36.3 million in total compensation and stands to make much more in 2018.
The nonbinding vote was a surprise rebuke at Disney's annual shareholder meeting in Houston on Thursday, which was also picketed by Disneyland Resort workers, including some whose unions are negotiating new contracts with the company.
Disney's executive pay plan was opposed by 52% of shareholders, with 44% in favor and 4% abstaining. Investors in the Burbank entertainment juggernaut otherwise fell in line with the board of directors' recommendations, voting down two proposals from shareholders, including one on lobbying disclosures.
Iger also used the gathering at the Hobby Center for the Performing Arts to preview some of the company's new films and announce a "Star Wars" television show with Jon Favreau as executive producer.
Some proxy advisors had urged investors to reject Disney's executive pay plan, saying it was not sufficiently aligned with company performance. "Mr. Iger's pay outpaces that of other CEOs in the market broadly," proxy advisory firm Glass Lewis & Co. said in a report.
The shareholder vote will not require a change in the company's compensation policy. However, Disney's board of directors will take the matter "under advisement for future CEO compensation," the chair of the board's compensation committee, Aylwin B. Lewis, said in a statement.
Iger's total compensation in fiscal 2018 would rise if Disney's planned $52.4-billion acquisition of the film and television assets of 21st Century Fox is approved by regulators. In December, when the prospective deal was announced, Disney said it had extended Iger's contract through 2021. Under the contract extension, he would receive more than $100 million in stock grants, based on Disney's share price.
Also, under the terms of his new contract, Iger's annual base salary increased to $3 million at the beginning of 2018, up 20% from his previous deal, according to a regulatory filing. It would increase to $3.5 million once the Fox purchase is completed.
"We believe that the terms of Bob's extension are in the best interests of our company and our shareholders, and essential to Disney's ability to effectively maximize long-term value from this extraordinary acquisition," Lewis' statement said.
Iger's tenure has been a boon for Disney shareholders. During his time as CEO, the company has delivered total shareholder return of 414% and seen its market capitalization increase to $156 billion from $46 billion, Disney said.
Although his pay dropped by 17% in fiscal 2017, Iger remains one of the highest-compensated executives in the entertainment business.
Iger's compensation was highlighted in a recent study of Disneyland Resort workers. Paid for by a coalition of unions pushing for higher wages at the property, the online study, which surveyed a portion of workers at the resort, pointed out the disparity in pay at the company.
The study — conducted by the Economic Roundtable, a nonprofit research organization in Los Angeles, and the Urban & Environmental Policy Institute at Occidental College — concluded that the average wage for Disneyland Resort workers when adjusted for inflation dropped 15% from 2000 to 2017, from $15.80 an hour to $13.36.
It contrasted those wages with the pay of Iger, who was noted to have received total compensation of $43.9 million in fiscal 2016. The survey cited an analysis that ranked Disney third in the nation for the largest wage gap between its executives' salary and median workers' annual pay.
Disney called the survey inaccurate, noting that it was only offered to a limited number of union workers at the resort. It also challenged the study's conclusions on wages at the resort, saying the average annual salary for hourly workers at the resort is $37,000, which it says calculates to about $17.80 an hour.
On Thursday, the Disneyland Resort workers protesting outside the meeting demanded the company provide a "living wage." Standing in front of the Hobby Center, the demonstrators, most of whom were brought to Houston by the unions that commissioned the study, held up signs reading "#stopdisneypoverty," among other slogans.
The protest was not mentioned during the meeting, but Iger highlighted several of Disney's philanthropic endeavors, and touted the creation, at an initial cost of $50 million, of a new higher education program for hourly workers.
During a question-and-answer session, several Disney employees praised Iger and the new education endeavor, which will help workers pursue higher education and vocational training.
The relatively sedate nature of the meeting was in contrast to last year's gathering in Denver, where Iger faced pointed questions about his role on President Trump's business policy forum, which has since been disbanded.
Tensions rose somewhat when Iger was queried by a shareholder about comments made by Joy Behar of ABC's "The View" that were critical of Vice President Mike Pence, and other statements made by ESPN's Jemele Hill about Trump.
Iger said that Behar apologized to Pence and that Hill had been "disciplined."
"I am going to leave it at that," he said.
Twitter: @DanielNMiller
---
UPDATES:
4:07 p.m.: This article was updated to include more details on the shareholder meeting.
12:55 p.m.: This article was updated with additional details on an online study of Disneyland Resort workers.
This article was originally published at 11:40 a.m.
---
Inside the business of entertainment
The Wide Shot brings you news, analysis and insights on everything from streaming wars to production — and what it all means for the future.
You may occasionally receive promotional content from the Los Angeles Times.