ESPN makes a bid for morning TV ratings glory with 'Get Up!'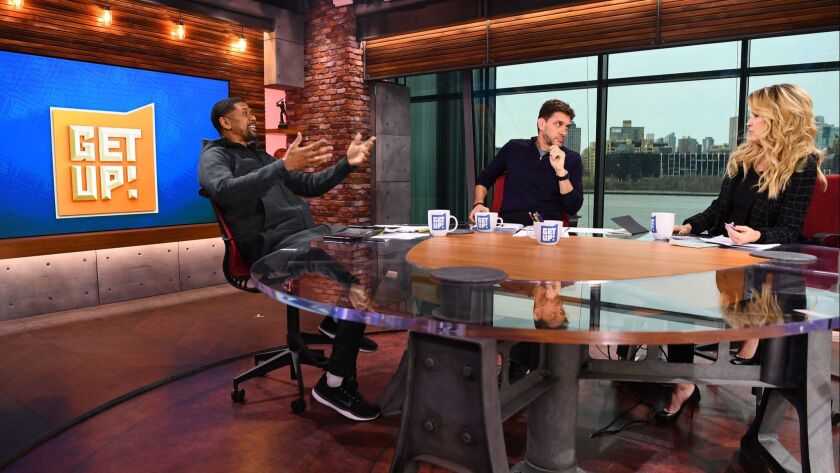 Faced with the challenges of subscriber losses from cable cord-cutting and the changing ways young consumers are watching sports, it seems almost quaint that ESPN's next big move is the launch of a new TV morning show.
But viewers looking for information and dependable companionship as they start the day are still a valuable commodity for advertisers — they spend $1 billion a year on the three broadcast network morning shows alone — which explains why ESPN is trying to get back in the game with "Get Up!" which debuts Monday at 7 a.m. Eastern.
The Walt Disney Co. unit needs programming that is habit-forming enough for viewers to stick with their pay TV subscriptions, which is why it has lined up big-name co-hosts Mike Greenberg, Michelle Beadle and Jalen Rose for "Get Up!," its first new program designed for the morning since its last attempt, "Cold Pizza," ended in 2007.
The competition has exploded in the last 11 years, as cable news has grown its morning audience and sports channels have entered the fray once dominated by NBC's "Today" and ABC's "Good Morning America." There are live morning shows on the NFL Network, the Golf Channel, Fox Sports 1 and CBS Sports Network, which shows a simulcast of WFAN radio's "The Morning Show with Boomer and Gio."
ESPN is making a significant investment in "Get Up!" at a time when it has tried to control costs to counter lost revenue from defecting cable subscribers. Greenberg, Beadle and Rose reportedly have deals for the new program that total $15 million a year.
The high salaries have generated some sniping on sports TV blogs that note how ESPN has laid off hundreds of employees in recent years. But Bill Wolff, vice president of studio production for ESPN, contends having established talent will give the program an advantage.
"We needed distinct personalities," he said.
The trio will hold court on the previous night's game results and the burning sports issues of the day in a shiny new 21,000-square-foot studio at the South Street Seaport in Manhattan, offering a panoramic view of the Brooklyn Bridge.
Greenberg already has a strong track record in the morning, having co-hosted ESPN Radio's "Mike & Mike In the Morning" with Mike Golic for 18 years. The program was simulcast on ESPN2 for most of that time and their banter was entertaining enough to land them guest spots on "Late Show with David Letterman."
Beadle has been an irreverent and outspoken long-time panelist on ESPN "SportsNation" and currently hosts the network's "NBA Countdown." Rose is a former NBA star and a studio analyst for ESPN's basketball coverage.
Based on rehearsal footage shared online, "Get Up!" does not appear to be remaking the morning show wheel, although Wolff and Connor Schell, ESPN's executive vice president of content, said it will evolve over time. With other sports options now available on morning TV, "Get Up!" needs its hosts to provide a compelling alternative.
"They are banking on 'our people are better than your people,'" said Brian Donlon, a veteran TV producer who created "Cold Pizza" for ESPN in 2003. "I think it's hard in this competitive environment. Their people are a plus for them, but you also need patience as morning habits change at a glacial pace." (ESPN gave up on "Cold Pizza" after 3 1/2 years.)
Donlon added that ESPN's decision to return to a morning show with a name and identity separate from its signature news program "SportsCenter" is the right move as the network tries to make itself more essential for fickle young viewers most likely to cut the cable cord.
Fans who want highlights in the morning can still catch "SportsCenter" on ESPN2, allowing "Get Up!" to be more driven by conversation and opinion, according to Schell.
As ESPN tries to shed the notion — stoked mostly by conservative critics — that it has become too political, co-host Greenberg has been assuring anyone who asks that the main focus of "Get Up!" will be sports. The words "President Trump" have yet to come up in any of the rehearsal shows.
"When people turn on ESPN, they have a right to expect for us to talk about sports," Greenberg said. "When I want to order pizza, I don't walk into a McDonald's."
Twitter: @SteveBattaglio
---
Inside the business of entertainment
The Wide Shot brings you news, analysis and insights on everything from streaming wars to production — and what it all means for the future.
You may occasionally receive promotional content from the Los Angeles Times.