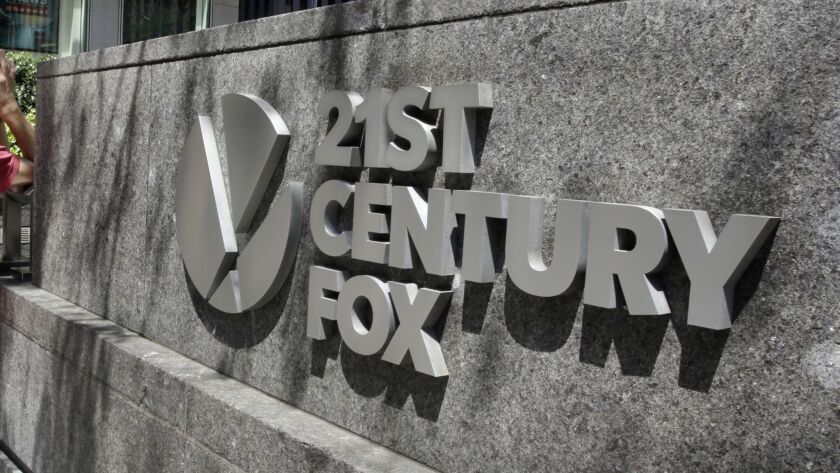 21st Century Fox reported weak overall financial results for the fiscal third quarter that ended in March, with earnings falling short of analyst estimates due to sharp declines in the company's film and broadcast television units.
The New York-based Fox is currently in the midst of what is shaping up to be a tug of war as Comcast moves to make a rival bid that could spoil Walt Disney Co.'s $52- billion deal for most of Fox's assets.
Though the cable operator has yet to formally make the rival bid, the Philadelphia-based Comcast is expected to put forth an all-cash offer this summer that would exceed the Disney deal.
On Wednesday's call with analysts, Fox Chairman Lachlan Murdoch said: "We are committed to our agreement with Disney." But when asked about Fox's fiduciary responsibility to weigh the Comcast bid, Chief Executive James Murdoch said: "The directors are very aware of their responsibilities."
For the quarter, Fox posted adjusted earnings of 49 cents per share, below the estimate of 53 cents per share from analysts polled by Factset. Revenue was $7.42 billion for the period, which was slightly better than analysts' prediction of $7.40 billion.
The quarterly results represent declines from the year-ago quarter, which saw earnings per share of 54 cents on revenue of $7.56 billion.
The main culprit was Fox's television group, which saw a nearly 60% drop-off in operating income for the quarter. Fox noted in Wednesday's earnings announcement that the decline was attributable to Super Bowl advertising revenue, as well as lower NFL post-season ratings and three fewer NFL broadcasts versus the year-ago quarter.
Fox also said it took a $60-million charge during the period from higher compensation expenses due to equity awards related to the Disney-Fox acquisition.
20th Century Fox Film saw hits such as "The Greatest Showman," Oscar-winning "The Shape of Water" and "Maze Runner: The Death Cure." But it wasn't enough to lift the overall filmed entertainment business, which was weighed down by the television production business. The segment saw higher deficits related to more new drama series, resulting in a nearly 23% drop in operating income to $286 million in the quarter.
Fox's best performing segment for the quarter was its cable network business, which saw revenue rise nearly 10% year-over-year to $4.42 billion. The company attributed the growth to gains in domestic affiliate revenues.
On Wednesday, Fox also announced that it will acquire seven television stations from Sinclair Broadcasting Group for about $910 million. The deal would increase Fox Television Stations' national footprint to nearly half of all U.S. households, according to the company.
Shares of Rupert Murdoch's media conglomerate were unchanged in after-hours trading Wednesday.
Shares of Fox closed down slightly on Wednesday to $37.70.
Twitter: @DavidNgLAT
Los Angeles Times staff writer Meg James contributed to this report.
---