Amid turmoil, is Fox News losing its perch as cable news leader?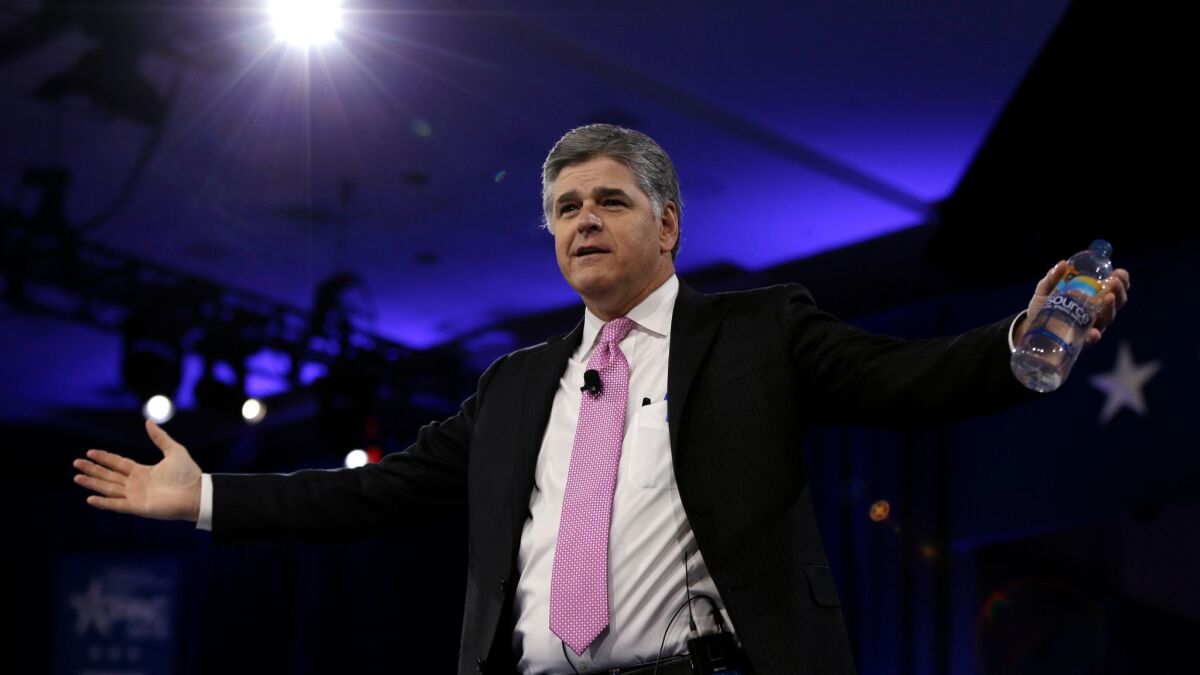 Fox News once again found itself at the center of a media storm Tuesday as it retracted a story pushing a right-wing conspiracy theory that a Democratic National Committee staffer may have been killed because he provided emails to WikiLeaks.
The story had been heavily promoted by popular Fox News host Sean Hannity, who said he is trying to "find the truth" about the July 10 unsolved killing of Seth Rich. On his show Tuesday night, Hannity expressed sympathy for the Rich family but criticized the liberal effort to silence him.
"I am not going to stop doing my job," he told his viewers.
Tuesday's events highlighted the chaotic environment at Fox News, which 21st Century Fox Co-Chairman Rupert Murdoch has been managing since July, when he and his sons ousted the late founder of Fox News, Roger Ailes, amid a sexual harassment scandal. Federal investigators are examining whether the company properly disclosed payments made to settle complaints of harassment against Ailes.
The conservative cable news channel is also still reeling from the loss of its other star anchor, Bill O'Reilly, who was ousted last month after reports that several women had been paid a combined $13 million to settle claims of sexual harassment and verbal abuse. O'Reilly denied any wrongdoing.
O'Reilly's departure has taken a toll on Fox News, which is showing signs that it may be losing its perch as the dominant force in cable news. Last week, Fox finished behind CNN and MSNBC among viewers ages 25 to 54, the demographic most important to advertisers who buy commercial time on the network. Fox News has not finished third in that category for a full week since Dec. 28, 2008, when the murder trial of Casey Anthony was a dominant cable news story for MSNBC and CNN's sister channel, HLN.
"Fox News has suffered major blows," said Judy Muller, a journalism professor at USC and a former television correspondent. "Bill O'Reilly was huge. He was one of the major personalities of our time, and in his absence Fox is scrambling."
It's too soon to say whether the loss of O'Reilly will continue the ratings decline for Fox, which has been the perennial ratings leader since 2002. Analysts also blamed the stream of negative headlines for President Trump about his campaign's alleged collusion with Russia and the firing of FBI Director James B. Comey.
Last week, MSNBC won all five weekdays over CNN and Fox News in prime time, according to Nielsen data. The NBC-owned network led by "The Rachel Maddow Show," now the No. 1 show in cable news with an average of 2.9 million viewers last week, became the go-to destination for viewers transfixed by the unfolding White House scandal.
The story is having the opposite effect at Fox News, where conservative commentators were more skeptical about the significance of the leaks related to Trump's handling of Comey's dismissal.
"The sheer cascade of events last week that made Trump look so bad, it was simply too much for that audience and they didn't want to tune in to the news last week," said Jonathan Klein, a former president of CNN. "Fox News better hope that that's the case."
Ratings held up for the most part in the first few weeks after Fox replaced O'Reilly at 8 p.m. Eastern time with Tucker Carlson and moved its late-afternoon panel show "The Five" to 9 p.m., followed by "Hannity" at 10 p.m. But Carlson lost last week to Anderson Cooper as CNN broke developments in the story.
Klein believes the Fox audience probably missed O'Reilly, who would have been able to make the Trump-Russia story more palatable for Fox viewers by explaining it rather than dismissing it as "media hysteria" as the channel's hosts often did last week.
Fox News correspondents from Washington appeared on "The Five" to report developments on the White House's problems with Russia and Comey, only to have the show's irreverent co-hosts, Jesse Watters and Greg Gutfeld, mock the story's significance (Watters called it "a boring scandal.")
"Bill was able to pull off the image of a guy who called them as he saw them and could make sense of a bewildering world for Fox News viewers," Klein said.
Hannity's program remains a strong audience draw at 10 p.m., but his willingness to push a story that his own network has retracted may not help the network's credibility. The retracted story said an FBI forensics examination showed Rich leaked work emails to WikiLeaks before he was fatally shot. Police have said they believe the killing was a botched robbery.
The Fox News story on Rich followed an initial story that first ran May 15 on Fox 5 DC, a local news station. That story cited Rod Wheeler, a private investigator looking into the killing, in which he said he had sources at the FBI confirming there was evidence of communication between Rich and Wikileaks.
But Fox 5 later amended the story to say that Wheeler had backtracked his statements.
In a statement, Fox News said, "The article was not initially subjected to the high degree of editorial scrutiny we require for all our reporting. Upon appropriate review, the article was found not to meet those standards and has since been removed. "
In an opinion piece published Tuesday on the Washington Post's website, Mary and Joel Rich said conspiracy theories about their son's killing "are baseless, and they are unspeakably cruel."
"There are people who are using our beloved Seth's memory and legacy for their own political goals, and they are using your outrage to perpetuate our nightmare," they wrote. "We ask those purveying falsehoods to give us peace, and to give law enforcement the time and space to do the investigation they need to solve our son's murder."
Hannity, who earns more than $10 million a year, did not discuss the Rich story further Tuesday night "out of respect for the family's wishes." But he made no apologies. He told viewers that he will continue to keep trying to find the truth and will stay on at Fox for "as long as they seem to want me."
Media Matters, a liberal watchdog group, criticized Fox News.
"Just retracting the one online story hardly undoes the damage Fox News — and specifically Sean Hannity— has done by pushing baseless conspiracy theories about Rich's death," the group said.
Media Matters also published a list of his show's advertisers to put pressure on the network to drop Hannity. Dozens of advertisers fled "The O'Reilly Factor" after allegations of sexual harassment — a move that ultimately pressured Fox News into firing O'Reilly.
SIGN UP for the free California Inc. business newsletter »
Earlier in the day, Hannity tweeted defiantly to his 2.37 million followers: "IMPORTANT! Mediamatters is trying to silence me, get me fired, pressure my advertising on radio & TV. Liberal Fascism. I need your help!!"
The conservative firebrand has repeatedly cited tweets made by Kim Dotcom, the founder of the piracy website Megaupload, who has said that Rich passed DNC emails to WikiLeaks. "I knew Seth Rich. I know he was the @WikiLeaks source. I was involved," Dotcom tweeted Saturday.
The Internet entrepreneur currently resides in New Zealand and is wanted by the FBI regarding piracy activity. WikiLeaks didn't comment on the source of the material, but the site, run by Julian Assange, has offered a $20,000 reward for information leading to a conviction in the murder of Rich.
Twitter: @SteveBattaglio
Times Staff Writer Meg James contributed to this report.
ALSO
Fox News retracts story alleging DNC staffer Seth Rich leaked information to WikiLeaks before death
Sean Hannity: 'I am not going to stop trying to find the truth'
Fox News fires Bob Beckel from 'The Five,' claims he made insensitive remark to black employee
Roger Ailes, polarizing and controversial Fox News founder who changed cable news, dies at 77
---
Inside the business of entertainment
The Wide Shot brings you news, analysis and insights on everything from streaming wars to production — and what it all means for the future.
You may occasionally receive promotional content from the Los Angeles Times.