Even in exile, Harvey Weinstein maintains an upscale lifestyle. But his expenses are adding up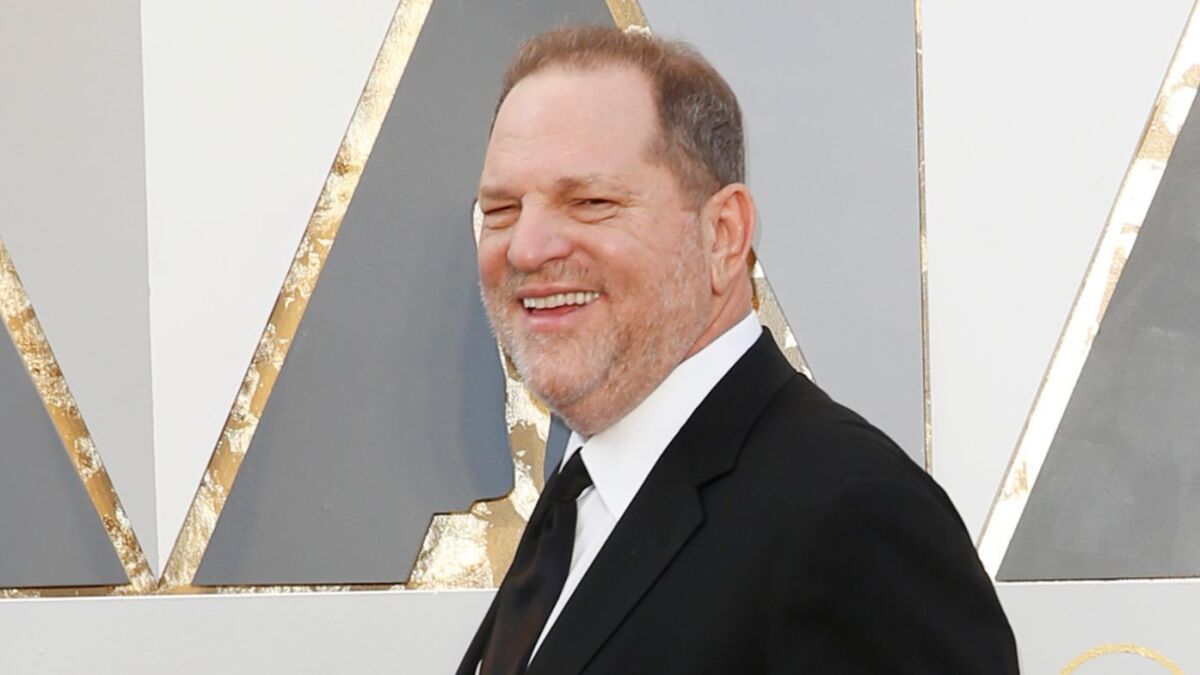 Reporting from Paradise Valley, Ariz. —
To visitors of this upscale Phoenix suburb, one of the main attractions is the Praying Monk, the natural rock formation in the shadow of Camelback Mountain that resembles a holy man kneeling in contemplative repose.
In recent months, however, another man has come to the area in search of his own isolation: Harvey Weinstein.
The disgraced movie mogul fled from his haunts in New York and Hollywood four months ago to this stretch of desert as he deals with accusations from more than 80 women who allege he sexually harassed or assaulted them. The once-highflying impresario faces multiple lawsuits and criminal investigations in Los Angeles, New York and London.
Weinstein is no longer part of the glamorous Hollywood inner circle but his exile is indisputably expensive, consisting of high-end hideaways, posh restaurants and even hypnotherapy sessions.
The Oscar-winning producer behind "Shakespeare in Love," "Chicago" and "The King's Speech" has attended an Arizona addiction clinic where treatment can reach tens of thousands of dollars, according to experts.
Those are just some of the smaller bills. He has hired a battalion of attorneys to represent him against accusers as well as his own company, which fired him in October. He has been battling his ex-wife and current wife from whom he is separated over financial issues, including child support.
Weinstein has also hired the PR crisis management firm Sitrick and Co., whose services cost an estimated $50,000 a month at a minimum, according to a prominent figure in the crisis management industry. Sitrick disputed this figure but declined to provide an alternate.
The former Weinstein Co. co-chairman was unavailable for comment. A spokesperson at Sitrick also declined to comment, citing "privacy and safety reasons for our client and other individuals either still undergoing treatment or working at alleged facilities."
Weinstein has repeatedly denied all accusations of nonconsensual sex as well as claims that he retaliated against women for refusing his advances. Weinstein expressed remorse for his past behavior, saying in a statement late last year: "I appreciate the way I've behaved with colleagues in the past has caused a lot of pain, and I sincerely apologize for it."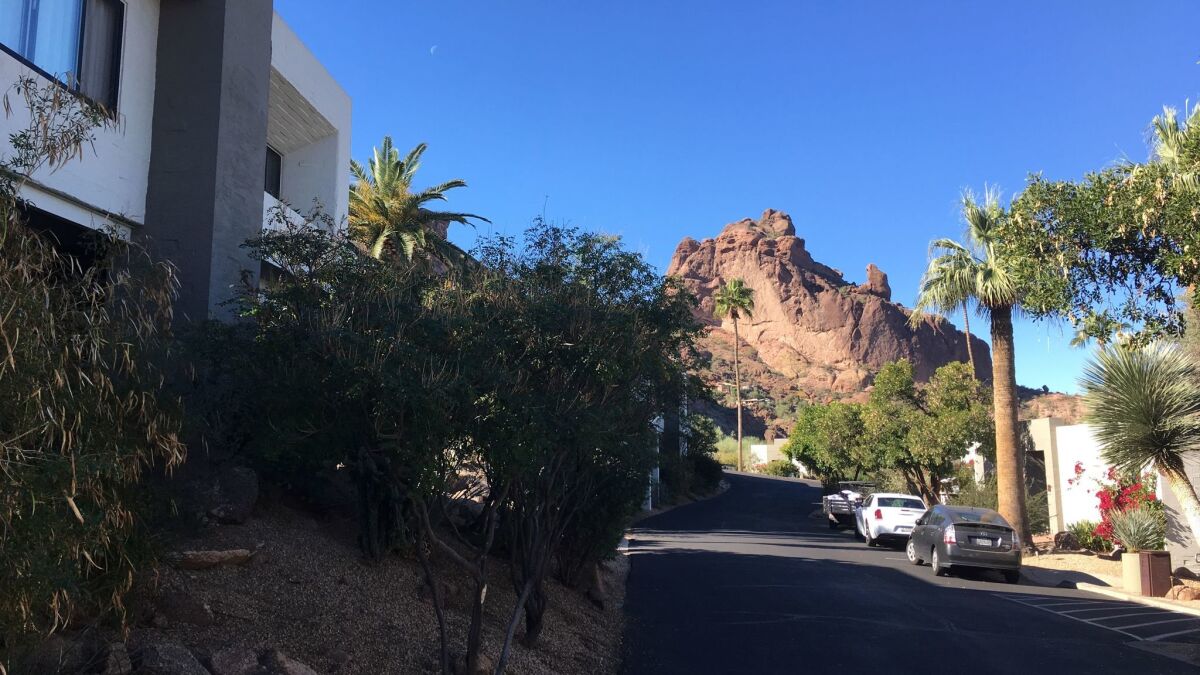 Since the scandal broke in October after an expose in the New York Times, Weinstein has resided at least temporarily at a luxury apartment complex in nearby Scottsdale, according to two people who work in the complex but weren't authorized to speak. The Optima Sonoran Village is a modern, multi-building facility with colorfully painted exteriors and balconies featuring hanging foliage.
The complex offers amenities including an indoor lap pool, a 24-hour gym with an indoor basketball court, spas and concierge service. Optima representatives didn't respond to a request for comment
Weinstein kept a low profile at the facility, according to the sources who worked at the complex. He was occasionally seen buying almond cookies at Kaleidoscope Juice, a local health-food snack and beverage chain, on the Optima's lower level, according to an employee. She described him as cordial and respectful, though she hasn't seen him since late 2017.
People who work at the Optima said Weinstein had received hypnotherapy at the complex. Pattie Freeman, who runs the Arizona Hypnotist, which has an office in the Optima, said she could not discuss whether she treated Weinstein because of patient confidentiality. Freeman said she treats a range of issues, including anger management as well as addictions to alcohol, drugs and sex.
"It's a habit in your head and we correct that habit," she said. Freeman, who also has offices in L.A., said she charges $150 per session, which typically lasts 90 minutes and can involve meditation and various forms of hypnosis.
"The subconscious mind takes over and corrects whatever in your lifestyle needs to be corrected or freed," Freeman said. A spokesperson for Weinstein denied that he stayed at the Optima or received hypnotherapy.
A more expensive form of treatment can be found at the Meadows, an addiction center in Wickenburg, about an hour's drive northwest of Phoenix.
The rural town is famous for cattle roping and its "Gold Rush Days" — an annual rodeo event. The Meadows is popular among celebrities looking to dry out away from the public spotlight, and features a dedicated center for sex addiction called Gentle Path at the Meadows.
The facility's representatives declined to comment, but sources said Weinstein was treated there in recent months. Other clients reportedly include Kevin Spacey, who has been accused by multiple men of sexual misconduct.
"If he's in Arizona, he's probably been to the Meadows," said A. W. Richard Sipe, the noted counselor and psychotherapist who has worked extensively in the field of sex addiction, including the Catholic Church abuse scandals. He said sex addiction therapy typically involves a combination of individual and group counseling, usually in a 30-day in-patient setting where clients are cut off from the outside world.
"It's handled like any other addiction," Sipe said. "You have to come clean with it and you have to be unashamed to talk about who you are and what you've done."
The Meadows declined to say how much it charges patients. But people in the addiction rehab industry estimate that the facility charges at least $1,000 per day for in-patient treatment and that health insurance would typically cover part of that.
Wickenburg residents said that they haven't spotted Weinstein and that patients at the Meadows have virtually no interaction with locals. "They sure don't come in here," said one employee at a Safeway just down the road.
Closer to Phoenix, Weinstein has been spotted publicly as recently as January. He dined alone last month at Chestnut Fine Foods and Provisions, according to an employee who wasn't authorized to comment. The trendy eatery serves American and Mexican cuisine during the day and ramen and Asian food in the evening.
The producer was photographed there in November when he wore a blond wig while dining with a male acquaintance. The employee said Weinstein left the restaurant with his wig under his arm after seeing someone take his photo, which ultimately ended up on TMZ.
Weinstein also dined out in January at the Paradise Valley restaurant Elements, where he was slapped in the face by a stranger in an incident caught on camera. A restaurant employee said Weinstein was calm and spoke to a manager.
The former Miramax boss was with Joe Polish, an Arizona-based life coach who consults with high-net-worth clients looking to recover from addiction and other personal problems.
"When I work with billionaires and celebrities, I operate like an air traffic controller…. I operate more like a sponsor would in a 12-step program," Polish said.
Polish, who said he is a recovering addict, is the founder of Genius Network, a company that connects entrepreneurs through seminars with the purpose of sharing ideas and inspiration.
"In December 2017, I was asked to meet Harvey and support him in completing his rehab program," Polish said. "I want it absolutely clear that I do not condone or support any of his behaviors. I agreed to help him in his recovery because I believe that the opportunity for healing could play a role in shifting the cycles of abuse in our culture so that no other women are abused again."
The Phoenix area offers Weinstein an abundance of gated, high-end resorts where he can evade public detection. The Sanctuary on Camelback Mountain Resort & Spa is the most exclusive among them and is the home of the Elements restaurant where Weinstein was slapped. The resort would provide an ideal hideaway, with secluded mountainside "casas" that are accessible only by private road and can cost as much as $3,900 a night.
Weinstein spent time in October at the Phoenician luxury resort in Scottsdale, where the most basic rooms go for close to $500 a night.
As Weinstein's personal expenses add up, financial pressures mount. In January, his first wife, Eve Chilton, filed documents in a New York court claiming that "there is a 'real and present danger' that defendant [Weinstein] will default on his financial obligations," which include child support. The couple had three daughters together before divorcing in 2004.
Her attorneys noted in the filing that Weinstein told Chilton in October that "he would not be able to pay his child support obligations for at least the next year."
Chilton sought a court order requiring her ex-husband to fork over $5 million as security for the payment of his child support obligations. A judge in January denied the request, saying he was current on his payments.
Weinstein is in the process of divorcing his second wife, the fashion designer and former model Georgina Chapman. A spokesperson for the producer said "any matters with Ms. Chapman have been settled." They had a daughter and a son before Chapman announced their separation shortly after allegations of his widespread sexual misconduct surfaced from actresses including Ashley Judd, Gwyneth Paltrow and Asia Argento.
This week, attorneys for Weinstein Co., the film and TV studio he founded with his brother Bob in 2005, filed a motion to dismiss a potential federal class-action lawsuit brought in November by six women, saying that Harvey Weinstein alone was responsible for his actions.
Weinstein's legal bills are likely to exceed half a million dollars a month and could easily top $1 million, according to D. Jason Lyon, litigation counsel at Hahn & Hahn in Pasadena.
"If these go to trial, then you're talking numbers significantly above that," said Lyon, who doesn't represent Weinstein. "Litigation gets expensive fast."
Weinstein's recent real estate transactions could improve his liquidity. He and Chapman recently sold one of their properties in the Hamptons for $10 million — a seven-bedroom mansion they purchased four years ago. This month, he sold two other properties — a house and a nearby lot — in Westport, Conn., for a combined $16 million.
The movie mogul has reportedly listed one of his L.A. properties for rent — a two-bedroom cottage for $7,495 a month.
The house, located near West Hollywood, was the site of a family disturbance in October involving one of Weinstein's daughters.
Authorities were called to the house. A disheveled but calm Weinstein was captured on video shortly after, telling the paparazzi, "I gotta get help, guys."
Sources told The Times that Weinstein was in some distress but no charges were filed during the incident.
As the various civil and criminal proceedings against Weinstein escalate, the producer's exile in Arizona could soon come to an end. He is scheduled to give a deposition in New York in April as part of his continued litigation against Weinstein Co., though a spokesperson for the producer said he isn't required to be physically present.
Times Staff writers Alejandra Reyes-Velarde and Neal Leitereg contributed to this report.
---
UPDATES:
3:25 p.m.: This article was updated with an additional comments from a Weinstein spokesperson.
12:29 p.m.: This article was updated with an additional comment from Sitrick.
This article was originally published at 5:00 a.m.
Inside the business of entertainment
The Wide Shot brings you news, analysis and insights on everything from streaming wars to production — and what it all means for the future.
You may occasionally receive promotional content from the Los Angeles Times.