Penthouse CEO Kelly Holland wants to revive the legendary adult entertainment brand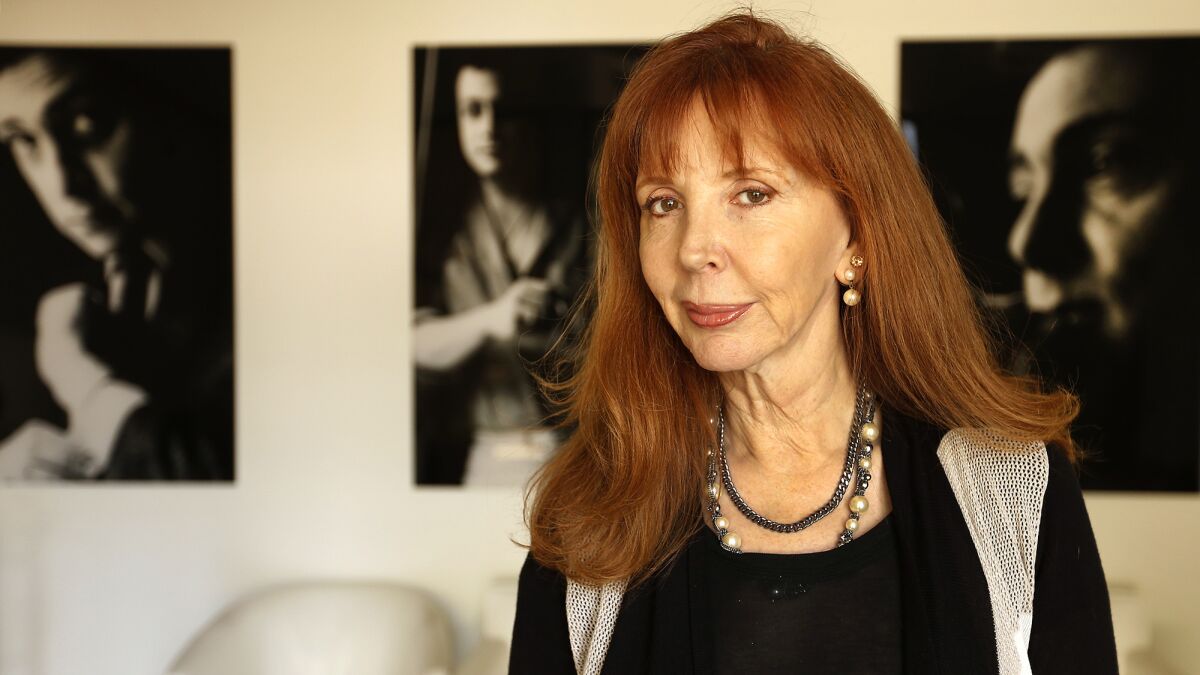 The gig: Kelly Holland is the chief executive and majority shareholder of Chatsworth-based Penthouse Global Media, the adult entertainment brand founded in 1965 by Bob Guccione. She acquired the company last year from parent company Friend Finder Networks after a long period of financial difficulty for Penthouse.
Holland now oversees all the company's operations, including its cable and satellite channels, which reach more than 100 countries, as well as its iconic magazine that is famous for its nude female models, known as Penthouse Pets.
Catholic school girl: Growing up in the Dallas area, Holland attended a Catholic convent school and quickly found her rebellious streak. "I didn't understand why Mary had to be a virgin," she recalled.
Her single mother struggled to make ends meet and she didn't know her father. "I had no role models growing up, so I had to make up my position in life," she said.
One of her first jobs was working as an audio engineer at a Dallas TV station operated by televangelist Pat Robertson. Holland also did modeling and theater before moving in 1976 to Los Angeles, where she eventually found her way into documentary filmmaking. Her many assignments as an independent journalist included covering political upheaval in Central America during the 1980s.
"Never go into a story anticipating the story," she said. "You will not be honest in telling the story."
A self-described political progressive, Holland reads Mother Jones and likes to quote cultural theorist Marshall McLuhan.
A chance encounter with a pornographic film crew at a shared production facility led to her first jobs directing adult movies, including 1994's "Blondage," produced by Vivid Entertainment, which she directed under the name "Toni English."
"I thought I would be horrified by the business," she recalled. "I realized porn was the most disruptive, renegade, anarchic propaganda that you can engage with."
Acquiring the keys to the penthouse: After directing dozens of adult films, Holland joined Penthouse in 2006 and worked various management jobs, including overseeing the company's broadcast, publishing and licensing groups. "We're a 50-year-old start-up," she said.
The Penthouse brand languished for nearly a decade under the ownership of Friend Finder, a Florida-based online dating site that merged with the company in 2007. Guccione's once-formidable porn empire had filed for bankruptcy four years earlier, the victim of bad investments and a rapidly changing adult entertainment industry.
Last year, Holland orchestrated a management buyout of Penthouse, which was losing millions of dollars a year under Friend Finder. Executives were looking to shut the print magazine and go completely digital — a move that Holland opposed because she believed it would alienate the company's loyal base.
"I knew this company couldn't grow if wasn't out from under Friend Finder," she said.
Holland struggled to find investors. "It was the most stressful thing I had ever gone through," she recalled. Eventually, ExWorks Capital, a Chicago investment firm, stepped in and agreed to finance the buyout for an undisclosed amount.
Holland said she won't feature any content she considers to be misogynistic and remains committed to the brand's trademark mix of erotica and thought-provoking magazine articles.
"It's about beautiful nude women, but we deal with real subjects," she said.
Stimulating the brand: Penthouse said it currently generates most of its revenue from its cable and satellite channels, which show original Penthouse productions as well as content from third-party producers.
But Holland wants to shift the company's focus to growing its licensing business. The company currently licenses its name to gentlemen's clubs around the world and its photographic images to apparel companies. It is also exploring entering the "breastaurant" business — pubs and sports bars like Hooters that cater to men.
To turn the company around, Holland said she made cuts, including outsourcing some of its magazine staff to freelancers. The privately held Penthouse doesn't disclose financial results but said it swung from a deficit to a pre-tax profit in the most recent fiscal year.
Holland admits that the company's digital efforts have so far been "a disaster." She said Penthouse isn't trying to compete with free online porn. "We need to offer distinct content that is different from the free stuff out there," she said.
Part of her overall strategy is courting a younger audience, which includes attracting more youth brands to advertise in the magazine. "We believe against all odds that we need to interest millennials," she said.
And Holland continues to spar with chief rival Playboy, the empire launched by Hugh Hefner in 1953.
"I don't wish the bunny ill," Holland said. "But I've seen it make bad decisions for so long." She cited Playboy's decision two years ago to stop running nude photos in its magazine, only to reverse that decision earlier this year.
"We are defined by Playboy and Playboy is defined by us," she said. "I respect iconic brands."
Pet projects: Holland has several passion projects in the works, including an online concierge service to deliver sex toys and other erotica — think GrubHub for foreplay — and an intimacy hotline that dispenses sexual advice.
She's also trying to get a mainstream TV series made about the life of Guccione, who died in 2010 at 79. The series would dramatize the wild ups and downs of his career, including the making of the infamous 1980 movie "Caligula," which was a Penthouse production.
"I have a strong opinion of where this company needs to go," Holland said. "We should own that soapbox that says 'Sex.' "
ALSO
Here's why Chinese money is pouring into Temecula's wine region
Immigrants flooded California construction. Worker pay sank
American Airlines flight attendant tells angry passenger: 'Hit me. Bring it on'
---
Inside the business of entertainment
The Wide Shot brings you news, analysis and insights on everything from streaming wars to production — and what it all means for the future.
You may occasionally receive promotional content from the Los Angeles Times.