Ice Cube expands Big3 basketball league amid challenges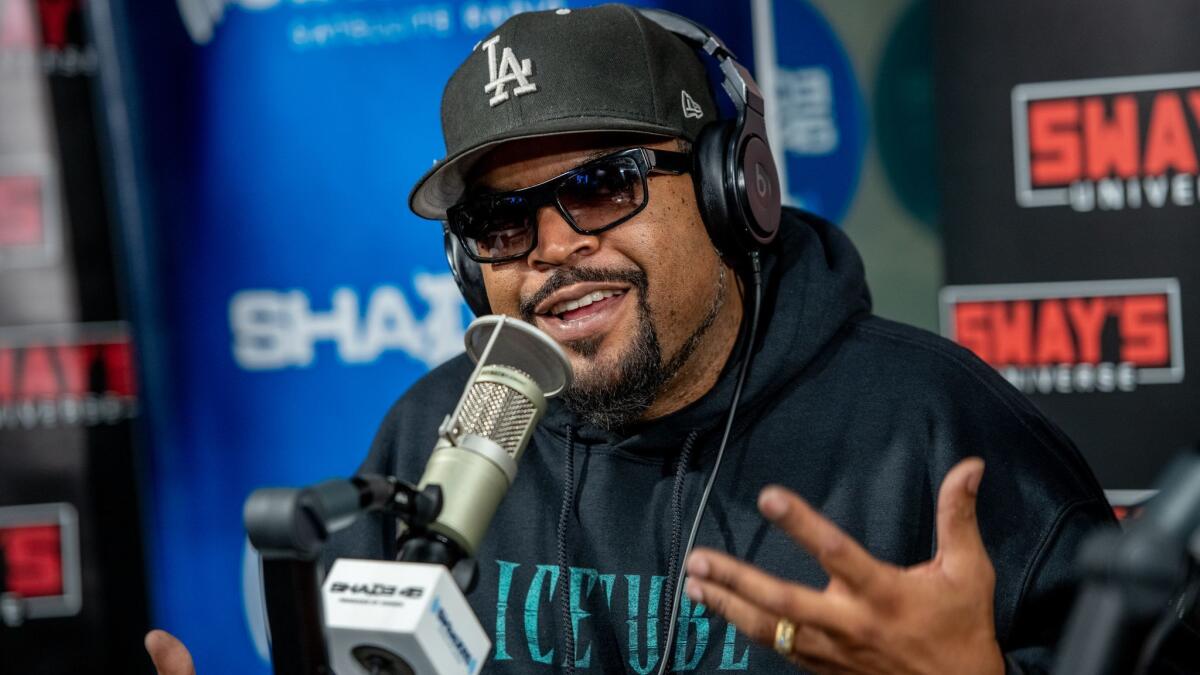 Entertainment mogul Ice Cube's Big3 basketball league is looking for a rebound.
During a conference call with reporters Thursday, Big3's backers had planned to tout their "incredible success" and ambitious plans to expand the fledgling league into new markets.
But Cube and his business partner, entertainment executive Jeff Kwatinetz, also revealed some ongoing challenges facing the league, including the end of its two-year TV contract with Fox Sports.
"It is really time to move on," Cube said.
Big3 has spent much of the last year locked in a bitter legal dispute with a Qatari investment firm and has struggled to recruit a deep-pocketed investor to help back the league's hoped-for bid for the Fox sports channels.
Cube and Kwatinetz previewed their plans for the league's expansion: Big3 intends to grow to 12 teams from eight this year, and the league plans to widen its tour to 18 cities, up from 10. It will also have three games a week in each city, up from two games a week. And the league is lowering the age threshold to 27 from 30 to allow younger players into the league.
"We're in it for the long haul," said Cube, whose given name is O'Shea Jackson. "Our fan base is growing — more and more people are really getting into the league."
But finding a new TV partner has become a top priority to keep the nascent Big3 league commercially viable. Although its games — which consist of former NBA basketball players competing three on three — have brought in large crowds to sports arenas, TV rights deals are the lifeblood of professional sports leagues.
Big3, Kwatinetz and others say, has been fielding interest from other sports broadcasters and the group hopes to have a new TV home by June, when the league's third season tips off.
Cube and Kwatinetz downplayed the termination of the Fox Sports TV contract.
"The company [Fox] is going to be a little different" after Walt Disney Co. buys much of 21st Century Fox, Kwatinetz said. "It's going to be very heavy on Fox News — which is fine."
Cube added: "We definitely want to work with people who see the world as we see it."
Fox Sports, for its part, declined to say why it no longer wanted to televise Big3 games. "Fox Sports enjoyed working with Big3 during its first two seasons, and we wish them the best moving forward," the company said.
Thursday's wide-ranging, hour-long conference call took several unexpected twists, with the executives airing their grievances about their court battle with the Qatari investor. They even delved into speculation about whether special counsel Robert Mueller III's investigation of 2016 election meddling would reach the Qatari investor, Ahmed Al-Rumaihi, who reportedly met with former Trump attorney Michael Cohen.
Last spring, Cube and Kwatinetz alleged in a Los Angeles County Superior Court lawsuit that Al-Rumaihi and another Qatari investor failed to make good on a promise to invest as much as $20 million in the 2-year-old league — then tried to sow discord among players. Cube and Kwatinetz continue to pursue the damages and defamation claim. But since they filed suit in April, Al-Rumaihi became a diplomat for Qatar — and has invoked diplomatic immunity.
Kwatinetz also suggested that Fox Sports failed to engage in negotiations to renew the Big3's TV rights deal because Rupert Murdoch's media conglomerate was miffed that Big3 also was trying to elbow into the auction for the Fox sports channels. "We're both competing for a similar asset, potentially," Kwatinetz said.
The league has been trying to scrape together as much as $15 billion to make a competitive bid for the Fox regional sports channels that Disney must sell after the Burbank entertainment giant completes its $71.3-billion purchase of much of Fox. Kwatinetz said that tennis star Serena Williams, entertainer L.L. Cool J and former basketball star Julius Erving were interested in joining their bid for the regional sports networks.
The U.S. Justice Department is forbidding Disney from acquiring the 22 regional sports networks as part of its proposed Fox purchase because Disney already owns sports juggernaut ESPN. And, in a twist, Fox also is interested in buying back some of the regional sports channels that it is selling, including those in major markets, such as Los Angeles, where Fox also owns TV stations that broadcast NFL football.
But even Cube's and Kwatinetz's efforts to recruit a backer to help finance their bid for the Fox sports channels appear to have fallen short. In recent weeks, Big3 approached media company Viacom Inc. for help to buy the 22 regional networks, according to a person close to the situation who was not authorized to comment.
However, on Wednesday Viacom Chief Executive Bob Bakish said during an investor conference at the CES show in Las Vegas that Viacom had no interest in investing in regional sports networks. However, the company, which owns MTV, Comedy Central and BET, said it would help supply programming should Cube land the prize.
There has been strong interest in the regional sports networks. Private equity firms, television station owner Sinclair Broadcasting, Major League Baseball and Amazon.com all have expressed interest. (Amazon appears most interested in acquiring the New York-based YES network, which televises Yankees baseball games.)
Disney is hoping to raise more than $20 billion in the sale, according to knowledgeable people who are involved in the auction but not authorized to speak publicly. Several people close to the auction say the odds are great that the 22 networks will be split up because that would generate more money for Disney.
Kwatinetz, during the conference call, seemed to acknowledge that their bid for some or all of the Fox local sports channels might collapse.
"Ice Cube and I don't need a big asset to prove that we're cool," he said.
Twitter: @MegJamesLAT
Inside the business of entertainment
The Wide Shot brings you news, analysis and insights on everything from streaming wars to production — and what it all means for the future.
You may occasionally receive promotional content from the Los Angeles Times.