Marketing guru Jane Buckingham caught up in college admissions scandal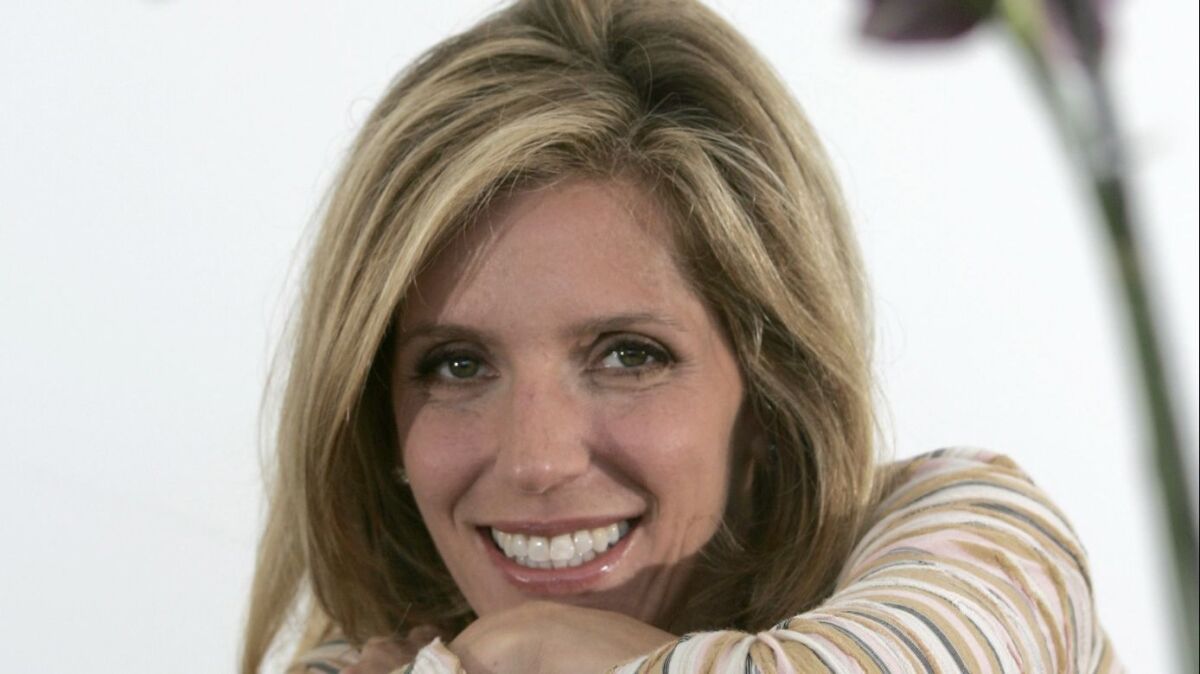 For years, Hollywood turned to marketing guru Jane Buckingham to find out what kids really want, drawing on her extensive expertise on the youth zeitgeist. She once charged $2,500 a head to attend her Trend School, a seminar focusing on the consumption habits of Generations X and Y.
But Buckingham, 50, now faces federal charges that she was involved in the widespread college admissions scheme that has ensnared Hollywood celebrities and shined a light on how wealthy parents allegedly paid bribes to give their children an advantage in the competitive process.
Buckingham, who once authored a book titled "The Modern Girl's Guide to Sticky Situations," wanted desperately for her son to attend USC. So the Los Angeles marketing maven — once called the Martha Stewart of the younger generation — turned to William Singer, a college admissions advisor, to help her son score high on the ACT standardized test, prosecutors alleged.
Together, they allegedly arranged for Buckingham to make a $50,000 donation to a charitable organization in exchange for someone to take the test in place of her son, according to charges filed by Department of Justice officials on Tuesday.
The substitute test taker scored a 35 for the son — in the 99th percentile.
FULL COVERAGE: Dozens charged in connection with college admissions scheme »
Actresses Felicity Huffman and Lori Laughlin are among those facing charges, as well as Bill McGlashan, founder of TPG Growth, a division of private equity firm TPG Capital.
The defendants allegedly tried to get their kids into top-tier schools including Yale and Georgetown. The alleged scheme also targeted local universities USC and UCLA.
The Department of Justice alleged in its filing Tuesday that Buckingham paid $50,000 to Key Worldwide Foundation, the Newport Beach charity run by Singer. In all, parents paid Singer about $25 million, according to officials.
Wiretapped phone transcripts released by officials showed Buckingham arranging the logistics for the individual to take the test for her son and for the payments.
At one point, she asked if it would be possible for her to obtain a copy of the exam that she could have her son take at home so that he would believe he had taken the test, while the other person took the actual exam on his behalf. She also provided her son's handwriting samples.
As a youth marketing expert in Hollywood, Buckingham created the Intelligence Group, a firm that published the Cassandra Report, a thrice yearly marketing study on the teen demographic. She sold the Intelligence Report to Creative Artists Agency before she launched the boutique marketing firm Trendera in 2009.
The Intelligence Group was eventually sold to Engine Group in 2014.
It remains unclear if Buckingham is still at Trendera following Tuesday's charges. The L.A.- and New York-based company didn't respond to a request for comment. Buckingham could not be reached at her home in Beverly Hills.
Her friends and colleagues were stunned by the news.
"Total surprise," said veteran PR executive Marian Salzman. "I always held her in the highest regard."
McGlashan, managing partner at prominent investment firm TPG Growth, also has been caught up in the scandal.
McGlashan, who is accused of donating $50,000 to Key Worldwide Foundation, is a co-founder of STX Entertainment, the Burbank upstart studio known for movies including the Mila Kunis comedy "Bad Moms" and the Kevin Hart vehicle "The Upside."
TPG recently led a round of more than $100 million in new equity financing for STX, which producer Robert Simonds and McGlashan launched in 2014.
In an email to STX staff Wednesday, Simonds said McGlashan stepped down from its board.
"This has absolutely nothing to do with his involvement with STX. Please know that TPG remains fully committed to our success," Simonds wrote.
The scheme, which allegedly began in 2011, centered on the owner of a for-profit Newport Beach college admissions company that wealthy parents are accused of paying to help their children cheat on college entrance exams and to falsify athletic recor
McGlashan is also the co-founder of Evolution Media, an investment and advisory firm TPG launched with talent firm CAA, in which TPG is a major investor.
TPG, best known for its key investments in Airbnb and Uber, placed McGlashan on administrative leave Tuesday after the scandal broke.
McGlashan is a prominent voice for "impact investing," or deals that seek to promote social good and environmental causes. He is the mind behind TPG's Rise Fund, a social and environmental impact arm that McGlashan launched with U2 singer Bono and Participant Media founder Jeff Skoll.
---
Inside the business of entertainment
The Wide Shot brings you news, analysis and insights on everything from streaming wars to production — and what it all means for the future.
You may occasionally receive promotional content from the Los Angeles Times.