Former Tribune Publishing CEO Justin Dearborn joining ICM talent agency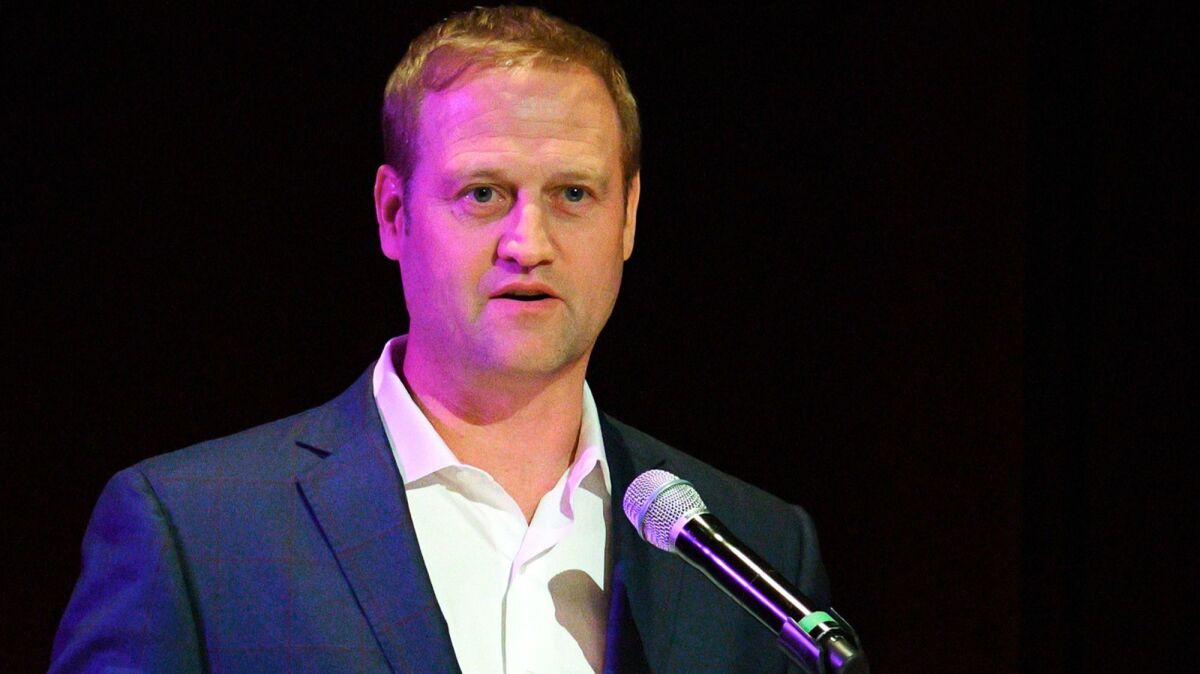 Following a turbulent three-year tenure as the head of Tribune Publishing, Justin Dearborn is pulling up stakes in Chicago and heading to Hollywood, joining the talent agency ICM Partners in the newly created role of chief operating officer.
Dearborn, whose new position officially begins Monday, will oversee the agency's internal day-to-day operations. He will report to managing director Chris Silbermann.
ICM's hire comes less than a month after Dearborn stepped down as Tribune's chairman and chief executive officer in January. He joins another former Tribune executive who is now at ICM, Cindy Ballard, who was hired by the talent agency last year as head of human resources after serving in a similar role at Tribune.
Dearborn's tenure at the Chicago-based Tribune, formerly known as Tronc, was a rocky one that culminated last year in the $500-million sale of the Los Angeles Times to Dr. Patrick Soon-Shiong, following a dramatic series of clashes between staff at the Southern California newspaper and Tribune management.
The sale also included the San Diego Union-Tribune, as well as other publications in the California News Group.
In an interview, Dearborn, 49, declined to discuss the tumultuous period leading up to the sale of the L.A. Times. But he said, "I think things were left on a positive note."
He added, "There's always going to be complexities. The team at Tribune respects the work Patrick is doing... I wish everyone the best at the L.A. Times."
Dearborn joined what was then Tronc in 2016 at a time when the company's newspapers were facing a dire financial outlook, having already experienced wave after wave of layoffs.
He previously served as CEO of Merge Healthcare, a healthcare technology provider.
Dearborn said that his joining ICM came through his connection with Ballard.
"I was looking for something exciting that had a little more growth to it in a dynamic space," he said.
Dearborn said the job involves "business functions and support" — something he said he did "at Tribune on a much bigger scale."
ICM, which is based in Century City, has approximately 600 employees worldwide, though most of them are in the L.A. area.
Among the areas that Dearborn will help to oversee in his new job are finance, technology and mergers and acquisitions.
Silbermann said in a statement, "We just completed our best year ever and Justin will be a vital part of managing what we see as a clear path for sustainable internal growth, while helping us identify and close strategic partnerships and acquisitions."
Dearborn said that he is in the process of moving with his wife from the Chicago area to the L.A. area. The couple has a daughter attending USC.
---
Inside the business of entertainment
The Wide Shot brings you news, analysis and insights on everything from streaming wars to production — and what it all means for the future.
You may occasionally receive promotional content from the Los Angeles Times.