Warner Bros. CEO entangled in scandal involving an actress, report alleges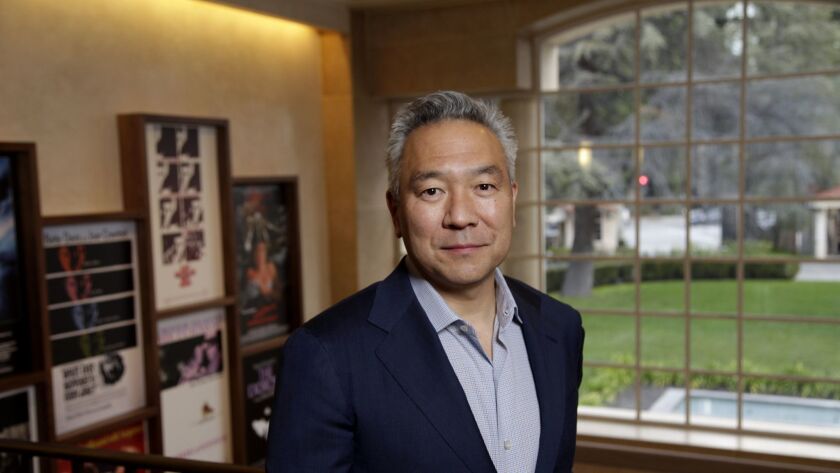 AT&T-owned WarnerMedia is investigating salacious allegations that the head of its Warner Bros. movie and TV studio engaged in an inappropriate relationship with a young actress who demanded that she be cast in the company's movies.
The Hollywood Reporter published an article Wednesday that said Warner Bros. Chairman Kevin Tsujihara and actress Charlotte Kirk had what she described in text messages as a sexual encounter.
The relationship spiraled into a protracted campaign involving two prominent producers — James Packer and Brett Ratner — to get her roles in Warner Bros. movies, according to the messages obtained by the entertainment trade magazine. Kirk, who is British, appeared in small roles in Warner Bros. films "Ocean's 8" and "How to Be Single."
Kirk denied that Tsujihara engaged in any inappropriate behavior. Warner Bros.'s parent company, WarnerMedia, said it had previously investigated the claims but would review the matter again.
Bert Deixler, an attorney who is representing Tsujihara, declined to be interviewed but in a statement said: "Mr. Tsujihara had no direct role in the hiring of this actress."
The alleged relationship began in 2013, when Packer, an Australian billionaire and film financier, introduced the then 21-year-old Kirk to Tsujihara, according to the Hollywood Reporter story. Packer was the business partner of Ratner, who together formed RatPac Entertainment. At the time, they were setting up a $450-million film financing deal with the studio.
Last year, Warner Bros. declined to renew its deal with Ratner's financing company after The Times reported that six women had accused Ratner of acts of sexual misconduct. Ratner denied the claims.
Tsujihara, the Hollywood Reporter said, promised to arrange meetings between Kirk and studio executives on the company's Burbank lot. Kirk later appeared to put pressure on Tsujihara in text messages.
"You're very busy I know but when we were in that motel having sex u said u would help me and when u just ignore me like you're doing now it makes me feel used," Kirk reportedly told Tsujihara in a text. "Are u going to help me like u said u would?"
The scandal presents WarnerMedia Chief Executive John Stankey with his first major test, just eight months after the longtime AT&T executive took over the media company. AT&T, which bought Time Warner Inc. in June for $85 billion, put Stankey in charge and renamed the company WarnerMedia. On Monday, Stankey unveiled his senior executive team, which included Tsujihara as one of his four top lieutenants, saying the reorganization "gives us the right management team to strategically position our leading portfolio of brands."
Tsujihara, who has run Warner Bros. studio for more than five years, also now oversees animation throughout the company, including Cartoon Network and Adult Swim, and consumer products.
The long-rumored allegations come more than a year after the downfall of former indie film mogul Harvey Weinstein because of sexual assault allegations, which set off a wave of allegations against prominent media figures.
It is unclear whether Tsujihara's career will survive the allegations. WarnerMedia said its earlier investigation of the claims did not uncover any wrongdoing.
"Through her spokesperson, the actress has publicly denied any impropriety in her casting, and our prior investigation did not find otherwise," the company said in a statement. "Whenever we receive new allegations, it is our standard practice to conduct an appropriate investigation. And that is what we will do here."
Stories about inappropriate sexual activity by executives have led to high-level media and entertainment figures losing their jobs, including former CBS Chairman Leslie Moonves, former Pixar Chief Creative Officer John Lasseter and former "Today" show co-host Matt Lauer.
Allegations of inappropriate conduct have varied widely in their severity — and their consequences — in the #MeToo era.
Weinstein is facing a criminal trial in New York for rape and sexual assault. Moonves was forced out of CBS after being accused of forcing himself on women in the late 1980s and '90s. Lasseter, who now runs Skydance Media's animation division, stepped down from Pixar and Walt Disney Animation Studios after acknowledging unspecified "missteps," including unwanted hugs.
The rumors have been swirling around Tsujihara for more than a year. In September, The Times and other media outlets received an anonymous email describing an actress with the initials "CK" who received roles in Warner Bros. movies in exchange for her silence about the sexual behavior of a "senior level executive at Warner Bros."
After receiving the email, addressed to Stankey, WarnerMedia engaged the law firm Munger, Tolles & Olson to investigate the matter, according to a second email.
At the time, the actress' agent denied the claims in the anonymous letter.
"My client, Charlotte Kirk emphatically denies any involvement with Kevin Tsujihara," the representative, Glenn Bickel, said in a September statement. "She has never had any issues with him or claims against him."
In a Wednesday statement to the Hollywood Reporter, Kirk said she had a relationship with Packer, but had no claims of misconduct against Tsujihara, Packer or Ratner.
"I further confirm that when the relationship ended I sought the advice of Mr. Tsujihara whom I had been introduced to by Mr. Packer," she told the magazine in her statement. "Mr. Tsujihara never promised me anything. I also confirm that Brett Ratner helped me out of friendship to assist me in getting auditions and trying to help me find an agent, and I have no issues with him or claims against him. I deny that there was any legal settlement or agreement entered into between myself and Brett Ratner in 2016."
Kirk was born in Kent, England, and lives in Los Angeles, according to a short biography on her IMDB page. Her film roles have included 2016's "Vice," a Lionsgate thriller starring Bruce Willis, as well as the Stephen Baldwin noir comedy "No Panic with a Hint of Hysteria."
Twitter: @MegJamesLAT
---
Inside the business of entertainment
The Wide Shot brings you news, analysis and insights on everything from streaming wars to production — and what it all means for the future.
You may occasionally receive promotional content from the Los Angeles Times.