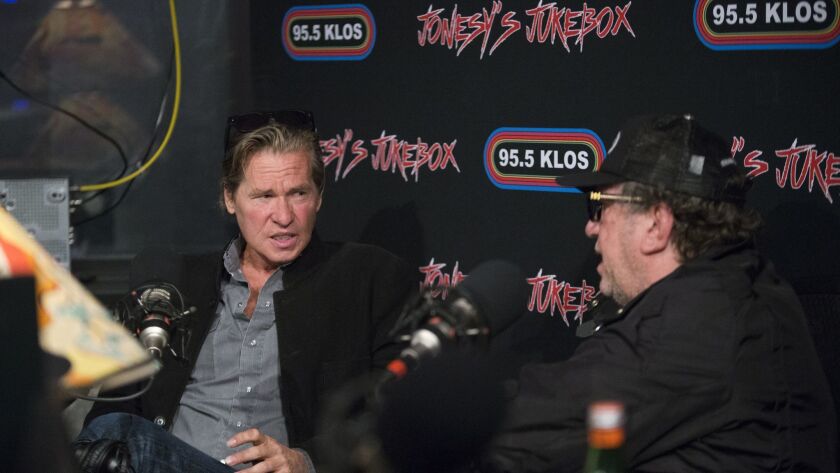 KLOS-FM 95.5, the classic-rock station that has been a fixture of Los Angeles since the late 1960s, has changed hands.
Meruelo Media, which owns other FM radio stations in Southern California, purchased the station for $43 million in cash from Atlanta-based Cumulus Media Inc. Meruelo Media will begin programming for KLOS-FM starting April 16, according to a statement from Cumulus.

Meruelo Media owns several media properties, including KDAY-FM 93.5 in Los Angeles. 93.5 KDEY-FM in San Bernardino-Riverside and local Spanish-language TV stations KWHY-TV and KBEH-TV that run a mix of Mexico-focused news, classic Mexican movies and telenovelas.
Cumulus' CEO Mary Berner said in the statement that the sale of the classic rock station "at an attractive multiple allows us to generate substantial cash, which can be used to further pay down debt and invest in high potential business opportunities."
In addition to the KLOS-FM deal, Cumulus is also swapping stations with radio station operator Connoisseur Media of Westport, Conn.
Cumulus will receive four Pennsylvania stations in the Allentown area, including WODE-FM, WWYY-FM, WEEX-AM and WTKZ-AM in exchange for Connoisseur Media receiving two Connecticut stations, WEBE-FM in Westport and WICC-AM in Bridgeport.
Cumulus said the swap agreement will expand its footprint in Allentown and Lehigh Valley. The transactions are expected to close in the third quarter.
Meruelo Media is a division of Downey-based Meruelo Group, a privately held company that manages a portfolio of assets that includes real estate, construction companies and hotels and casinos in Las Vegas.
The acquisition is the last investment for Whittier native Alex Meruelo, the son of Cuban immigrants, who launched his company three decades ago with a chain of pizza restaurants serving predominantly Latino neighborhoods.
The longtime Los Angeles investor, who was profiled by the Times last year, made headlines in 2018 when he acquired SLS Las Vegas, which for decades operated as the Sahara. Meruelo also owns the Grand Sierra Resort and hotel casino in Reno.
Twitter: @thewendylee
---