Matt Lauer scandal is just the latest hurdle for NBC News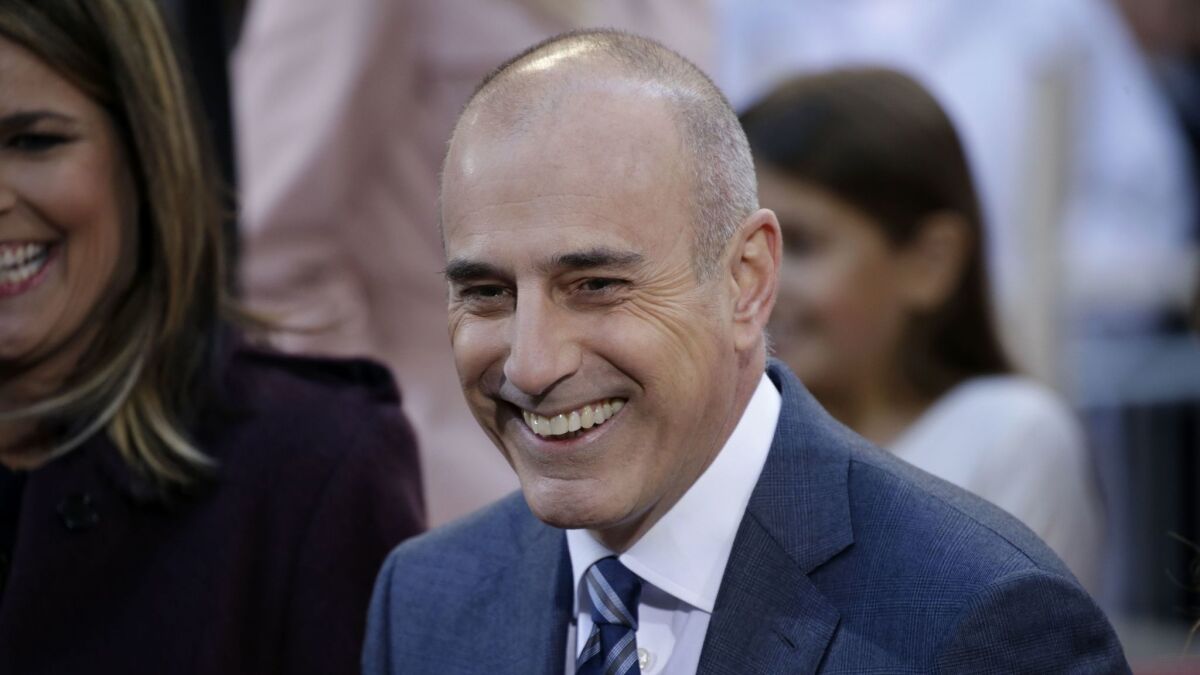 NBC News had a right to feel snake-bitten even before having to dismiss its biggest star, "Today" co-anchor Matt Lauer, over inappropriate sexual behavior.
The network passed on Ronan Farrow's expose on the sexual assault allegations against movie mogul Harvey Weinstein (citing a lack of on-the-record sourcing) and saw it become a major national story in The New Yorker.
In October 2016, the "Access Hollywood" tape with President Trump's "locker room talk" about assaulting women blew up the career of its "Today" show co-host Billy Bush.
The network landed former Fox News star Megyn Kelly — for $18 million a year — only to see dismal ratings for her new daytime talk show that was launched in September under the "Today" brand.
All those events occurred after the network managed to survive the major 2015 scandal surrounding Brian Williams, who lost his anchor chair at "NBC Nightly News" after he lied about being in a helicopter shot down during the 2003 U.S. invasion of Iraq.
The litany of public problems playing out at NBC News over the last 13 months adds to the pressure on its chairman, Andy Lack, and his management team to minimize the fallout over Lauer's firing and the tawdry reports about alleged inappropriate interactions with female employees — and to find the right replacement for him at "Today." The show brings in nearly $500 million a year in ad revenue for the network.
NBC News often finds itself under a hot spotlight more than other outlets because it commands so much real estate in the TV news landscape. The success and expansion of "Today" and its 24-hour cable network MSNBC means a larger audience and more influence than its competitors — and, as a result, greater scrutiny.
The close observation of the division's every move is probably why NBC News acted swiftly to get rid of Lauer. The decision came after executives heard a formal complaint from a female network employee who said Lauer engaged in inappropriate behavior throughout 2014, including while "Today" was broadcasting from Sochi, Russia, to cover the Winter Olympics. Other women have come forward since to report incidents with Lauer, including one who accused him of a sexual assault occurring in 2001.
Lauer took responsibility for his behavior in a broad apology he issued Thursday morning. While disputing as untrue some of the claims about him, he expressed "sorrow and regret for the pain I caused." But his statement has not stopped speculation as to how much NBC News management knew about his actions.
"There has to be a lot of soul searching going on and I hope practical thinking about making sure it doesn't happen in the future," said Betsy West, a former network news producer who serves as the Fred W. Friendly professor of professional practice in media and society at the Columbia University School of Journalism.
Several current and former NBC News staffers who worked closely with Lauer for years and spoke to The Times on the condition of anonymity said they were genuinely shocked by the revelations about the "Today" star's behavior over his 20 year-plus tenure at the morning program. Some of them believed he pursued relationships outside his marriage, saw him flirt with women and even found him to be sexist at times. But they never witnessed or suspected any predatory behavior.
Another former NBC News producer who spoke on condition of anonymity said Lauer had many more loyalists at "Today" than detractors. "You had more people there who would die for him than people who didn't like him," the producer said.
An NBC News spokesperson said current management was never made aware of any complaints about Lauer's conduct before an employee came forward Monday night. Lack, who had been president of the division from 1993 to 2001, rejoined NBC News as chairman in March 2015.
West said it's not unusual for executives and co-workers to be unaware of an anchor's indiscretions.
"There was a lot of secrecy going on and you can't always know what's happening," West said. "For some people, these stories are unimaginable."
Whoever replaces Lauer is likely to have their personal life thoroughly vetted before getting the full-time co-anchor job. Several former NBC News executives said Craig Melvin, a weekend "Today" co-host and anchor on MSNBC, is a strong candidate partly because he is believed to be scandal-free. Melvin, 38, has been with NBC since 2011, after working at an NBC-owned TV station in Washington, D.C.
Hoda Kotb — who co-hosts the 10 a.m. hour of "Today" and has gained a larger presence in the 7 to 9 a.m. hours of the program in recent years — could also be given a permanent role as Savannah Guthrie's co-anchor.
Kotb, 53, is liked by NBC News executives for her ability to generate positive energy on the air, which may be needed as "Today" fans react to Lauer not coming back. She has worked alongside Guthrie since Lauer's firing.
One situation playing to NBC's advantage is that "CBS This Morning," which has been gaining on "Today" in the ratings, is also searching for a new co-anchor. Last week, CBS News fired Charlie Rose after he was accused of inappropriate sexual behavior toward women who worked at his now canceled PBS talk show.
"Charlie played an important role in shoring up 'CBS This Morning," West said. "Both of them are dealing with this right now."
Twitter: @SteveBattaglio
Inside the business of entertainment
The Wide Shot brings you news, analysis and insights on everything from streaming wars to production — and what it all means for the future.
You may occasionally receive promotional content from the Los Angeles Times.