Leslie Moonves is fighting CBS' decision to withhold $120 million in severance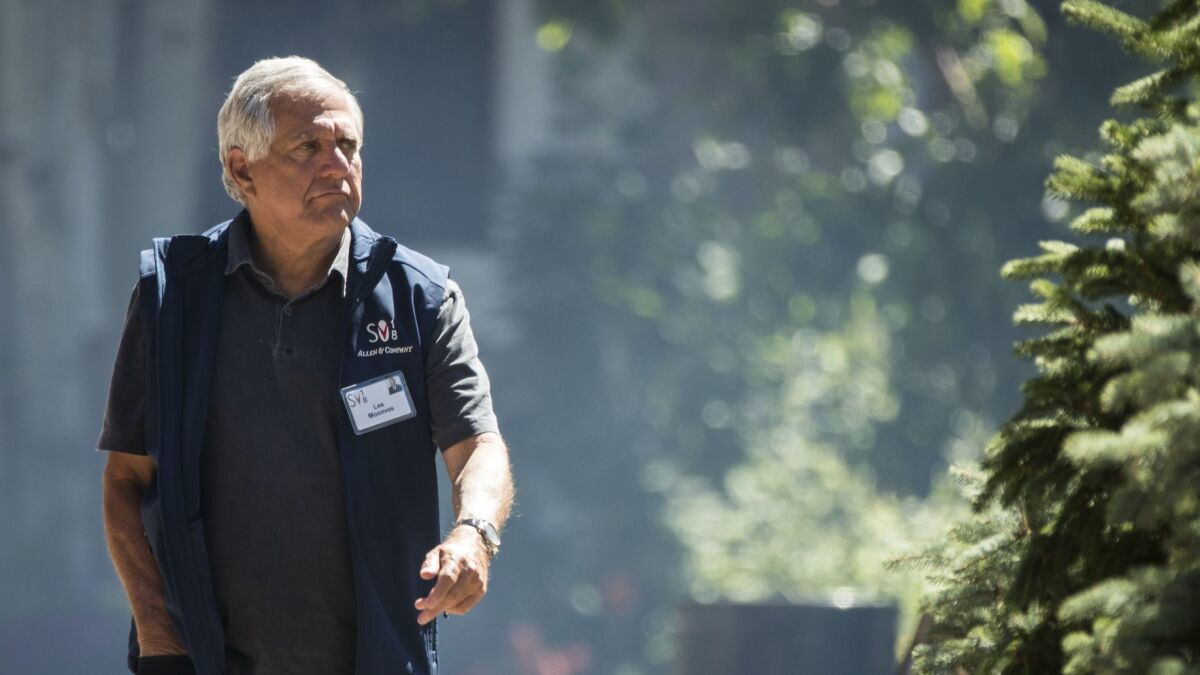 Former CBS Corp. Chief Executive Leslie Moonves is fighting the company's decision to strip him of his $120-million severance package after he was forced out last year amid an escalating sexual harassment scandal.
Moonves has exercised his right "to demand binding arbitration," CBS said Thursday in a regulatory filing.
The longtime CBS chief's campaign to collect the severance package could test the boundaries brought on by the #MeToo movement. Less than two years after the first Bill Cosby sexual assault trial ended with a hung jury, and 16 months after revelations of Hollywood producer Harvey Weinstein's alleged misconduct, a lower tolerance of inappropriate conduct has been established. Many companies — including CBS — have been forced into awkward examinations of how they might have enabled executives who abused their power.
"You used to see companies make a decision based on: 'How do we make this go away?,' " Melanie Leslie, dean of Yeshiva University's Cardozo School of Law in New York, said. "There's been a cultural shift. Allowing Moonves to walk away with $120 million would be tone-deaf."
Representatives for both CBS and Moonves declined to comment Thursday.
CBS has been preparing its legal case since August, when it hired two high-profile New York law firms to investigate reports of sexual misconduct involving the longtime executive. The action came less than a week after New Yorker magazine published an article that brought to light the accounts of six women who said Moonves forcibly kissed them in work settings in the 1980s and '90s.
Moonves resigned under pressure Sept. 9, and the company withheld his severance package as it waited for the results of the law firms' review into whether the former chief had violated the terms of his employment agreement. After a four-month investigation that roiled CBS, the company's board of directors said Dec. 17 that it would not pay Moonves any of his $120-million severance package.
Moonves, however, was expected to challenge the decision. The $120 million has been held in a trust account since fall. Now, both sides must agree on an arbitrator, or a panel of arbitrators, to determine whether CBS had sufficient grounds to withhold the payment.
Should Moonves prevail in the arbitration proceedings, CBS would be on the hook to pay Moonves' attorney fees, according to a person with knowledge of the situation who was not authorized to comment. If arbitrators find in favor of CBS, both sides would cover their own attorney fees.
"When there's around $120 million at stake, it isn't surprising that Mr. Moonves would seek to challenge the company's decision that he has been fired 'for cause,' " personal injury attorney George T. Sink Jr. said Thursday. "In a financial sense, he has relatively little to lose from challenging the decision."
The board last month said it had justification to fire Moonves for cause because he committed "willful and material misfeasance" and failed to cooperate fully with the company's investigation.
Moonves' attorney, Andrew Levander, immediately challenged the board's conclusion, saying it was predetermined and "without merit." Levander in December pointed to a series of media leaks in the fall that revealed key evidence being gathered by the two law firms, Debevoise & Plimpton and Covington & Burling, that were conducting the investigation.
Both sides had entered into confidentiality agreements, which raised questions about the integrity of the investigation. Levander suggested the leaks further besmirched Moonves' "reputation, career and legacy."
"Mr. Moonves vehemently denies any nonconsensual sexual relations and cooperated extensively and fully with investigators," Levander said at the time.
As part of Moonves' separation agreement, he had the right to challenge the board's findings in arbitration.
"Arbitration is generally more private, faster and decisions tend to be final … when compared with our civil court system," Sink said via email.
The board's decision completed a spectacular fall from the pinnacle of power for a man who was widely considered the most successful executive in television. Over the years, CBS showered huge pay packages on Moonves, making him one of the highest-paid executives in corporate America. Forbes has estimated Moonves' net worth — which includes CBS stock options — at as much as $700 million.
But he became the highest-profile media executive to watch his career — and his once-sterling legacy — collapse under the weight of sexual harassment allegations.
The scandal has unnerved investors and raised troubling questions about CBS' leadership and corporate culture. Since Moonves left the company, acting Chief Executive Joseph Ianniello has worked to reform the work environment, including at CBS News.
"The company does not intend to comment further on this matter during the pendency of the arbitration proceedings," CBS said Thursday.
CBS shares rose 96 cents, or 2%, to $48.77 on Thursday.
This article was first posted at 7:50 a.m.
Twitter: @MegJamesLAT
---
Inside the business of entertainment
The Wide Shot brings you news, analysis and insights on everything from streaming wars to production — and what it all means for the future.
You may occasionally receive promotional content from the Los Angeles Times.