Hollywood hopes for a rebound with a slew of summer blockbusters — including 'Solo: A Star Wars Story'
Through a series of daring escapades, young Han Solo meets his future co-pilot Chewbacca and encounters the notorious gambler Lando Calrissian.
A year after one of the worst summer box-office seasons in recent memory, the movie business is pitching its comeback script.
Studios and cinemas are expected to collect $4.3 billion to $4.4 billion in receipts during the key May-through-Labor Day period, thanks to such solid titles as this weekend's highly anticipated new release, Disney and Lucasfilm's "Solo: A Star Wars Story." Shortly after the Millennium Falcon's jump to hyperspace are Pixar's "Incredibles 2" and Universal Pictures' "Jurassic World: Fallen Kingdom."
Analysts predict the summer box-office total will climb as much as 15% from last year, when revenue dropped to its lowest level in more than a decade. That slump reflected a string of pricey flops — many of them based on aging franchises — magnified by increasing competition from streaming services and prestigious TV shows.
As is the case every year, Hollywood is relying on its tried-and-true formula of sequels and reboots to draw audiences during the summer months, an important season for the movie business that typically accounts for about 40% of annual grosses.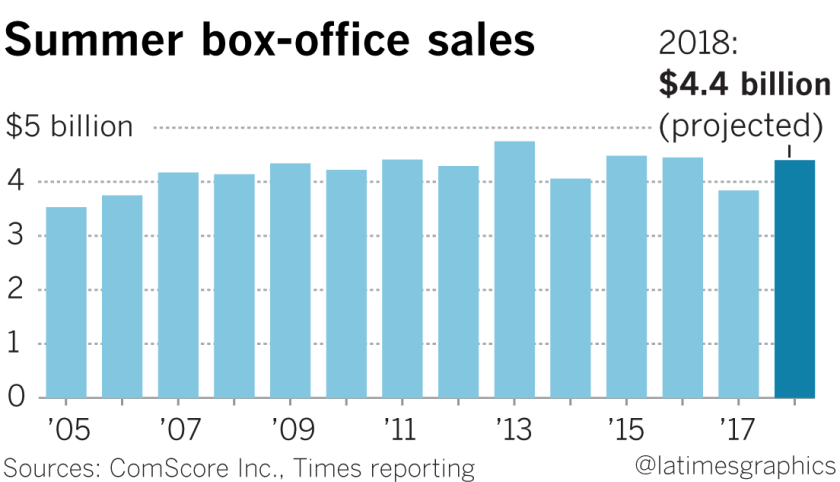 This time, studios are betting audiences will think the latest round of summer releases is actually worth seeing on the big screen, for all the persistent worries about changing viewer habits and franchise fatigue.
Whereas last summer was peppered with movie ideas that have spawned one sequel or revival too many (see "Alien," "Transformers" and "The Mummy"), there's little indication that audiences are getting sick of Marvel superheroes, "Star Wars" adventures, or killer dinosaurs.
This summer's schedule also boasts an improved mix of genres, including R-rated action and family-friendly animation, to buttress the typical popcorn fare that tries to appeal to the widest demographic pool possible, executives said.
"Everything looks strong through May, June and July," said Chris Aronson, head of domestic distribution for 20th Century Fox, which just released the R-rated Marvel comic book sequel "Deadpool 2." "The summer looks really, really good."
The glut of early summer blockbusters comes with risks. Some worry that the high concentration of big-budget movies released so close in proximity will lead to cannibalization. Compounding the problem, for example, the studios have for the second year in a row decided to largely avoid releasing major movies in August in favor of earlier months, when people are more apt to go to the cineplex repeatedly.
If the films were more spread out, the theory goes, moviegoers would have more time to catch up with them in theaters, leading to higher sales overall.
"Yes, 'Deadpool' is R-rated, and 'Star Wars' is a family franchise. Still, putting these films so close together looks mutually disadvantageous.
analyst Barton Crockett
"Yes, 'Deadpool' is R-rated, and 'Star Wars' is a family franchise," analyst Barton Crockett of investment bank B. Riley FBR wrote in a research note. "Still, putting these films so close together looks mutually disadvantageous."
But industry insiders are hoping the movies are different enough to attract crowds week after week. John Fithian, president of the National Assn. of Theatre Owners, argued the concentration of big films could boost moviegoing, because people who go to early blockbusters will see previews for upcoming pictures and buy tickets.
"That can be a challenge," Fithian said of the scheduling concerns. "But what we've found in past barrages like this is that people get into a moviegoing frenzy."
The industry is riding a wave of moviegoing that began earlier in the year with the release of "Black Panther" and "Avengers: Infinity War," both of which were produced by Walt Disney Co.'s Marvel Studios.
Ticket sales in the U.S. and Canada have totaled $4.6 billion this year, up 6% from the same period in 2017, according to data firm ComScore. A robust summer would help the U.S.-Canada box office pass the 2016 annual record of $11.4 billion, not adjusted for inflation.
Though this summer is not expected to break 2013's high-water mark of $4.8 billion, the lineup of likely hits has cinema chains salivating after their stocks took a dive last year. Theaters have been stocking up on popcorn, adding 1:30 a.m. screenings for popular films such as "Solo," and planning double features for films including "The Incredibles" and its new sequel to boost sales.
"It's an exciting time," said Elizabeth Frank, chief content and programming officer for AMC Theatres. "We're heading into the summer with a lot of momentum."
Hollywood's summer, which officially began the first weekend of May, is off to a strong start because of the $125-million launch of 20th Century Fox's "Deadpool 2," starring Ryan Reynolds as the foul-mouthed superhuman. The movie came in lower than analysts' expectations of $130 million to $150 million because of heavy competition, but the opening was still a healthy result.
Next up is the Memorial Day weekend bow of "Solo," which tells the origin story of the loveable rogue Han Solo from the original "Star Wars" trilogy.
The movie, starring Alden Ehrenreich, Emilia Clarke and Donald Glover, is riskier than most movies that carry the "Star Wars" brand, partly because of relatively lukewarm reviews. Behind-the-scenes drama led to the ouster of original directors Phil Lord and Christopher Miller, who were replaced by Ron Howard when the picture was in the middle of production.
Still, "Solo" should benefit from fans' deep affection for the character originally portrayed by Harrison Ford. "Solo," the second "Star Wars" movie to hit theaters in six months, is expected to gross $140 million to $150 million in its first four days in the U.S. and Canada, according to people who have reviewed pre-release audience surveys.
If it does well, "Solo" will further validate Disney's strategy of making "Star Wars" spinoffs — movies that are not part of the new trilogy — after the success of 2016's "Rogue One."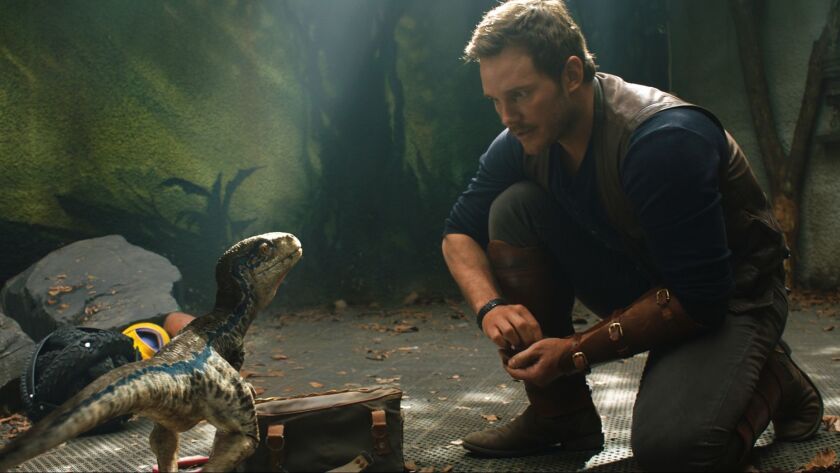 After the release of "Solo" and the long-awaited "Incredibles" sequel," Universal Pictures hopes to keep the box office on a roll with "Jurassic World: Fallen Kingdom," which will try to follow up the 2015 reboot that broke global box-office records. Disney's Marvel will then attempt to keep its winning streak going with "Ant-Man and the Wasp." Other upcoming sequels include Sony Pictures' "Sicario: Day of the Soldado" and Paramount Pictures' "Mission: Impossible — Fallout."
"Overall, the slate's stronger," said Shawn Robbins, chief analyst at BoxOffice.com. "You've got a healthy mix of franchises that are still popular."
There are plenty of high-stakes gambles on the horizon. Universal, Legendary Entertainment and Dwayne "the Rock" Johnson are taking a flying leap (literally) on "Skyscraper," a big-budget action movie with modern echoes of "Die Hard" and "The Towering Inferno."
Several studios are girding for a surprise breakout success — with potential candidates including Warner Bros.' romantic comedy "Crazy Rich Asians" (the first major studio movie with an all-Asian cast since 1993's "The Joy Luck Club") and the giant shark movie "The Meg."
Some distributors will try to appeal to female moviegoers. Warner Bros. will roll the dice on "Ocean's 8," starring Sandra Bullock, Cate Blanchett and Anne Hathaway in a woman-led reboot of the previously male-dominated caper series.
Universal is confident its "Mamma Mia!" sequel, starring Lily James and Cher, will bring women to the multiplex in droves 10 years after the hit ABBA jukebox musical. For its presentation at CinemaCon, the studio brought Cher onstage to sing "Fernando" in front of hundreds of cinema owners.
Jim Orr, head of domestic distribution at Universal Pictures, said the summer needs movies that appeal to specific audiences, to balance out the superhero and other big-budget films that seek broader demographic appeal.
"A lot of the normal summer tent poles have been earlier in the year, and there's quite a bit of diversity in the rest of the summer," he said. "The studios understand that a diverse slate is a great thing."
---
From the Emmys to the Oscars.
Get our revamped Envelope newsletter, sent twice a week, for exclusive awards season coverage, behind-the-scenes insights and columnist Glenn Whipp's commentary.
You may occasionally receive promotional content from the Los Angeles Times.