Fox's pursuit of European pay-TV giant Sky hits a new roadblock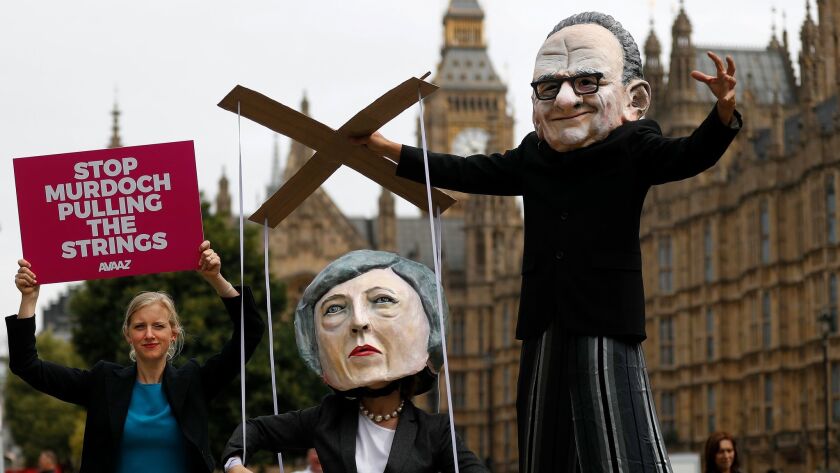 Rupert Murdoch and his sons' bid to expand their media empire by acquiring full control of the European pay-TV giant Sky for $15 billion was dealt a setback Thursday.
Britain's secretary of state for culture, Karen Bradley, told members of Parliament that she was considering recommending a more comprehensive review of 21st Century Fox's proposal to buy the 61% of Sky that Fox does not own.
Bradley did not rule out eventually approving Fox's proposed takeover of Sky. She gave the media company until July 14 to recommend measures that would satisfy the government that the Murdoch family would not meddle in editorial decisions at the Sky News unit.
The Murdoch family, through its various media holdings, would have a unique position in Britain's media landscape, Bradley noted.
"The proposed entity would have the third-largest total reach of any news provider — lower only than the BBC and ITN — and would uniquely span news coverage on television, radio, in newspapers and online," she said in a written statement to Parliament.
In addition, the sexual harassment and race discrimination scandal at Fox News in New York has cast a cloud over Britain's approval process. The problems at Fox News troubled Britain's media watchdog, the Office of Communications. That office, known as Ofcom, completed the first phase of the regulatory review of the Sky deal this month, and its report to Bradley was released Thursday.
"Ofcom has considered allegations of sexual and racial harassment at Fox News that are extremely serious and disturbing," Ofcom said. "It seems clear that there were significant failings of the corporate culture at Fox News."
But Ofcom determined that the Murdochs and Fox executives passed the "fit and proper" test required for holders of a broadcast license in Britain.
"In order to have a concern about fitness and properness, we would need to see evidence of misconduct in the parent company, Fox," Ofcom said. "However, we have no clear evidence that senior executives at Fox were aware of misconduct before it was escalated to them in July 2016, after which action was taken."
Last July, Fox fired the powerful founder and chairman of Fox News — Roger Ailes — after Gretchen Carlson, a former Fox News program host, sued Ailes, alleging that her career was upended after she spurned Ailes' sexual advances. Her suit prompted Fox to bring in an outside law firm to investigate, and several more women stepped forward with allegations of harassment. (Ailes died last month in Florida.)
The scandal continued this year with allegations of harassment by Fox News star Bill O'Reilly, who also was subsequently fired. One of his accusers, Los Angeles radio personality Wendy Walsh, and her attorney, Lisa Bloom, traveled to London this spring to describe for Ofcom regulators the alleged mistreatment by O'Reilly. He has denied the allegations.
Fox had been hoping Bradley would wave the Sky deal through, but if she opts for a second phase of the review, the proposed transaction would be referred to Britain's Competition and Markets Authority. A drawn-out inquiry could delay completion of the deal by as much as a year — to June 2018, the company said.
Fox, which owns 39% of Sky shares, has secured approvals from other European regulators, including the European Union and the Republic of Ireland, and now needs Bradley's consent to complete the transaction.
Owning Sky outright would give the New York-based media company reach into more than 22 million homes in Britain, Ireland, Germany, Austria and Italy. It also would fulfill the Murdoch family's ambition to consolidate a lucrative enterprise that Rupert Murdoch launched 28 years ago to compete with the venerable British Broadcast Corp.
Sky offers dozens of entertainment channels, including Nickelodeon, Comedy Central and HBO, and popular sports such as soccer, cricket and Formula 1 racing. The service also provides broadband Internet and phone service.
"While we welcome the Secretary of State's decision on broadcasting standards, we are disappointed that she does not accept Ofcom's recommendation stated in its report that '….the proposed undertakings offered by Fox to maintain the editorial independence of Sky News mitigate the media plurality concerns,'" Fox said in a statement.
Fox's bid for Sky has generated controversy in Britain. Opponents have said the deal would give the Murdoch family too much influence over news and information in Britain. Sky owns the growing 24-hour Sky News channel, which is a competitor to the BBC. Sky News reports also are distributed to commercial radio stations throughout Britain, making it a leading source of content for outlets not affiliated with the BBC.
"Karen Bradley should make this decision based on what's best for the British people, not Rupert Murdoch," said Alex Wilks, campaign director at the activist organization Avaaz, which has been leading the charge to deny the bid. "If the government greenlights the deal based on more empty Murdoch promises, we'll look hard at a legal challenge to protect our democracy."
Detractors, including prominent members of the Labor Party, have pointed to the sexual harassment scandal that has engulfed Fox News for the past year and the cellphone hacking scandal in Britain, which erupted six years ago, derailing the Murdochs' first bid to acquire 100% of Sky.
It seems clear that there were significant failings of the corporate culture at Fox News."
— Britain's Office of Communications
Murdoch has had much political influence in Britain for decades through his News Corp. stable of publications — the Sun, the Times of London, the Sunday Times and the now-defunct News of the World. News Corp. also owns the Wall Street Journal and the New York Post.
Fox executives already have suggested an independent board of directors to oversee Sky News. The Murdochs also pledged not to change the name of Sky News for at least five years — but Britain's regulators said they would like to see more concessions.
Fox critic Tom Watson, the deputy Labor Party leader, said he was skeptical that the Murdoch family — including James Murdoch, who serves as Fox's chief executive — would adhere to any concessions they might offer, saying during a session of Parliament on Thursday that any proposed measures "are not worth the newsprint they are written in."
"If the current rules mean that James Murdoch can pass a 'fit and proper person' test, given everything we know about his and his companies' behavior over phone hacking, and given everything we know about Fox's behavior over the ongoing sexual harassment scandal in the United States, that says more about the rules than it does about Mr. Murdoch," Watson said.
Fox unveiled its Sky deal in December, taking advantage of the sharp decline of the British pound against the U.S. dollar, following Britain's "Brexit" vote to leave the European Union.
Approval of the Sky deal has been slowed by Britain's fraught political environment. The Conservative Party, which controls Parliament, lost its majority this month in an ill-fated move by Prime Minister Theresa May to call an early election, and she has been weakened in the process.
Bradley, who also is a member of the Conservative Party, said her decision would be based on the facts, not politics.
"I must set aside wider political considerations going beyond the scope of the legislation," Bradley told the members of Parliament. "I must act independently and follow a process that is scrupulously fair and impartial. This is what I am doing."
ALSO
Are the Murdochs 'fit and proper'? 21st Century Fox awaits British watchdog's decision on its Sky bid
AMC is giving Comcast subscribers the option to watch 'The Walking Dead' ad-free — for a price
How CNN's retracted story made it a rallying cry in Trump's campaign against 'fake news'
---
UPDATES:
1:35 p.m.: This article was updated with information from Fox and with comments from Tom Watson and Karen Bradley.
8:10 a.m.: This article was updated with findings from a report from Britain's Office of Communications.
This article was originally published at 7:15 a.m.
---
Inside the business of entertainment
The Wide Shot brings you news, analysis and insights on everything from streaming wars to production — and what it all means for the future.
You may occasionally receive promotional content from the Los Angeles Times.