Facing pressure from clients, Nielsen says it is changing how it measures television ratings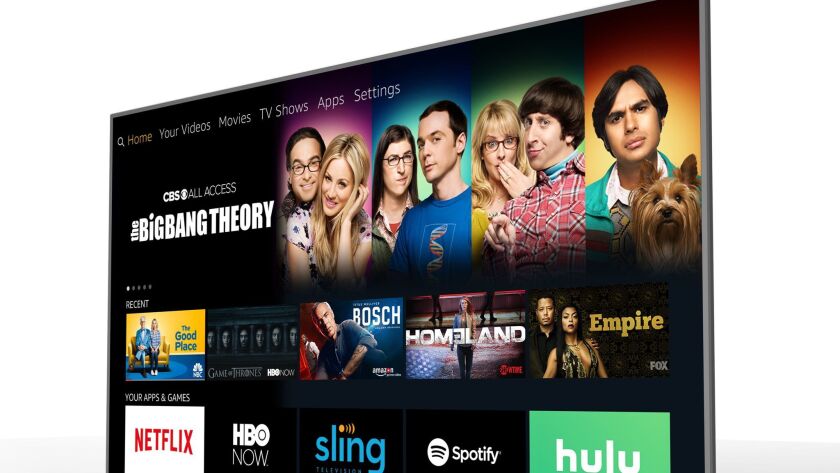 The reports of TV's death are greatly exaggerated, and some people have blamed the ratings messenger — Nielsen.
The data put out by the audience measurement company for what it calls "linear viewing" — which counts number of people who watch a program the day it airs — has been on a steady decline across broadcast and many cable networks in recent years.
It has led to frequent headlines that the streaming services such as Netflix are eating traditional TV's lunch, especially among younger viewers.
Network and advertising executives have groused that linear viewing numbers no longer reflect the true popularity of their programs, which are increasingly viewed on a delayed basis, through video on demand, streaming or DVR playback.
That was a topic of conversation throughout the week at the Television Critics Assn. press tour in Beverly Hills.
"I don't think the broadcasting narrative should be linear versus digital anymore, but rather linear plus digital," NBC Entertainment Chairman Bob Greenblatt said during a panel. "I would love to get to a point where the live, same-day rating was the proverbial dinosaur instead of the broadcast network."
Executives from New York-based Nielsen, who appeared Friday at the press tour, acknowledged as much. They said they have answered the call by networks and ad agencies to provide "total audience data" that includes viewing on Internet-connected TV sets, digital devices and on screens seen outside the home.
"Nielsen is really thought of as tracking linear television," said Brian Fuhrer, senior vice president of product leadership for Nielsen. "The fact of the matter is we spend a lot of time with our clients looking at everything beyond traditional TV."
I would love to get to a point where the live, same-day rating was the proverbial dinosaur instead of the broadcast network.
Bob Greenblatt, NBC Entertainment chairman
Fuhrer noted that 62% of U.S. households — around 73 million — now have Internet television devices, game consoles or multimedia devices such as Roku, which all can stream video content. In those households, 24% of the TV viewing time is done by 25- to 34-year-olds using over-the-top devices.
But much of the content streaming viewers watch is created by the networks and their production studios.
The Nielsen executives shared a sample of some of the proprietary ratings it provides to clients on delayed viewing. The data support the networks' contention that their content is being consumed by far more people than the initial ratings numbers indicate.
CBS, the most-watched broadcast network, averages 7.91 million viewers in a week. The audience rises 53% to 12.1 million when viewing from DVR playback and video-on-demand platforms over 35 days are added in. The audience for CBS' top sitcom, "The Big Bang Theory," grew 66% to 23.2 million viewers when those other platforms are counted. The network's top new drama series of the past season, "Bull," saw a 57% boost to 17.9 million viewers.
Getting paid for those viewers depends on how many people watch the commercials across the different platforms. Networks typically make deals with advertisers for viewing that occurs over three to seven days, but the audience continues to grow after that period.
Kelly Abcarian, senior vice president of product leadership for Nielsen, said networks are using its data measuring the viewing over 35 days to "to talk to the advertisers about the value of their audiences that are not necessarily just there in the three-to-seven-day window."
Video on demand is providing a significant lift to shows as well. Fuhrer noted the audience for the TNT series "Good Behavior" grows by as much as 50% when VOD viewers over 90 days are added in.
More networks are seeking Nielsen's data that measure out-of-home viewing in places such as restaurants and bars, where people often gather to watch live sports and news events but are not counted in ratings information released to the press.
Nielsen reported that broadcast and cable coverage of the June 6 Senate testimony by former FBI director James Comey was watched by 19.5 million viewers. But CNN's audience of 1 million 25- to 54-year-olds for the event, which aired during a workday, grew by 17% when Nielsen added out-of-home viewing data.
Cable sports networks such as ESPN also get a lift when out-of-home viewing is added in. In the first quarter of 2017, out of home viewing gave cable sports networks a lift of 8% among men 18- to 49-year-old men.
Despite progress, Nielsen has a way to go to measure how many people see a commercial on a program that runs across different digital platforms.
"We are working with the industry on how they might like to forward that," Fuhrer said.
Twitter: @SteveBattaglio
ALSO
Prominent anchor Maria Elena Salinas steps down from Univision
Even in second place, NBC says Jimmy Fallon's 'Tonight' is all right
Paramount's China film deal hits a snag as Viacom discloses missed payment
---
Get our daily Entertainment newsletter
Get the day's top stories on Hollywood, film, television, music, arts, culture and more.
You may occasionally receive promotional content from the Los Angeles Times.