Sinclair Broadcast Group's 'false news' promo, which it made news anchors recite, goes viral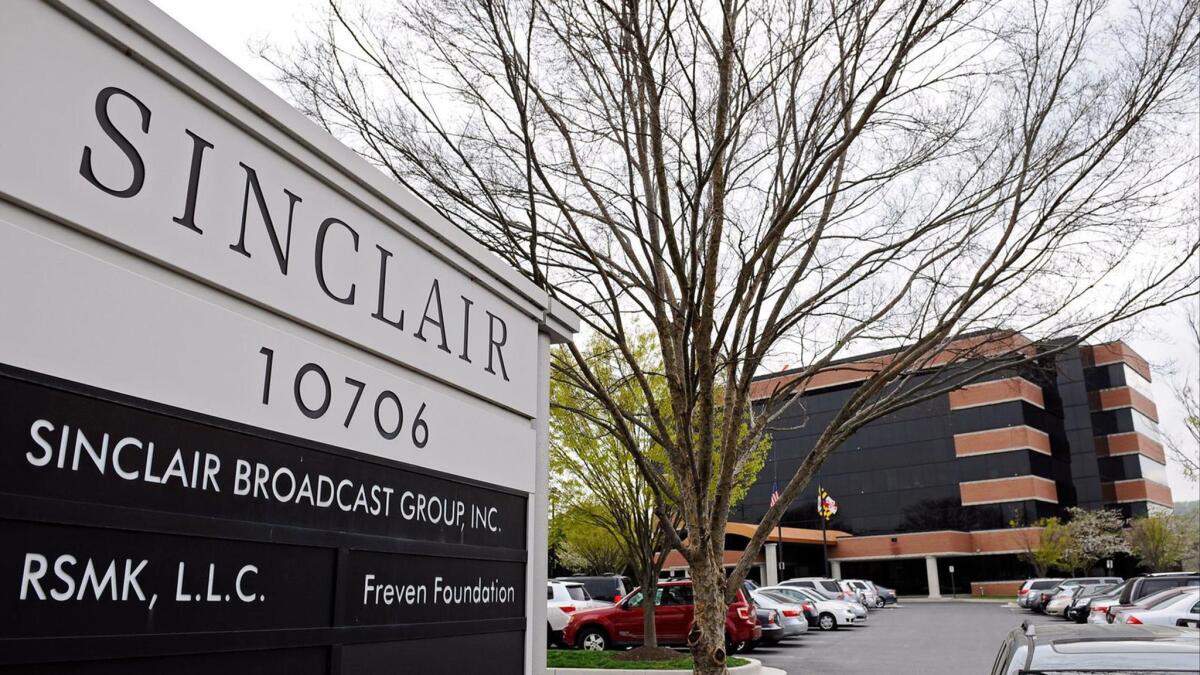 Sinclair Broadcast Group has been thrust into the spotlight by a viral video showing anchors from its news stations nationwide reading a company-mandated promotional announcement warning against media bias and "false news."
The video compiled by the website Deadspin presents local anchors reciting from the same script, which in part echoes President Trump's criticism of news organizations.
The promos are drawing scrutiny as Baltimore-based Sinclair, known for its conservative political leanings, already forces its local stations to run right-leaning commentaries and news packages that are produced by the parent company.
Sinclair, already the biggest TV broadcaster in the U.S., has 193 television stations and a deal to acquire an additional 42 from Tribune Media, which owns outlets KTLA in Los Angeles, WPIX in New York and WGN in Chicago. The $3.9-billion acquisition is still being reviewed by the government for regulatory approval.
If the deal is approved, Sinclair would reach 72% of American households.
The script read by the various news anchors included: "We're concerned about the troubling trend of irresponsible, one-sided news stories plaguing our country. The sharing of biased and false news has become all too common on social media."
"Unfortunately," it said, "some members of the media use their platforms to push their own personal bias and agenda to control exactly what people think. This is extremely dangerous to our democracy."
It also describes Sinclair stations as an apolitical source of credible, factual reporting.
The Seattle Post-Intelligencer posted a full script online.
The Deadspin compilation video — which shows clips of dozens of anchors reciting the same words — has circulated widely. A number of news websites, as well as HBO's John Oliver, said the promo sets the stage for Sinclair to inject its political views into local news.
But Sinclair got a vote of confidence on Monday in a tweet from Trump.
"So funny to watch Fake News Networks, among the most dishonest groups of people I have ever dealt with, criticize Sinclair Broadcasting for being biased," the president tweeted.
Boris Epshteyn, a senior advisor to Trump's 2016 campaign, is an analyst for Sinclair whose commentaries run on its stations. Sinclair stations also provided a friendly forum for Trump interviews during the campaign.
Sinclair defended the "false news" promo.
"We aren't sure of the motivation for the criticism, but find it curious that we would be attacked for asking our news people to remind their audiences that unsubstantiated stories exist on social media, which result in an ill-informed public with potentially dangerous consequences," Scott Livingston, Sinclair's senior vice president of news, said in a statement. "It is ironic that we would be attacked for messages promoting our journalistic initiative for fair and objective reporting, and for specifically asking the public to hold our newsrooms accountable. Our local stations keep our audiences' trust by staying focused on fact-based reporting and clearly identifying commentary."
Most current Sinclair employees can't speak publicly about the promos, but the practice of mandating anchors to recite such statements is already drawing resistance from one of the Tribune stations that Sinclair plans to take over.
Jeff Hoover, the producer of the morning program on Tribune's WGN in Chicago, said he will not have anchors read any statements from Sinclair once the acquisition goes through.
"Re: Sinclair - There is NO WAY any of our on-air anchors and reporters will read their scripted messages on our show. Chicago's Very Own, not owned," Hoover said on Twitter.
Twitter: @SteveBattaglio
Inside the business of entertainment
The Wide Shot brings you news, analysis and insights on everything from streaming wars to production — and what it all means for the future.
You may occasionally receive promotional content from the Los Angeles Times.