Golden Age of TV is not so golden for writers: Why the Writers Guild of America is moving closer to a strike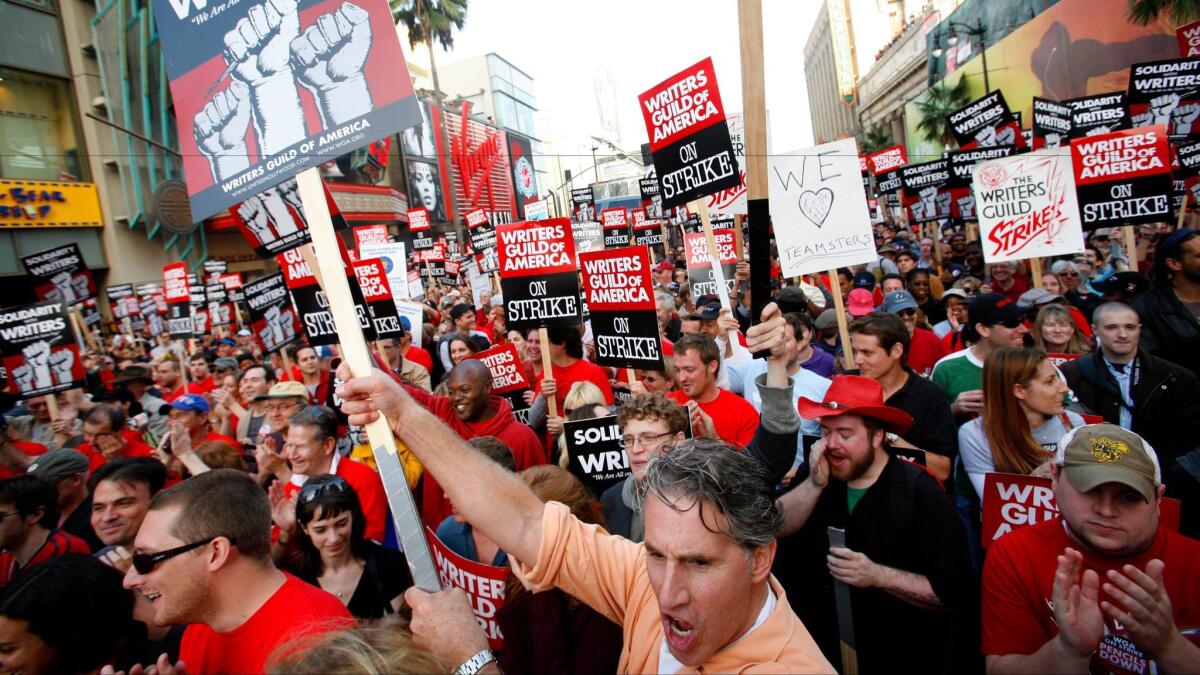 A decade ago, Hollywood writers brought the entertainment industry to a standstill when they walked off the job for three months in a dispute over pay for movies and TV shows distributed online. The strike halted dozens of TV and movie productions and sent shock waves through the Los Angeles economy.
Now, the Hollywood community is feeling a sense of déjà vu as the possibility of another strike looms large. After the collapse of talks with the major studios, the Writers Guild of America is seeking a strike authorization vote from members. While the union has until May 1 to reach an agreement, tensions are as high as they've been in years, say people close to the negotiations not authorized to comment.

For the record:
1:17 p.m. Nov. 28, 2023
A previous version of this story incorrectly said the 2007-2008 Writers Guild of America strike was the longest in its history. A strike in 1988 was the longest, lasting 155 days.
The charged atmosphere is the result of a perfect storm of economic and digital changes bearing down on the business. Since the last writers strike, the industry has seen far-reaching shifts. Streaming services like Netflix and Amazon have transformed Hollywood and contributed to an unprecedented number of quality series being produced — a phenomenon often described as the new Golden Age of TV.
But times haven't been golden for many writers for whom more is now less. Shorter seasons are the new norm, with many series consisting of 10 or fewer episodes on cable and streaming — less than half the length of traditional seasons on network shows. That has put writers in a financial crunch since many have exclusivity clauses that prevent them from working on multiple shows per season.
With reruns becoming a thing of the past, scribes are seeing smaller paychecks. As a result, they are contributing less to the guild's health and pension plans at a time when more baby boomers are retiring and drawing on the plans.
The more experienced writers — who lived through the [2007-08] strike — are very skeptical about doing that again.
— Tim O'Donnell, TV writer-producer and director
"It's getting more and more difficult to make a living as a writer," said John Bowman, a TV writer-producer, and former head of the WGA negotiating committee.
Studios are equally dug in as more customers cut the cable cord in favor of streaming options. They're also grappling with a dramatic falloff in once-lucrative DVD sales and a flattening of attendance at the multiplex. They are releasing fewer titles a year, meaning fewer opportunities for screenwriters.
All of this has set the stage for conflict. A strike authorization vote is set to take place later this month, with online voting to run April 19 to 24. The move is a typical negotiating tactic by unions, but the WGA said it's a response to the hard-line position taken by the studios, which have so far refused most of their demands.
"No one on the board or committee wants a strike," Chris Keyser, co-chairman of the guild's negotiating committee, said in an interview. "Unfortunately, the only way to be treated reasonably is to bring to bear the power of labor."
He disputed claims made by the studios that the WGA was the first to break off talks, adding that negotiations ended last week after the studios left a voicemail telling writers not to come in the next day. "We didn't walk away," said Keyser, a writer and executive producer whose credits include the TV series "Tyrant" and the family drama "Party of Five."
The Alliance of Motion Picture and Television Producers, which represents the major studios, networks and independent producers, said in a statement it would like to resume talks but is still awaiting a response to its latest proposal, which the writers have described as a step backward.
"Keeping the industry working is in everyone's best interests, and we are ready to return to negotiations when they are," the alliance said.
While talks are set to resume April 10, the two sides still are far apart on many issues. The possibility of a strike has left writers around town with mixed feelings.
"It's divided in half," said Tim O'Donnell, a TV writer-producer and director who has served on the WGA West board and negotiating committee. "The more experienced writers — who lived through the [2007-08] strike — are very skeptical about doing that again. Writers who have come into the guild and business since then look at the needs that writers have and say, 'if we can't get this, we ought to strike.'"
One major bone of contention is the rise of shorter TV seasons. Currently, an estimated two-thirds of all series have eight to 12 episodes per season, versus the old broadcast landscape in which shows typically ranged from 22 to 24 episodes. The WGA contends the per-week income of writers is declining because studios are amortizing pay over longer production periods as shows become more cinematic and take longer to shoot. Episodes that once took two weeks to film can now take three to four weeks.
Complicating matters is a lack of transparency. Streaming services operate on subscription models and don't release viewer data, making it difficult to devise a formula for residuals (fees for reruns). As streaming services continue to grow in popularity, writers are demanding that these companies pay residuals that are commensurate with those offered by traditional broadcasters.
It remains unclear how actively streaming companies are participating in the talks. Netflix isn't a member of the studio alliance, but it doesn't negotiate with the guild separately and is expected to sign on to an eventual contract. Amazon is a member.
Streaming isn't the only source of contention. Benefits are a major issue as the guild's membership ages.
The WGA wants a 1.5% increase in employer contributions to the guild's health plan, which has run deficits in recent years. But the studios have responded with proposed rollbacks, including a $10-million cut in the first year, according to the guild.
The studios believe that "cuts alone would solve shortfalls and not employer increases," said Keyser, the WGA's negotiating committee co-chair.
Another issue at stake is compensation, with the WGA asking for a 3% increase in minimums, script fees for the lowest paid writers and bigger residuals from streaming media. The demands are in line with similar increases obtained by the Directors Guild of America, which negotiated higher streaming residuals for its members in a new contract ratified in January.
In a recent letter to members, the WGA West said that the average pay of TV writer-producers fell by 23% in the last two years while entertainment companies experienced a record $51 billion in profits last year. "These have been very profitable years for the companies," the guild said in the letter.
The previous walkout started in November 2007 and lasted 100 days, shutting down more than 60 TV shows and depriving the networks of tens of millions in advertising dollars.
Labor experts said the crippling effect of the strike helped writers achieve gains they might not have otherwise attained, including a framework for online compensation.
But the walkout was financially devastating to many in the industry, especially to technical and crafts workers, many of whom live paycheck to paycheck.
"It was sleepless nights trying to figure out how to come up with rent every month and how to feed the kids," said Jon Salzman, a gaffer and electrician who has worked on numerous TV series. Even after a strike has ended, "it takes many months after you start working again to get back to your nose being above water."
Others believe that labor should present a unified front against the studios.
"I don't want them to strike, but I feel other unions should stand by the WGA," said Michael Di Ricco, a lighting technician. In the 2007 strike, other unions, including the actors' guild, joined the writers' picket line. "As producers are getting rich, we're getting hosed. But if we don't stand together against bad contracts, we'll continue to pay more and more."
ALSO
$3-million real estate deal with Paul Manafort's son-in-law goes south for Dustin Hoffman and son
Ex-Disney employee reportedly makes theme park deals in China without company's consent
NBCUniversal's 'secret sauce:' How its Symphony campaigns boost 'This Is Us' and others projects
---
UPDATES:
1:30 p.m., April 4: This article was updated with additional details about the guild's strike authorization vote.
This article was originally published at April 1 at 3 a.m.
Inside the business of entertainment
The Wide Shot brings you news, analysis and insights on everything from streaming wars to production — and what it all means for the future.
You may occasionally receive promotional content from the Los Angeles Times.